11 CMs skip Niti Aayog governing council meet; BJP says move anti-people, states deprived of voice | India News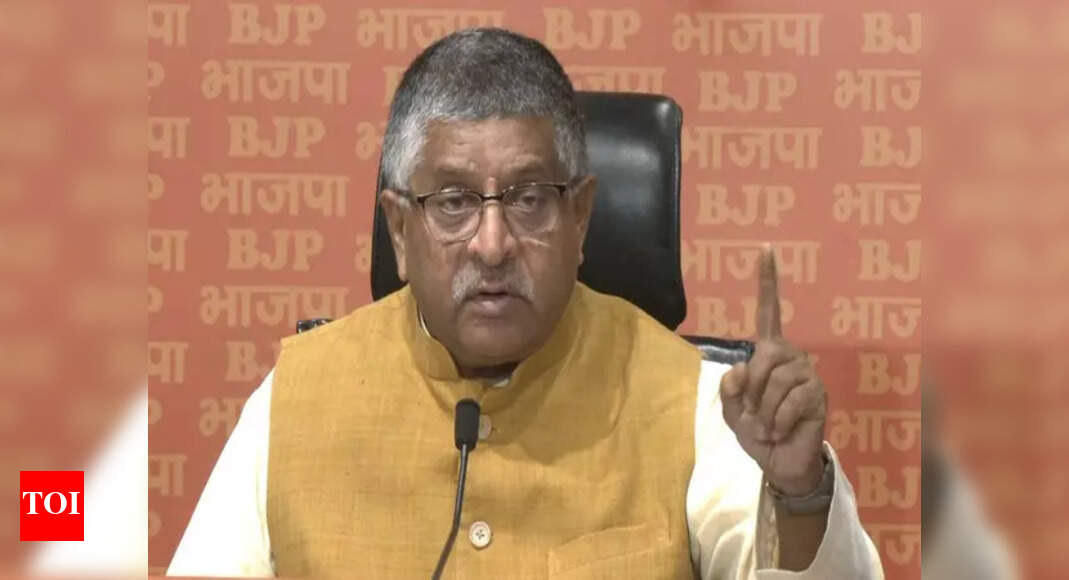 NEW DELHI: Eleven CMs, largely from opposition parties, skipped the Niti Aayog governing council meet – some boycotting the event while others cited prior engagements.
BJP hit out at CMs of opposition-governed states who decided to boycott the meet, calling the move "anti-people" and "irresponsible". "Why are they not coming to attend the meeting where 100 issues are to be discussed? If such a large number of CMs do not participate, they are not bringing the voice of their states," BJP's Ravi Shankar Prasad said.
'Decision of CMs to boycott meet anti-people & irresponsible'
The BJP on Saturday lashed out at chief ministers who boycotted the governing council meeting of the Niti Aayog, calling their decision "anti-people" and "irresponsible".
The meeting, which began here on Saturday, has on its agenda several issues including, health, skill development, women empowerment and infrastructure development, with an aim to make India a developed nation by 2047.
At a press conference, senior BJP leader Ravi Shankar Prasad said the NITI Aayog is a key body for determining the entire objective, policy framework and roadmap for the development of the country. He said as many as 100 issues are proposed to be discussed in the eighth governing council meeting of the NITI Aayog but CMs of eight states are not coming to attend it.
NITI Aayog Meeting: Why did 8 Chief Ministers not attend the NITI Aayog meeting?
Prasad said chief ministers Arvind Kejriwal, Bhagwant Mann, Mamata Banerjee, Nitish Kumar, M K Stalin, K Chandrashekar Rao are among those not attending the meet.
"I have been told that Rajasthan chief minister Ashok Gehlot is also not coming, perhaps due to health reasons. What is the truth will come from his side, but there is no representation (at the meeting) on his behalf," he said.
Briefing reporters on deliberations at the meeting, Niti Aayog CEO B V R Subrahmanyam said, "…If you don't attend (the meeting) you miss out on the discussion, on the rich thinking. It is not as if we will boycott someone, we will work together. The government of India forms policies and it is not as if the states who didn't attend will be left out but loss is of those who don't participate."
Prasad said Niti Aayog is a very important forum to have a wide-ranging consultative process among the Centre, states and and Union Territories and key decisions are taken at its governing council meeting for their implementation on the ground.
That's why the Prime Minister presides over this meeting and senior ministers from the Centre also attend it so that decisions are taken on larger issues.
"Why are they not coming to attend the meeting where 100 issues are to be discussed?," Prasad said.
"It is "very unfortunate, irresponsible and anti-people", he said, adding that people of the states are going to be "directly affected".