1st look at the brand-new Capital One Lounge at Washington Dulles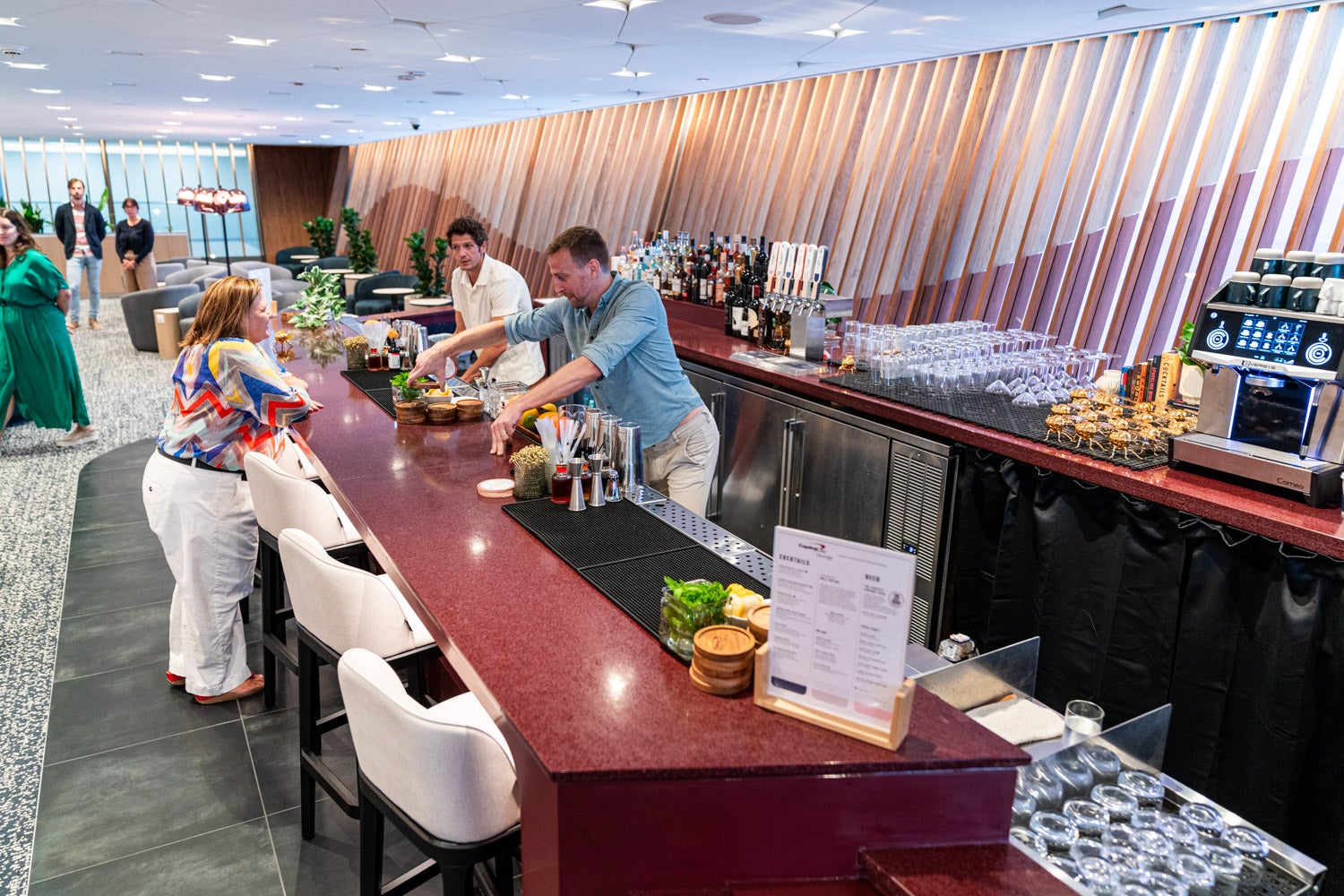 There's good news for passengers flying through Washington, D.C.'s Dulles International Airport (IAD).
Capital One will open its second branded airport lounge for eligible cardholders Thursday, the latest premium offering as the competition between credit card issuers for top customers heats up.
While the lounge officially opens Thursday, TPG had the chance to preview the lounge last week, touring the space and getting a sense of the amenities — including a unique option for those making a quick pit stop on the way to their flight.
Want more airline-specific news? Sign up for TPG's free biweekly Aviation newsletter.
For years, American Express stood alone, offering a network of exclusive lounges at several major airports for its top cardholders, but competition has been heating up in that space, with Chase rolling out a splashy lounge for its premium cardholders in Boston Logan International Airport (BOS) and Capital One opening its first lounge at Dallas Fort Worth International Airport (DFW) in 2021.
With Dulles, Capital One plants its flag at a key East Coast terminal, which didn't have a particularly standout lounge and relied largely on airline-specific lounges.
That left the stage ripe for Capital One to come in and attract travelers eager for a break in their traveling day.
How to access the Capital One Washington Dulles lounge
Before we dive into our first look at this new space, here's how to get inside.
Capital One Venture X Rewards Credit Card (see rates and fees) cardholders and authorized users get unlimited access for themselves and up to two guests to Capital One lounges and lounges in Capital One's partner network.
Daily Newsletter
Rewarding reading in less than 5 minutes
Join over 700,000 readers for breaking news, in-depth guides and exclusive deals from TPG's experts
Additionally, Capital One Venture Rewards Credit Card (see rates and fees) and Capital One Spark Miles for Business (see rates and fees) cardholders get two complimentary lounge visits per year. Additional guests are $45 each.
You don't technically have to be a cardholder to check out this lounge, as all other visitors can gain entry for a $65 fee.
Inside Capital One's Washington Dulles lounge
The lounge is easy to find, just steps beyond the TSA PreCheck security lanes. This makes life especially easy for Venture X cardholders — their complimentary PreCheck benefit means they'll reach the lounge moments after passing through security.
After clearing security at the PreCheck lanes, stay to the right, rather than proceeding down the escalators to the interterminal train.
Those entering the standard checkpoints will have to walk, and those coming from connecting flights will have to take the terminal train toward ground transportation — and go up a staircase that's currently labeled "Do Not Enter."
As you enter and stop by the reception desk, you'll notice a few key things.
The space is configured as a large square, with all of the main area surrounding the perimeter and the center functioning as kitchens, storage and restrooms. It sits in the base of the old control tower designed by legendary architect Eero Saarinen — also the designer of the TWA terminal at New York's John F. Kennedy International Airport (JFK), making for a flair of midcentury architecture that adds some real character to the space.
The lounge was designed knowing that some travelers likely aren't planning to stay for very long, according to Jenn Scheurich, Capital One's head of travel. Instead, some users stop in for five to 10 minutes, just enough time to grab a snack or a cup of coffee from the coffee bar near the entrance before heading to their flight.
To that end, there's a grab-and-go case at the front of the lounge, just past reception.
It's stocked with sandwiches, salads, parfaits and dishes like acai bowls. There are sweets, too, like a chocolate pudding-based s'mores bowl (more on the food in a bit). Branded paper bags are available to load up with goodies.
Just past the refrigerator are a few taps with La Colombe cold brew and draft latte, while visitors can order espresso drinks and teas from a full-service coffee bar to the side.
The coffee bar also is stocked with fresh pastries for the taking.
Those with more time to spend in the lounge will head to the right side after checking in at reception.
Ideally, the grab-and-go setup will help to alleviate some crowding in the lounge. At 8,500 square feet, the lounge is sizable, but smaller than many other recent openings (the Chase Sapphire lounge, for instance, is about 11,650 square feet).
Just to the side of the desk, you'll spot a few seats and tables at the start of a long hallway that leads into the main part of the lounge — those seats are available to any lounge visitor but seem optimized for people planning to sit for a few minutes, likely after hitting the grab-and-go offerings.
You'll find luggage lockers just ahead of those tables — a nice feature for anyone who doesn't want to lug their bags around the lounge, and a clever way of saving some space in the main area.
The lockers work like a hotel safe: You enter a four-digit code and lock it.
Down the hall to the right, a few seating areas line up against the windows. There are several different types of communal seating, staged at various levels, making for a sunken living room vibe — tres retro chic. While not roped off just for families, this area is created with families and children in mind, with lower stools and ample outlets for recharging devices.
The back of the lounge is where the real action happens — and where the lounge shines.
You'll find larger seating area in the corner, featuring dining tables and booths alongside more comfortable loungers.
There are two levels along the back perimeter. The slightly elevated level farther toward the rear features the bar and the bulk of the seating, with more seats to the left of the bar.
The lower level displays coffee, soft drinks and the full offering of single-serve items and small plates.
The food options were impressive. During the tour, which began at 11 a.m., there was a range of breakfast and lunch options, including ridiculously good breakfast sandwiches with bacon, eggs and cheese; a savory truffle corn pudding; pastries such as housemade toaster pastries, cinnamon rolls and croissants; an unusual but tasty guacamole with asparagus; shrimp bao; and more.
As many of the ingredients as possible are sourced locally, said David Borowik, Capital One's director of airport experiences, programs and partnerships, while the grab-and-go packaging and bags are made of sustainable materials.
Up at the bar, a wide variety of drinks is available, including custom beer and cocktails designed by local mixologists.
The Bee's Knees cocktail was designed by Will Patton, beverage director for Michelin-starred Bresca and Jont in Washington, D.C. That drink is served in a slightly surreal, oversized bee-shaped glass, making it particularly memorable.
Other region-inspired cocktails include the cherry blossom margarita, which the TPG team found refreshing and sweet, and the Fifty-First, a booze-forward Boulevardier with bourbon from Virginia distillery Bowman Brothers.
A few nonalcoholic mocktails are also on the drinks menu, including the Rock Creek Park, made with green tea, cucumber and Fever Tree lime and yuzu soda, and the Pretty Rickey, with cherry blossom syrup, fresh lime juice and sparkling water.
The bar also serves a unique beer designed specifically for the space. At each of its lounges, Capital One said it plans to work with a local brewery, tasking it to design its interpretation of "a perfect airport beer."
For the Dulles lounge, Ashburn, Virginia-based Lost Rhino Brewing Co. went with a helles lager, a crisp concoction appropriately named "Pre-Flight Lager." The brewery's flagship IPA also is on tap, while a selection of other local craft beers are available in cans.
Alongside a solid wine selection, the bar also offers an "upgrade" list.
A curated selection of top-shelf and craft spirits are available for purchase — ranging from $10 for Eagle Rare 10-Year bourbon to $30 for Clase Azul Gold joven tequila — along with half-bottles of wines and Champagnes. These are probably more for special occasions; while you can buy a $30 half-bottle of Champagne Palmer, there's also a $150 half-bottle of Krug Grande Cuvee.
Turning the corner, the final side of the lounge offers a handful of seats, including a comfortable living room-type space directly on the corner, and a few rows of seats that offer a more comfortable place to work.
Finally, down a parallel hallway running down the middle of the lounge's interior are four private bathrooms, along with a parents room that can be used for nursing or changing babies. The room was missing a changing table during the preview; a Capital One representative said it would be installed before the lounge opens to the public.
One thing that's conspicuously missing: showers.
If you're hoping to take a shower between flights, this is not the lounge for you. Capital One also opted to skip a spa or other wellness option — a rarity in lounges, but one that competitor Chase chose to include in its Boston lounge. During our preview, Capital One did highlight that while some of those offerings were present at the Dallas location, it's because that lounge is in an international terminal; those travelers expect lounge amenities different from the facility in Dulles.
Bottom line
Based on our first look, all signs point to Capital One's new lounge at Washington Dulles offering a stylish, comfortable space to relax in before boarding a flight, with a food and beverage selection that truly stands out.
Although the lounge has plenty of space, it still falls on the somewhat smaller side compared to newer openings. Only time will tell whether this space reaches a balance of demand and capacity.
Still, the grab-and-go concept is innovative and builds off of what several airlines have offered in the past while their actual lounges were being renovated or expanded. It's a smart way to offer amenities to people in a hurry while saving space for those with more time to spend.