Art Gallery of NSW's Sydney Modern wing to open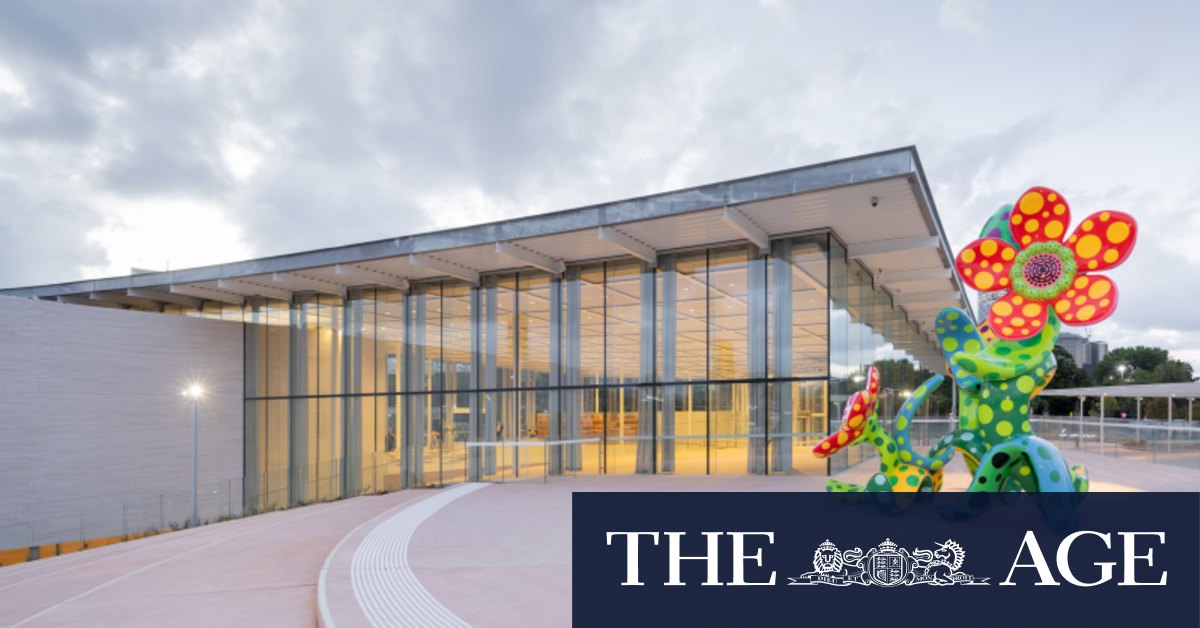 "We wanted it to have a deep sense of place, and that's what we have. Great architecture does that," he said.
"Our vision has been to transform the Art Gallery into an art museum campus with seamless connections between art, architecture and landscape."
After being shielded from public eyes for four years of construction, the gallery has been having a series of dry runs this week with visits by school children, members and friends, employees and their families, and local and international media on Tuesday.
The building was designed by Tokyo-based SANAA with Sydney-based Architectus as executive architect and built by Artarmon-headquartered Richard Crookes Constructions and British engineering firm Arup.
Loading
Sydney Modern doubles the gallery's existing space and includes five new galleries – rectangles positioned at different angles on the 19-metre drop from Art Gallery Road to Lincoln Crescent, Woolloomooloo, where the new subterranean oil tank gallery (from World War II) is located.
It includes 10 newly commissioned artworks, including the highly Instagrammable Francis Upritchard's Here Comes Everybody (described as friendly giants in the welcome plaza) and Yayoi Kusama's Flowers (giant flowers with polka dots that appear to wave hello). Richard Lewer's Onsite, portraits of tradespeople, the unrecognised workers who made the building, hang on the new rammed earth wall.
Better known for their white-on-white designs and aluminium buildings, the Pritzker prize-winning architects from SANAA said the vastness of Australia, its open spaces and light, the influence of Indigenous culture and the colours of Sydney's rock had influenced the change in direction.
Loading
"We try to now use more local material," Sejima said. "From the beginning, we tried to make a building have a good relationship with the surroundings. But now we've also started to use local materials … and integrate them into our buildings physically and culturally."
The new Sydney gallery includes a vast bookshop handmade from resin designed by architect Kelvin Ho of Akin Atelier and crafted by Sydney surfboard maker Hayden Cox.
A 250-metre-long rammed earth wall, tinted to the colour of Sydney sandstone, was made by Queensland company Rammed Earth Construction. The limestone bricks, imported from Portugal, were cut in Sydney.
When SANAA was asked why these didn't use Sydney sandstone in the new wing, a criticism levied at the project, Sejima said they had tried. But it was "too soft" for the floors. If they had used it for the walls, it would have been cut into large blocks and would have lacked the uniformity and solidity of the massive rammed earth wall.
Loading
To the architecture world, SANAA's Ryue Nishizawa and Kazuyo Sejima are rock stars, meaning that getting an interview with them is difficult (five questions were provided ahead of time and 15 minutes of time was allocated for the Herald's interview)
Despite jet lag after arriving on Monday morning, they were elated to see the finished project that COVID-19 prevented them from visiting for several years.
Last month, SANAA won the Praemium Imperiale Prize for architecture, the highest in Japan.
The judges said the duo had blown a fresh wind into the architectural world with their light, fluid forms in harmonious relationship with their surroundings. And they foreshadowed that Sydney's new wing would be a stunning major landmark.
Asked how long it would take before they could judge whether the new wing was a success, Nishizawa said it would take 20 years before they knew whether people really loved it.
The Morning Edition newsletter is our guide to the day's most important and interesting stories, analysis and insights. Sign up here.