Aryna Sabalenka downs Elina Svitolina to reach French Open semis | Tennis News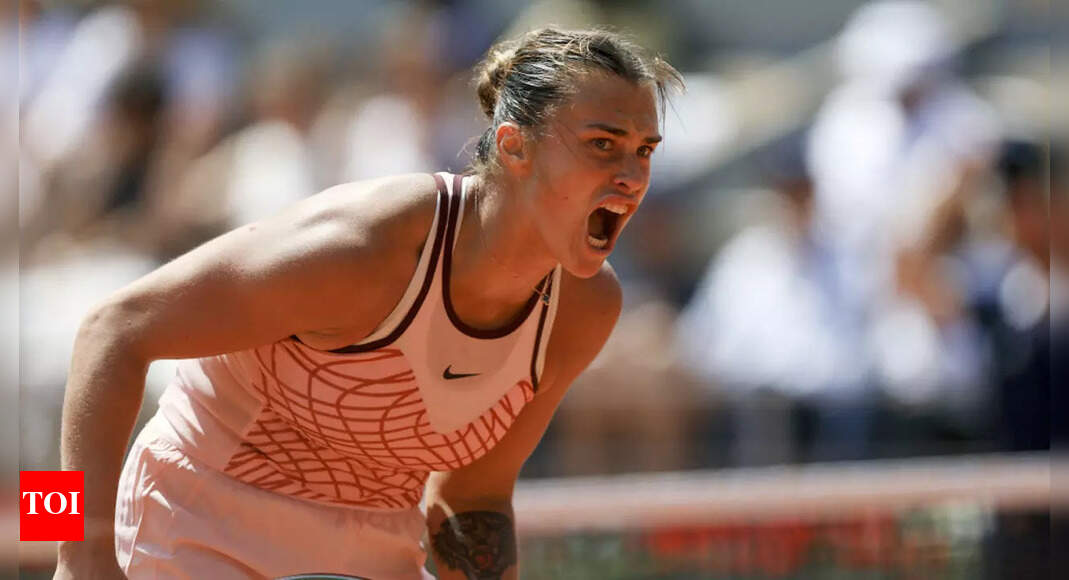 NEW DELHI: In a highly anticipated match at the French Open, world number two Aryna Sabalenka from Belarus powered past Ukraine's Elina Svitolina 6-4, 6-4 on Tuesday, securing her place in the semi-finals in Paris.
The clash between these two talented players held intrigue, particularly due to Svitolina's decision not to shake hands with players from Russia or Belarus following Moscow's invasion of Ukraine last year, which Ukraine refers to as a 'special military operation'.
Sabalenka, the Australian Open champion, had attracted attention recently by refusing to engage with the media after her last two matches. She faced extensive questioning regarding the war and her country's involvement as a staging ground for Russian troops.
However, on Court Philippe Chatrier, Sabalenka displayed a focused and determined approach, swiftly advancing through the quarter-finals in straight sets. Despite committing 37 unforced errors during the match, compared to Svitolina's 12, Sabalenka's strong performance enabled her to claim victory.
Sabalenka's next opponent in the semi-finals will be Czech player Karolina Muchova. Tennis enthusiasts eagerly await the outcome of this upcoming match as the French Open progresses.
"She's a tough opponent, she moves very well," Sabalenka said of her challenging start to the game. "What she did after giving birth is impressive I have respect for her.
"I'm happy with the win and the atmosphere," the Belarusian added. "We all know you are waiting for Novak (Djokovic who plays next) but I'll take it as if it's for me."
With several Ukrainian flags unfurled in the half-empty stands, the pair traded blows at the start with neither managing to carve out a break point in the first eight games.
But favourite Sabalenka, aiming for the world number one spot with a title win in Paris, grabbed the key break and then served out the first set a little later, with her opponent looping a backhand wide.
Svitolina broke for 2-0 in the second set as Sabalenka hit her 23rd unforced error but the Ukrainian was still on the back foot in most points and allowed her opponent to pull the break back when she netted a backhand.
Sabalenka continued her demolition job, breaking again for 3-2 with a forehand winner.
Svitolina stayed afloat thanks to her opponent's unforced errors, but the outcome was always in the Belarusian's hands.
Sabalenka ended it on the second match point with yet another forehand winner and boos were heard from the stands as Svitolina walked straight to her bench without shaking hands, while Sabalenka waited at the net.
(With Reuters inputs)