Australia politics live: Malcolm Turnbull says Victorian Liberals lost election because they were 'taken over by the hard right' | Australia news
Hard right, egged on by 'angertainment complex', has take over Liberals, Turnbull says
Malcolm Turnbull has thoughts about the Victorian election and, most specifically, what's going on with the Liberal party.
Given that Sky News commentators responded by urging a shift even further to the right and "true" conservative values, despite the Victorian electorate (following the federal result) voting for more progressive candidates, this doesn't seem to be the answer they think it is (just imagine I have inserted the Principal Skinner 'Am I out of touch? No, it is the children who are wrong' meme here)
Key events
So is the government all done on IR now?
Tony Burke says no:
Look, there'll still be more that we need to do so, for example, the gig economy remains effectively award free. You have a situation where it is possible in the gig economy for people to pay less than the legal minimum rates of pay for employees. So, there's still more work for us to do. We're not pretending this Bill's the end of it but this Bill, Secure Jobs, Better Pay, provides a real pathway for a whole lot of workers to see their wages start moving again. And we're very mindful of the yawning gap that's out there in household after household at the moment as prices have been going up and wages haven't been moving.
AEC 'pulling out all the stops' on Indigenous voter enrolment
The Australian Electoral Commission says it will be "pulling out all the stops" in a new enrolment drive for Indigenous voters, ahead of a referendum on a voice to parliament expected in the next 12 months.
The AEC is streamlining its processes for enrolment for people who don't have identification documents, allowing enrolled voters to vouch for unenrolled voters in a new online process.
The electoral commission says that despite Indigenous enrolment being its highest on record (nearly 82%), it estimates there are more than 100,000 Indigenous Australians who are not on the roll.
Electoral commissioner Tom Rogers:
We're not going to be satisfied until we've closed the gap with the broader national enrolment rate.

There is clearly the likelihood of a referendum soon with a topic specific to First Nations Australians, making high levels of enrolment and engagement even more important.
The AEC made the announcement this morning alongside a new campaign with the motto "Our Vote, Our Future" featuring Indigenous art images. The AEC has done more outreach in recent years by travelling to remote Indigenous communities and hearing from elders about how to boost enrolment.
One key change is the AEC now making it easier for people to enrol without ID.
Now, you'll be able to have an enrolled voter vouch for your identity entirely online – no printer required," Rogers said.
Previously, those without ID had to print a form out and get an enrolled voter to vouch for them in writing. Rogers said some voters found this process "cumbersome and a barrier to enrolling".
The AEC is also flagging changes to allow more flexibility for people who aren't physically present with the people they're enrolling with.
The government has flagged a voice referendum in the 2023 financial year, with late next year firming as a potential date.
Peter Hannam
RBA's Philip Lowe: 'Partly our fault' the public 'didn't get the caveats' about rate forecasts
Reserve Bank governor Philip Lowe is up before Senate estimates again and, as expected, the central bank's handling of its rate rises is at the centre of discussions.
Nick McKim, the Greens senator, kicks off with questions about Lowe's early 2021 comments re pushing up interest rates.
Lowe says he was looking for wages to grow at least 3% for the wider inflation target to get back to its 2%-3% range before hiking its cash rate. At the time, the outlook implied no rate change until 2024, assuming other things didn't change.
As it happens, the wage price index has crept above 3% (to reach 3.1%) in the September quarter.
Unfortunately, the headline inflation rate has reached 7.3%, the highest since 1990, leaving the real wage decreasing at the fastest pace (4.2%) on record.
That inflation jump was why the RBA had to start raising interest rates from last May … and every board meeting since has increased the cash rate.
Lowe admits though that the public "didn't get the caveats" about other things that might might nudge the RBA's hand before 2024. That was "partly our fault", he told the committee.
Anyway, here's what markets are forecasting about interest rates.
Separately, here's a piece we published over the weekend about the dangers of overly interest rates – and an historic view from Lowe himself.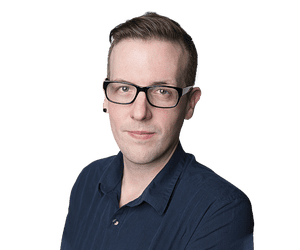 Josh Taylor
Regulator closely following review of Medibank cyber-attack
The Australian Prudential Regulation Authority (Apra) says it has "intensified" its supervision of Medibank's response to its cyber-attack, and "raised concerns" about the strength of its operational risk controls.
Apra will be closely following the external review of the incident, which is being conducted by Deloitte on behalf of Medibank.
The regulator's Suzanne Smith said:
While Apra notes Medibank's constructive response to date, Apra will consider whether further regulatory action is needed when findings of the report become clear.

Apra expects Medibank to undertake any recommended remediation actions and ensure there is appropriate consequence management, including impacts to executive remuneration where appropriate.

Medibank CEO David Koczkar said the health insurer has been in regular communication with Apra, and would continue in a transparent and cooperative way. He said:
We will share the key outcomes and consequences of the review where appropriate, having regard to the interests of our customers and stakeholders and the ongoing nature of the Australian federal police investigation.

We are also committed to sharing what we have learned from our experience so that Australian businesses and the broader community can be better placed to navigate any similar challenges in future.

Our absolute focus is to continue to support and protect our customers through this time.

Safeguarding our customers' data is a responsibility we take very seriously, and we will continue to support all people who have been impacted by this crime.
'It's time'
There is going to be a lot of talk about the IR legislation this week, even though its passage is now set.
There will still be amendments to the bill, which is why we are seeing the Friday sitting of the Senate and the Saturday sitting of the House.
There is also a fundraiser dinner marking the 50th anniversary of the 1972 election which saw Gough Whitlam take power (we all know how that ended, and the era it ushered in, but Labor wants to take its moment and celebrate 2 December, 1972, when it was all about "It's time")
Anthony Albanese will be there, as will most of Labor's heavy hitters. So expect a few dusty heads on Saturday morning.
Antipoverty Centre spokesperson: 'Keeping us in poverty is a choice.'
But Antipoverty Centre spokesperson and disability support pensioner Kristin O'Connell said it was another lost opportunity:
The early signs about whether this committee will achieve anything aren't good. Within a few hours of it being announced the prime minister was making the same old excuses about the budget balance being more important than people's lives.

We fear this will create cover for a pitiful change to payments in the next budget, or that there'll be no change at all.

Millions of us who rely on poverty payments have been waiting for an increase for a long time now and we've presented reams of evidence to show that it's desperately urgent. We know politicians know it's desperately urgent because they admit it regularly.

Having politicians in charge of a process to decide whether payments are adequate without using a robust, independent method for measuring poverty is inviting disaster.

Keeping us in poverty is a choice, and politicians don't need any more information to know the enormous human cost of choosing it.

There is no excuse for leaving people behind, especially in the face of spiralling living costs.

They must immediately raise all payments to at least the Henderson poverty line, then work with us to develop a new measure of poverty for the 21st century.
David Pocock: 'people on jobseeker know all about budget priorities'
David Pocock was asked this morning on the ABC whether the economic inclusion committee agreement might just be "window dressing" and not actually change anything for people on jobseeker who are living in poverty.
Pocock said:
There is always that risk. The thing that we will now have for the first time is a panel of experts, people with lived experience, someone from business, someone from unions, put forward … this is what we think people on jobseeker should be getting, these are the consequences, if that is not the case then we can hold the government to account. The budget is about priorities, and we have heard a lot about how tight it is, but let's not forget there are currently billions of dollars in fossil fuel subsidies and people on jobseeker know all about budget priorities.
Question to Tony Burke: How soon will wages move?
Tony Burke's office is always quick off the mark with transcripts and it has released the interview with the Nine network. So here is the whole answer on when you could expect wages to rise once the IR bill passes the Senate (which it now will, given David Pocock's support).
Q: How soon will wages actually move?
Burke:
It will depend on where you work. So, there'll be some businesses, for example, which have refused to bargain with their staff where they used to, and the better-off-overall test just became too complex. The getting rid of some of the red tape that we've got there will actually bring some of those businesses back to the table straight away. And also, any businesses that are concerned, like, that actually don't want to be involved in multi-employer bargaining, the simple fix for them is for them to negotiate with their staff now and to do it over the next six months. So that opportunity will happen.

And so, you will see some workers where the movement happens very quickly. There'll be others where it's a longer process. But importantly, the framework will finally be there. You know, it's been 10 years now where wages were deliberately kept low. And, you know, people's real wages today are lower than they were a decade ago. And that needed to come to an end.
Three private members' bills on agenda
Parliament will sit from 10am.
On the agenda today are the introduction of three private members' bills from Kylea Tink, Andrew Wilkie and Zali Steggall.
Steggall wants truth in political advertising, Tink wants fuel standards addressed and Wilkie wants to see "loot boxes" in online games regulated (loot boxes are basically in-app purchases where you spend money for for things you can use in the game).
Hard right, egged on by 'angertainment complex', has take over Liberals, Turnbull says
Malcolm Turnbull has thoughts about the Victorian election and, most specifically, what's going on with the Liberal party.
Given that Sky News commentators responded by urging a shift even further to the right and "true" conservative values, despite the Victorian electorate (following the federal result) voting for more progressive candidates, this doesn't seem to be the answer they think it is (just imagine I have inserted the Principal Skinner 'Am I out of touch? No, it is the children who are wrong' meme here)
RBA governor due at Senate estimates
Meanwhile, RBA governor Dr Phil Lowe will answer questions at Senate estimates this morning (from about 10am).
Greens Treasury spokesperson Nick McKim is on that panel. Given his criticism of the governor, that should be an interesting watch.
So when will we have an answer on energy prices?
Anthony Albanese:
We have said very clear that what we will do is before Christmas, have a position, which we're working through at the moment. We have further discussions and meetings this week. But we'll continue to work it through. We have set Christmas as a deadline to make sure that we can deliver their prices other than those which have been foreshadowed for both business and for households. We're working through those issues and Daniel [Andrews] and the other premiers are all conscious of that because one of the characteristics of my government is that we consult and we work with governments, state and territory of both persuasions across the nation, in order to pursue our common interest.
'We need to make sure that wages can get moving'
What does Anthony Albanese think of the RBA governor's comments, about not wanting to see wages rise with inflation, as that would be inflationary?
Albanese:
I know the Reserve Bank governor is entitled to put forward his views and those views are always respected. But we need to make sure we're a long way as the Reserve Bank governor has said himself from wage or inflation spiral.

We are a long way away from that.

We need to make sure that wages can get moving over the decade. One of the big differences between my government and the former government is that they said that low wages were a key feature of their economic architecture.

I would say an economy works for people, not the other way around. I recognise that so many working people are struggling to get by working multiple jobs, unable to have any employment and their wages not keeping up with the cost of living.

That's something I made very clear during the election campaign that we would act on. We have acted with this legislation. I think it gets the balance right. And I do notice that the employer organisations I've heard comment in criticism of this legislation seems to be saying on the one hand, now it won't get wages moving. And on the other hand, it'll get wages moving in a way that's too fast. Well, they can't have it both ways. I think it gets the balance right.
Meanwhile, the interim report into the Coalition's election loss is expected to be handed down this week, the Australian has reported. You will be shocked SHOCKED that the lack of women and the climate wars have played a role.
Liberal party is 'cuddling up to far-right elements', Albanese says
That answer goes on, but then Anthony Albanese says:
The Liberal party have failed to come to terms with modern Australia and they continue to to cuddle up to some far-right elements in the political system. You can't run a major political party by listening to what fringe elements are saying. You need to be in the mainstream. That's where the Labor party is positioned.