Awer Mabil paying it forward as Socceroo honoured as Young Australian of the Year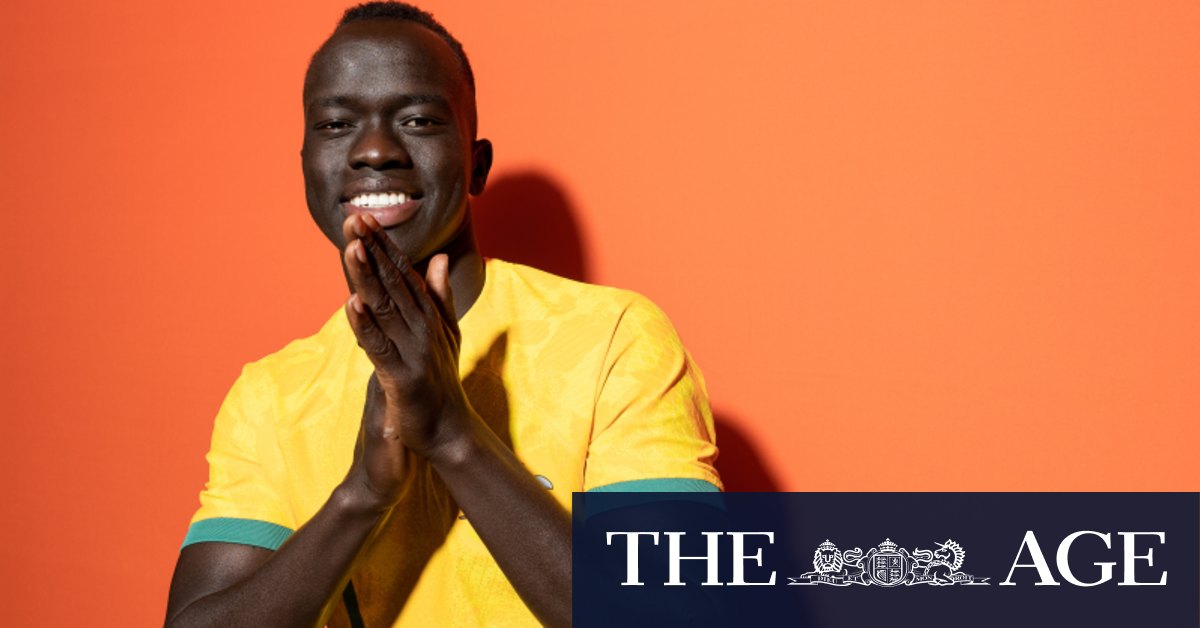 "I asked [the club] to give me some of the training kits that I can take, and then I got some three or four footballs. I gave those clothes and those footballs to the kids, because I knew there, that the balls are made out of plastic. To give them a proper ball was something that was big for them, something that is so small for us.
"Then I slowly realised when I was there, everyone was playing bare-footed. I took some shoes there, and I gave them to one kid, and then it just sort of clicked."
Barefoot to Boots has since donated more than 2000kg in boots, balls and uniforms to the Kakuma camp, where it's not uncommon to see many of the 400-plus teams in the local competition wearing the colours of A-League teams from half a world away. One day soon, Mabil would like to build them an artificial pitch to play on, instead of the dirt fields he grew up on.
Over time, though, the charity has become much bigger than just football, and has helped deliver things like educational materials, medical supplies and sanitary products, as well as art and musical equipment, in the pursuit of better health, education, policies, and gender equality for refugees.
"We started realising that hospitals needed help," he said.
"When a baby's premature born there, they just wrap it in clothes and hope that it survives. That was really, really sad to see, but we donated incubators to the hospitals. These kids now, instead of being wrapped in just clothes, they're now in an incubator, a machine that will take care of them.
Loading
"That, for me, is the proudest moment, the most touching moment and the most emotional because I don't know how many lives that saved. Now somebody is growing up healthy. We have many [other] ideas that we want to hopefully implement in the future."
Mabil doesn't expect much to change for him personally, now that he's been named Young Australian of the Year, except that he has a bigger platform to promote the causes that are important to him. That means not only refugees, and the growing African soccer community of which he has become the unofficial leader within the Australian game, but all people.
One of his trademark goal celebrations which he uses when he scores for the Socceroos is a hand gesture that, as he explained during the 2019 Asian Cup, is intended to raise awareness for mental health issues. When Australia was knocked out of that tournament, coach Graham Arnold delivered Mabil the tragic news that his sister, Bor, had died in a car accident back in Adelaide — ironically, as he noted in his press call with Australian media, on January 26, a date that is now bittersweet for him.
"She always called me little bro. I think she'd [be saying] 'Hey, little bro … you've done alright, huh?' She's always with me," he said.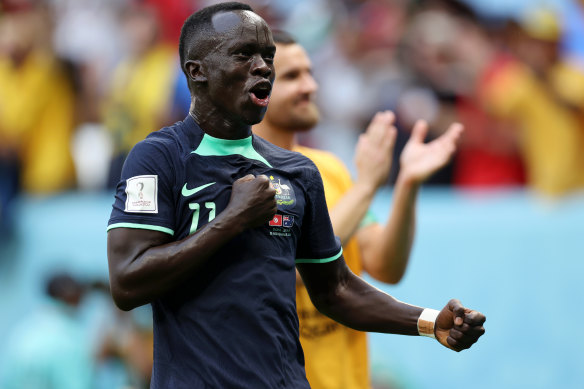 Mabil couldn't collect his award in person because he is in the Czech Republic, where he is awaiting his debut with his new club Sparta Prague, but was represented in Canberra by his mother and uncle.
His new coach, Brian Priske, was an assistant at Danish club FC Midtjylland when Mabil made his first move out of the A-League in 2015.
"I kept my phone off in the morning, because I knew I will get a lot of messages, how exciting it was for my mum and my uncle. They were FaceTiming me, 'Oh, we just met the Prime Minister' … my uncle loves politics," he said.
Loading
"Right before I went to training, somebody told me, 'You won.' I was just overwhelmed. It was a really special day. All my teammates congratulated me and also my coach got everyone in a circle and [said] some special words.
"When I started my foundation, he was in Denmark. I used to always talk with him about what I do outside of football. I always used to mention to him, 'I'd love to go back on my holidays to the refugee camp and help the kids.' It's just funny, five years later, he's the coach here and presenting this to the team. It was a special moment."
Watch every match of the UEFA Champions League, UEFA Europa League and UEFA Europa Conference League on Stan Sport. Returns for the Round of 16 in February 2023, with all matches streaming ad-free, live and on demand.