Best 4K UHD horror movies: 'The Exorcist,' 'Videodrome,' 'Poltergeist,' 'Swamp Thing' and more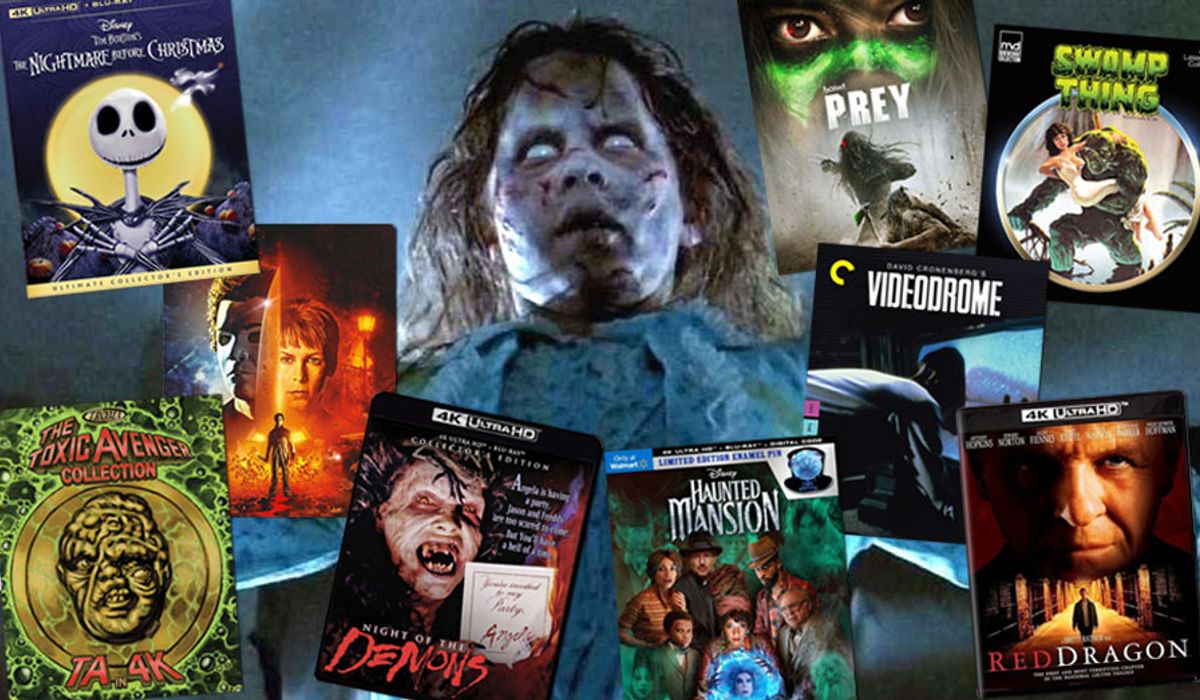 Mad Count Zad offers a diabolical collection of home entertainment movie picks perfect for the Halloween season.
Paramount Scares: Volume 1 (Paramount Home Entertainment, Rated R, 1.85:1, 2.00:1, 2.39:1 aspect ratio, 559 minutes, $111.99) — The venerable, more than 100-year-old Hollywood studio dives into its catalog of films to deliver a quintet of horror-themed classics just in time for the Halloween season and all in the ultra-high definition format.
The eight-disc set offers 4K and Blu-ray versions of:
---
---
Rosemary's Baby (1968) — Director Roman Polanski's Academy Award-winning psychological horror film offers a young wife (Mia Farrow) living in Manhattan and becoming pregnant only to realize her elderly neighbors have a diabolical plan to take control of her child. Finally available in the 4K disc format, it's easily one of the creepiest films of all time.
Pet Sematary (1989) — The original film (not the very lame 2019 remake) based on the Stephen King novel showcases a small town in Maine where residents have the ability to reanimate their beloved furry friends and well as family members in a nearby magical burial ground. Director Mary Lambert dishes out the thrills and gore and gave actor Fred Gwynne (Herman Munster) another reason to never work with a child actor.
Crawl (2019) — The welcomed monster movie of the collection offers director Alexandre Aja's expose on what happens when a daughter and father (actors Kaya Scodelario and Barry Pepper) are trapped in a flooded basement filled with hungry alligators. The claustrophobic setting and vicious attempted attacks will cause fingernail holes in most couches.
Smile (2022) — A straight-up supernatural horror film offers plenty of jump scares as it explains the mental breakdown of young woman Rose Cutter (Rose Bacon) plagued by a mysterious entity causing victims to wear a Joker-like smile before committing suicide.
Sweeney Todd: The Demon Barber of Fleet Street (2007) — Johnny Depp consumed his Academy Award-nominated role of barber Benjamin Barker out for revenge against a judge who ruined his life in the extraordinary adaptation of Stephen Sondheim's grisly Broadway musical. Available for the first time in 4K, it's a perfect fit for fans of the cannibalistic original and stuffed with star power including Helena Bonham Carter, Alan Rickman and Sacha Baron Cohen.
Frightful extras: A blood-red cover with a swirling collection of characters and a dripping Paramount logo sets the mood for those who dare open this generously sized boxed set that's nearly a foot wide, 8 inches tall and 2 inches deep.
Contained within are the five films in cases with black-and-white illustrated slipcovers and just a speck of color to make the monochrome imagery pop.
Most collectible in the box is the 30-page special edition of "Fangoria" magazine, themed toward the set with plenty of glossy images and bylined stories both new and vintage along with a sticker sheet and enamel lapel pin of the blood Paramount logo.
Let's hope Paramount continues the tradition of a new boxed set every season for some guaranteed scares.
As far as digital extras on the Blu-ray discs, all are culled from the original high definition or DVD releases of the films.
Highlights include a 2000, 17-minute retrospective on making "Rosemary's Baby"; an optional commentary track from Ms. Lambert for "Pet Sematary"; a 19-minute press conference for "Sweeney Todd" with all of the principals; and an optional commentary track with director Parker Finn for "Smile."
The Exorcist: 50th Anniversary Edition (Warner Bros. Home Entertainment, Rated R, 2.39:1 aspect ratio, 132 minutes, $29.99) — Perhaps the scariest and most influential horror film of all time finally arrives in the 4K disc format to spotlight director William Friedkin's 1972 unsettling masterpiece.
For those unaware, the adaption of William Peter Blatty's celebrated novel (he also wrote the screenplay) focuses on 12-year-old girl Regan MacNeil (Linda Blair in an unforgettable performance) and her perplexing medical conditions. After her devoted mother, Chris (Ellen Burstyn), explores all avenues of science, she turns to religion to hopefully expel what she now believes is a demon possessing her child.
The heart-pounding trials of Regan are supplemented by the performances of Jason Miller and Max von Sydow as the priests tasked with saving the girl and Lee J. Cobb as a police detective investigating an odd death near the MacNeil house.
Viewers not only get the theatrical cut of the film, but a 2000 director's cut adds about 12 minutes, including an altered ending and the infamous "spider walk" scene that will guarantee to induce nightmares.
Much to my chagrin, the 4K transfer astounds, bringing to entertainment rooms the fully detailed impact of Regan possessed by the devil in reference quality clarity down to the flashes of the demon Pazuzu invading the screen.
Even more terrifying, the Dolby Atmos soundtrack enhancing Regan's moans and suffering will embrace audiences aurally and embed deep into their nightmares.
Frightful extras: The two-disc, 4K set spreads out three optional commentary tracks (two by director Friedkin for the theatrical and director cut) and one with Blatty for the theatrical cut.
Surprisingly, and much to the anger of disc aficionados, all of the other legacy content has been released to select streaming services such as iTunes.
The highlights include a roughly 30-minute look back by Blatty on writing the novel and movie, 30 minutes by Friedkin on shooting the movie, a 77-minute vintage overview of the production and a look at the original ending of the movie.
The Nightmare Before Christmas: Ultimate Collector's Edition (Walt Disney Studios Home Entertainment, Rated PG, 1.66:1 aspect ratio, 77 minutes, $34.99) — One of my family's Halloween home entertainment traditions finally takes advantage of ultra-high definition disc technology to take viewers back to 1993 and re-embrace Henry Selick and Tim Burton's classic animated musical.
This stop-motion tour de force offers the fantastical tale of Jack Skellington, the Pumpkin King of Halloween Town, stumbling upon Christmas town and deciding that he and his pals can do a better job of imagining the festive holiday.
Jack has Santa Claus kidnapped to be kept out of Christmas Eve, but the Jolly Fat Man gets accidentally delivered to Jack's evil rival Oogie Boogie who looks to harm him as well as Jack's admirer Sally after her failed rescue attempt of the red-suited icon.
Unfortunately, Jack's version of Christmas scares more than endears (presents such as shrunken heads and vampires do not help), so he returns to Halloween Town dejected but looking to save the winter holiday, only if he can save Santa and Sally.
The voice-over cast delivers in both emotion and musicality led by Chris Sarandon and Danny Elfman as the speaking voice and singing voice of Jack, respectively; Catherine O'Hara as Sally; Ken Page as Oogie Boogie; and Paul Reubens as Lock, one of Oogie Boogie's trick and treaters.
Suffice it to report, viewing this classic in a screen-filling presentation and in 2160p is almost heart-stopping in magical beauty.
Every character model and detailed location pops off the screen. Notable are any Sally moments, especially when sewing her appendages back on, and the neon-greenish nightmare of Oogie Boogie as he tortures Santa Claus.
Frightful extras: The included Blu-ray version of the film ingests all of the digital goodies from the high definition release back in 2009.
Best of the bunch includes an optional commentary track with producer Burton, director Selick and composer Elfman, each separately recorded, unfortunately.
Next, viewers get an odd but welcomed, 37-minute detailed look at how Disneyland's Haunted Mansion attraction gets transformed into a "Night Before Christmas" motif for three months during the fall and winter holidays.
Also, fans will love getting to hear Mr. Burton's original poem for "The Nightmare Before Christmas," narrated by Christopher Lee with illustrations by the creator, as well as watch a pair of his early short films "Frankenweenie" and "Vincent."
And singalong versions of the songs (Karaoke-style) are available so the entire family can belt out classics such as "This Is Halloween," "What's This?" and "Oogie Boogie's Song."
Videodrome (Criterion, Not Rated, 1.85:1 aspect ratio, 89 minutes, $49.95) — Director David Cronenberg's shocking sci-fi horror film gets a deserved restoration on the UHD format revitalizing a classic in an unrated version that pulls no punches.
The twisted tale focuses on trashy Toronto television station owner Max Renn (James Woods) looking for the most taboo and sensationalist content for his viewers.
The station's pirate satellite hacker stumbles on a sexually sadistic program called Videodrome that Max considers perfect for his station.
His obsession to find its creators takes him unwittingly into a world-altering experiment that changes the anatomy of his brain by exposing watchers to violent imagery to control their minds.
Most memorable in this quirky film is Mr. Woods' co-star and lead singer of Blonde, Deborah Harry, playing the very kinky and sexualized radio talk show host Nicki Brand.
A lovingly restored "Videodrome" in 4K comes digitally rebuilt from the original 35mm camera negative and approved by Mr. Cronenberg.
The film looks even more crisp and richly color-balanced than its original release to theaters. The gory work of makeup effects master Rick Baker and his team shines throughout especially with too-much-detail afforded as Max gets a VHS cartridge pulled into and out of his abdomen.
Frightful extras: As usual, Criterion overwhelms with a vast assortment of content all culled from its 2004 DVD release.
Most important are two optional commentary tracks on both the Blu-ray and 4K discs — one with Mr. Cronenberg and cinematographer Mark Irwin and the other offering Mr. Woods and Ms. Harry. Both are informative and lively reveals about the production with the narration dominated by the director and Mr. Woods.
Next, stick to the Blu-ray for a pair of segments on the effects (48 minutes total) with words from special effects supervisor Michael Lennick, Mr. Baker and select members of his team talking about making monsters and the magic behind the practical effects on "Videodrome."
More nostalgic than informative, fans of the genre will love the included 1982 episode of "Take One: Fear on Film." This roundtable discussion has moderator Mick Garris (future director of Stephen King adaptations) pull information out of horror masters John Carpenter ("Halloween"), John Landis ("American Werewolf in London") and Mr. Cronenberg.
Rounding out the slipcased set is a 38-page, full-color booklet offering mainly three essays — "Medium Cruel: Reflections on Videodrome," by critic Tim Lucas; "That Slithery Sense of Unreality," by historian Gary Indiana; and "Make Mine Cronenberg," from a 1983 article in "The Village Voice" by Carrie Rickey.
Prey (Walt Disney Studios Home Entertainment, Rated R, 2.39:1 aspect ratio, 100 minutes, $39.99) — A welcomed return of one of sci-fi horror's most iconic species last year debuts on 4K disc to remind viewers just how dangerous and legendary the Predator has become.
The story takes viewers back to 1719 and the Great Plains of North America as a young Comanche girl Naru (Amber Midthunder) dreams of becoming a great warrior (instead of simply a healer as dictated by her gender) and, unfortunately, her dreams come true.
A Predator has arrived from outer space and decides to test his skills against the indigenous animals, some moronic French fur traders and her tribesmen. Naru must put her training to the ultimate test (wielding barely a rope-tethered ax and a bow) against a killing machine to protect her people and survive.
Although much more of an action thriller than a traditional horror effort, the film revels in the dangers of the historical period and will send the blood pressure bubbling with a few jump scares as the impressive-looking Predator more than brings terror on screen through its vicious stealth attacks.
"Prey" in 4K delivers some great-looking panoramas of early America, exquisite clarity of harrowing nighttime scenes, especially a showdown with a lion and bear, and equally showcases the latest Feral Predator design, its gadgets and weaponized abilities. 
Frightful extras: Pop in the included Blu-ray disc version of the movie to first find an optional commentary track with director Dan Trachtenberg, Ms. Midthunder, cinematographer Jeff Cutter and editor Angela M. Catanzaro.
The quartet delivers a well-rounded, nonstop and authoritative overview of the production.
Next and equally important, the quartet with Predator puppeteer Alec Gillis and producer Jhane Myers show up at an FYC panel at the Harmony Gold Theater in Hollywood to offer 30 more minutes on making the movie.
Swamp Thing (MVD Entertainment Group, Rated PG, 1.85:1 aspect ratio, 91 minutes, $34.99) — DC Comics' monstrous crusader for justice and the environment made his live-action debut in a campy horror film directed and written by Freddy Krueger's patriarch Wes Craven back in 1982.
The woeful yet eventual superheroic tale of brilliant scientist Dr. Alec Holland (Ray Wise) plays out in the Florida Everglades as his team including government agent Alice Cable (Adrienne Barbeau) discovers a formula to end world hunger.
Chief rival and archenemy Anton Arcane (the legendary Louis Jourdan) with his paramilitary minions breaks into the lab to steal the concoction and while trying to escape, Dr. Holland accidentally doses himself with the formula and explodes in flames before diving into the swamp.
What's left of Dr. Holland becomes an intelligent, super-powered humanoid (Dick Durock) made of plant matter, able to control the Everglades' foliage, heal and sworn to protect Alice Cable and stop Arcane's insane experimentation.
The "Swamp Thing" returns in a vivid 4K restoration created from a 16-bit scan of the original camera negative and stays very true to its comic book origins with rich colors, especially greens of the terrain, the hero's textured body and that neon-green formula.
MVD also pays service to the hardcore fans by offering the theatrical cut and the only slightly longer international cut adding a few scenes of unnecessary nudity.
Frightening extras: MVD ports over all of the digital extras from Shout! Factory (2013) and 88 Films' (2018) high definition releases, and they are bountiful.
Begin with a pair of optional commentary tracks, one spotlighting Craven prodded by Horror's Hallowed Grounds host Sean Clark and the other with makeup artist William Munns in discussion with Red Shirt Picture's owner Michael Felsher.
Dive deeper with extended interviews from Ms. Barbeau (16 minutes), production designer Robb Wilson King (20 minutes), "Swamp Thing" comic book writer Len Wein (13 minutes) and actor Reggie Batts (15 minutes).
The package includes a mini-poster touting this release as part of MVD "LaserVision Collection," sure to confuse the average video connoisseur since it's a 4K disc.
Night of the Demons: Collector's Edition (Shout Factory, not rated, 1.85:1 aspect ratio, 89 minutes, $39.98) — The 1988 cult classic that launched a supernatural horror film franchise (not to be confused with the "The Evil Dead") debuts in a 4K format that I'm betting only the hardest of hardcore fans are going to be able to stomach due to the gooey violence.
The gore fest follows a group of high school students (10 no less) throwing a Halloween party in an abandoned funeral parlor. What could possibly go wrong? I'm guessing having one of the gals finding a possessed mirror is probably not a good idea.
As the title suggests, all hell breaks at night when demons arise from the mirror to infect, slaughter and resurrect the group of partygoers in the most gruesome of ways.
And, just to satisfy any of the purists, the two-disc set includes a workprint version of the film (720p) when it was titled "The Halloween Party" and an international cut of the movie.
The new 2160p "Night of the Demons" was built from 4K scans of the unrated camera negative allowing even more clarity when watching memorable scenes of eye gouging, tongue biting and chest impaling.
Frightening extras: Shout! Factory delivers the ultimate release that comes packed with an avalanche of legacy and new digital goodies for fans.
The new release offers interviews with writer and producer Joe Augustyn (35 minutes), actress Jill Terashita (19 minutes) and special effects artist Nick Benson (nine minutes).
The vintage on both 4K and Blu-ray discs deliver three optional commentary tracks — one with director Kevin Tenney, special makeup effects creator Steve Johnson and actors Cathy Podewell (Judy), Billy Gallo (Sal), Hal Havins (Stooge); next, one with Mr. Tenney, producer Jeff Geoffray, and executive producer Walter Josten; and finally, a track with Mr. Tenney, casting director Tedra Gabriel and actors Leanna Quigley (Suzanne) and Philip Tanzini (Max).
Take a stab at the Blu-ray to find a 2014, 72-minute retrospective on the movie (perhaps the highlight of all of the extras); an interview with Ms. Quigley; alternate R-rated scenes; and a six-minute version of the film that was shown to distributors.
For those in need of more of the franchise's possession shenanigans, Shout! Factory has also released 4K versions of "Night of the Demons 2" and "Night of the Demons 3," both as collector's editions ($34.98 each).
Red Dragon (Kino Lorber, Rated R, 2.39:1 aspect ratio, 122 minutes, $34.99) — Author Thomas Harris' favorite cannibalistic serial killer returned again to the silver screen back in 2002 in director Brett Ratner's creepy psychological thriller.
Home theater aficionados can now appreciate Dr. Hannibal Lecter's (Anthony Hopkins) vintage brand of intellectual insanity in a UHD upgrade to the film as they quickly learn how Detective Will Graham (Edward Norton) was almost killed by the good doctor before capturing him.
A retired Graham is then asked to return to the bureau to find another lunatic, nicknamed the Tooth Fairy, ritualistically murdering families. Of course, the former agent also uses his most important incarcerated educational resource to help capture him.
The moments between Mr. Norton and Mr. Hopkins are worth savoring throughout and supported by the acting prowess of Harvey Keitel as Will's boss Jack Crawford, Philip Seymour Hoffman as reporter Freddy Lounds, a committed Ralph Fiennes as Francis Dolarhyde aka the Tooth Fairy and Emily Watson as Francis' new blind friend Reba McClane.
Viewers are greeted with a new 4K scan of the original camera negative that takes great care in presenting cinematographer Dante Spinotti's methodical work that often pays a stylistic tribute to "Silence of the Lambs."
Frightful extras: The included Blu-ray version of the film offers a bountiful collection of digital goodies from the DVD release back in 2003.
Leading the way is the energetic optional commentary track with Mr. Ratner and screenwriter Ted Tally and then richly supplemented with a 40-minute-long production diary often starring the director, eight featurettes on making the film and even 25 scrollable pages on the FBI's history of Dr. Hannibal Lecter.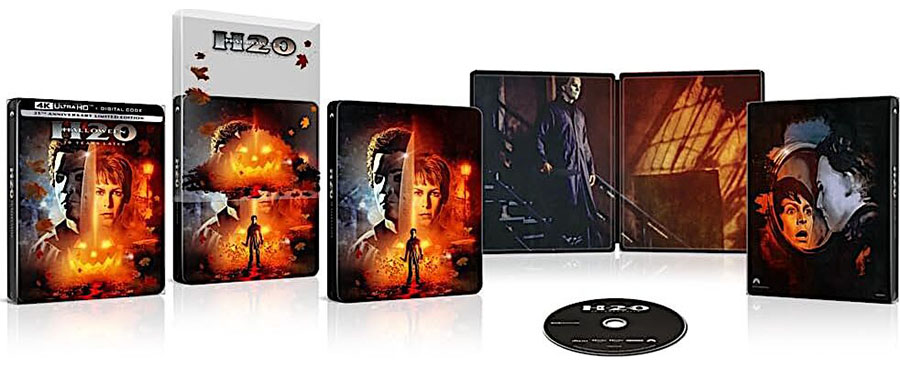 Halloween H20: Twenty Years Later, SteelBook Edition (Paramount Home Entertainment, Rated R, 2.39:1 aspect ratio, 86 minutes, $30.99) — Set 20 years after the serial killing events of Michael Meyers in the peaceful town of Haddonfield, Illinois, the film finds the sister of the killer Laurie Strode (Jamie Lee Curtis) changing her name and moving to California.
When Michael breaks out of his mental institution for the criminally insane, he looks for a reunion with his sibling to give her another unforgettable Halloween.
This 1998 slasher movie will be most remembered for the return of Ms. Curtis to the iconic role she originally created back in 1978.
Frightful extras: The horrifying news is the shameful total lack of bonus content found on the 4K disc.
Viewers will just have to appreciate and coddle the glossy metal packaging, starting with the translucent slipcover featuring the film's title at the top and a glowing pumpkin atop some fall foliage that slightly obscures the front case cover revealing headshots of Michael and Laurie with a big knife between them.
Remove the cover to find the completed front collage with Michael standing at the bottom center of a glowing orange wash.
The rear of the case illustrates the famed shot of a shocked Laurie looking through a circular window with Michael peering into the other side.
The inner two-panel spread has Michael walking down a flight of stairs on the left and an orangish shadowing along the wall of the staircase.
The Toxic Avenger Collection (MVD Entertainment Group, Not Rated, 1.33:1 and 1.85:1 aspect ratio, 403 minutes, $139.95) — Troma Entertainment's shlock B-movie superhero finally gets some respect in the home theater realms within an eight-disc set chronicling his UHD adventures.
The sad sack story of Tromaville Health Club's weakling janitor Melvin (Mark Torgl) transforming into a mutant monster with keen unwavering values after a group of bullies prank goes wrong comes to light in a four-film collection.
Viewers get "The Toxic Avenger" (1984), "The Toxic Avenger Part II" (1989), "The Toxic Avenger Part III: The Last Temptation of Toxie" (1989) and "Citizen Toxie: The Toxic Avenger IV" (2000).
The comedic cheese factor and grotesque low-budgeted gore spotlight all of the films that gave the patriarch of the Toxic Avenger Lloyd Kaufman his permanent status in pop culture.
The 4K remastering offers by far the best visuals ever available highlighting the colorful comic book-style universe with lots of toxic neon green to bathe eyes in.
Frightful extras: MVD unleashes more about the films than any human needs to know.
Let's start with the 4K discs that each boast an introduction by Mr. Kaufman and multiple commentary tracks (eight in total) featuring Mr. Kaufman, producer Trent Haaga, actor Gary Schneider (bully Bozo) and editors Gabe Friedman and Sean McGrath.
Highlights from the multiple hours of featurettes found on the Blu-ray versions of the films include 15 minutes with director Michael Herz (responsible for the first three films); 12 minutes of Mr. Kaufman's visit to the Museum of Modern Art to celebrate a retrospective of his movie "Return to Nuke 'Em High: Volume 1"; and an over two-hour-long documentary on the making of the last film "Citizen Toxie: The Toxic Avenger IV."
Haunted Mansion (Walt Disney Studios Home Entertainment, Rated PG-13, 2.39:1 aspect ratio, 122 minutes, $34.99) — Based on the famed Disney theme park dark ride and not the 2003 film of the same name starring Eddie Murphy about the same theme park attraction, this supernatural horror comedy does offer a great way to get a few laughs with the family after the tweens' long night of trick or treating.
Viewers learn of the woeful tale, set in New Orleans, of astrophysicist Ben Matthias (LaKeith Stanfield) who after the tragic loss of his wife in a car accident caused him to take up her career as a tour guide of haunted locations looking to reconnect with her ghost.
With no success and short of money, he ends up investigating Gracey Mansion as a faux ghost hunter encouraged by a conman exorcist (Owen Wilson) and at the request of a widowed mother (Rosario Dawson) who, as the new owner, hopes to stop the haunting and turn the place into a bed-and-breakfast with her young son (Chase W. Dillon).
The hunters also get help from an architectural historian (Danny DeVito) and psychic medium (Tiffany Haddish) for their research into the 999 ghosts present.
Their goal is to find the missing dead medium Madame Leota (Jamie Lee Curtis as the talking head in a crystal ball) who can give clues on how to stop the haunting and the evil Hatbox Ghost (Jared Leto) from his diabolical plans.
The 4K presentation helps diminish the bland plot deficiencies as the ghost and supernatural shenanigans look eye-popping in the ultra-high definition format.
Especially notable are the extensive homages to the theme park ride including the numerous spectral encounters on the astral plane with introductions to the cemetery caretaker and his bony dog, those three hitchhikers, the pair of duelists, the homicidal bride and, of course, the famed Hatbox Ghost.
Frightening extras: A paltry pair of featurettes offer a behind-the-scenes look at the production and some Easter eggs to the Disney ride — that's all folks.
The Wal-Mart exclusive package includes an enamel pin shaped as a crystal ball and in front of a black top hat with spindly fingers reaching around the orb.