Biden floats using 14th Amendment to raise debt limit amid impasse with GOP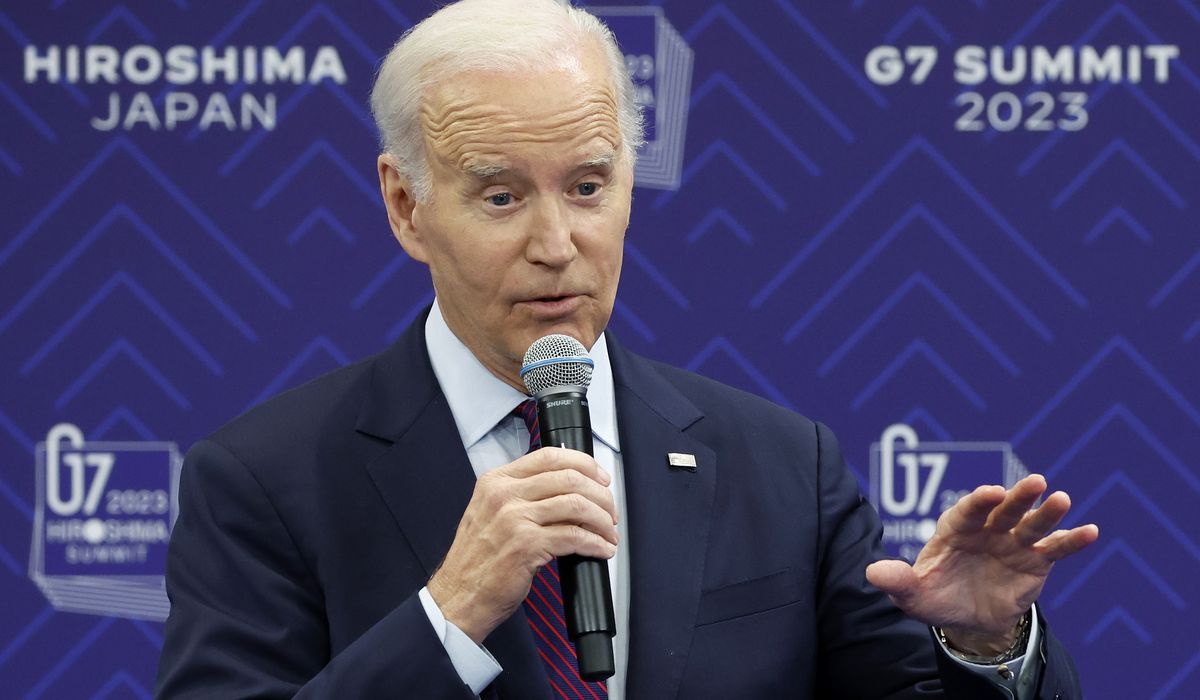 President Biden said Sunday that his administration is exploring whether it can invoke the 14th Amendment to ensure the United States avoids default as negotiations with House Republicans on raising the debt limit are at a standstill.
Mr. Biden said at a press conference with reporters at the Group of Seven, or G-7, meeting in Japan that there are logistical challenges to invoking the amendment in time to avert a default.
"I'm looking at the 14th Amendment as to whether or not we have the authority — I think we have the authority," Mr. Biden said. "The question is, 'Could it be done and invoked in time that it would not be appealed, and as a consequence past the date in question and still default on the debt?'"
Some legal scholars say the 14th Amendment, which says the validity of the national debt "shall not be questioned," gives the president authority to scrap the debt limit altogether and keep paying the nation's bills without Congress setting a debt ceiling.
Such a maneuver has never been tested and would likely result in a protracted legal battle.
Given the uncertainty, Mr. Biden said he still prefers to make a deal with House Republicans to raise the debt ceiling.
"All four congressional leaders agree with me that default is not an option," the president said. "I expect each of these leaders to live up to that commitment."
Not everyone agrees with the president's insistence on negotiating. Several Democratic lawmakers say invoking the 14th Amendment is preferable to gutting climate change regulations or kicking individuals off welfare assistance.
"It is unacceptable to have the president in a position where [House Speaker] Kevin McCarthy says, 'You either savage programs for ordinary Americans and flood the country with fossil fuels or I'm going to run the economy off the cliff,'" said Sen. Jeff Merkley, Oregon Democrat. "The president has a mechanism to push back. He has the 14th Amendment."
Talk of using the 14th Amendment comes as talks between Mr. McCarthy's staff and the White House are at an impasse.
Mr. McCarthy said the breakdown is due in part to the White House's unwillingness to cut spending immediately. Republicans are pushing for at least $130 billion in the upcoming budget, which at least half could come from rescinding unspent coronavirus funds.
"Unfortunately, the White House moved backward," said Mr. McCarthy, California Republican. "They actually want to spend more money than we spent this year. We can't do that. We all know how big this deficit is."
The White House is proposing to keep domestic and defense spending flat for the upcoming fiscal year. They argue that would still amount to a spending cut because of inflation.
House Republicans instead want to boost spending for defense, border security and veterans benefits. GOP lawmakers say spending cuts should be focused on welfare programs and "woke bureaucracy."
The breakdown in talks comes as Republican and Democratic leaders are under pressure to deliver a debt limit deal that can satisfy the right and left flanks of their respective parties.
On Thursday, the more than 40-member House Freedom Caucus called for a suspension of negotiations. Rather than negotiate, the conservative group said Mr. McCarthy should push for the wholesale adoption of the debt-limit legislation passed by House Republicans last month.
"This legislation is the official position of the House Freedom Caucus and, by its passage with 217 votes, the entire House Republican Conference," the group said in a statement. "There should be no further discussion until the Senate passes the legislation."
The legislation would cut spending by $4.8 trillion and cap spending growth at 1% over the next decade. It also would cancel Mr. Biden's student loan forgiveness program, rescind green energy tax credits and expand work requirements for food stamps, Medicaid and cash payments.
The White House, meanwhile, is pushing for a two-year deal on spending caps. Mr. Biden also opposes scrapping green energy tax credits, and has ruled out accepting work requirements on Medicaid and food stamps.
The White House is open to expanding work requirements on direct cash payments for needy families. That position is too moderate for some Democrats, however.
"The Congressional Black Caucus has no intention of allowing families to go hungry to appease Republicans," said Rep. Steven Horsford, Nevada Democrat. "It's a recipe for expanding racial and gender disparities, which seems to be their modus operandi."
Backing up the CBC's opposition to new work requirements is the more than-90 member Congressional Progressive Caucus. Rep. Pramila Jayapal of Washington, the caucus' chairwoman, has repeatedly stressed that work requirements are a "nonstarter."
Opposition from the left and right has made the job of negotiators more difficult.
Part of the problem for House Republicans is that Mr. Biden is not offering enough spending cuts.
While Mr. Biden has opened the door to expanding work requirements on recipients of direct cash payments through Temporary Assistance for Needy Families program, the savings would be minuscule. The Congressional Budget Office estimates that expanded work requirements on TANF recipients would save only $6 million through 2033.
Meanwhile, scrapping Mr. Biden's green energy tax credits and canceling his student loan forgiveness program would save more than $800 billion over the same period. Similarly, if the growth in federal spending is capped for a decade then more than $3 trillion would be saved.
At the moment, no talks are scheduled until Mr. Biden returns from Japan, but the president does plan to speak to Mr. McCarthy via phone on Sunday.
"It goes in stages," Mr. Biden said. "I've been in these negotiations before."