Brett Sutton lauded as calm leader in Victoria's COVID-19 public health storm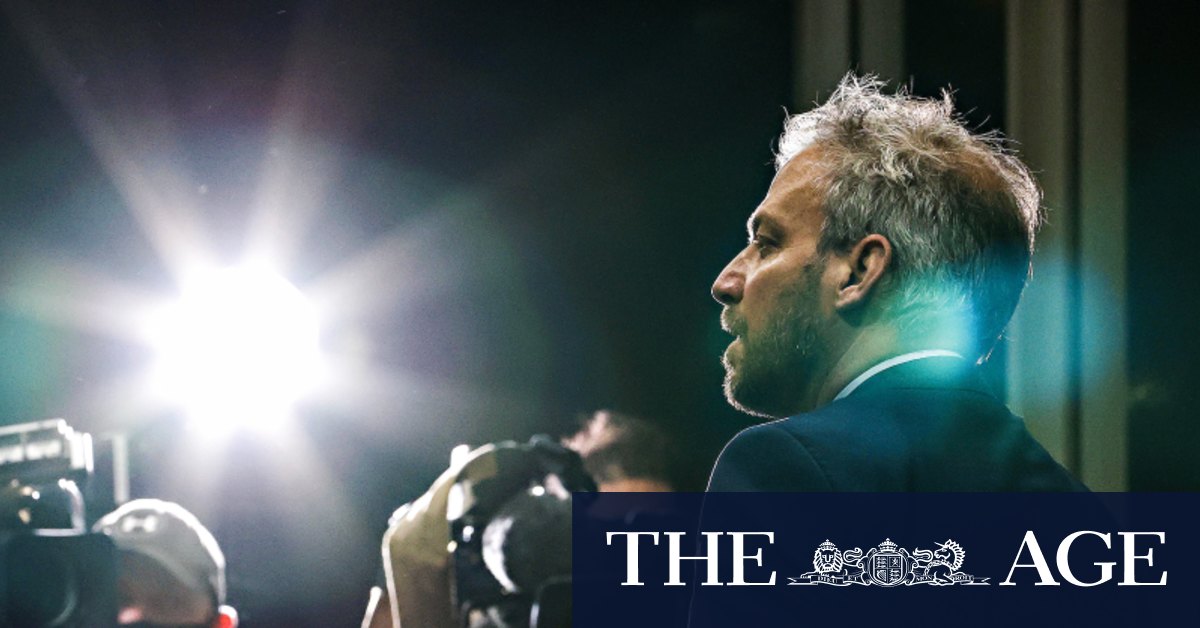 ​Sutton​ ​also conceded he had some regrets about how Victoria's response unfolded, ​including around the shutting of playgrounds.
"I think knowing what we know 1686304317 about the risk of transmission, indoors versus outdoors, the freedoms that we could allow outdoors are clearly greater," he said.
But he was adamant the government always sought to protect Victorians.
"Look, there shouldn't be a person in the world who's been part of the public health response, who wouldn't reflect on things that they would do differently, things that they regret. I'm absolutely no different in that regard," Sutton said.
"We acted with the understanding and information that we had at the time, with the best of intentions, and with an eternally focused eye on protecting the health and wellbeing of Victorians."
Loading
Tony Blakely, a University of Melbourne epidemiologist who is chairing a royal commission into New Zealand's COVID-19 response, helped develop the elimination strategy that Sutton and Premier Daniel Andrews embraced in 2020 as the way out of Victoria's second wave epidemic.
Blakely credits Sutton, in part, with the government's later decisions to redefine the role and powers of the chief health officer and decentralise the state's public health resources.
Under the state's pandemic laws, which then-health minister Martin Foley said Sutton helped shape, the chief health officer's advice is published but the minister wields the power to order people to stay home or close schools.
"In a situation where a pandemic is affecting all of society and is no longer just a health issue, it is no longer appropriate for a chief health officer to have those type of powers," Blakely said. "Under [Sutton's] watch we saw a transference back to what a democracy is about; elected politicians having the final say."
Loading
Finn Romanes, a public health physician who has worked alongside Sutton in Victoria's health department for a decade, said his colleague also played an important role in pushing for the establishment of local public health units, a reform that has transformed Victoria's approach to managing COVID and other communicable diseases.
"He has been incredibly supportive of broadening the public system, building the workforce and trying to get action at the local level," said Romanes, now the director of the Western Public Health Unit. "There wasn't an established playbook when COVID arrived. Brett is an exceptional public health professional who recognised the profound threat and danger proposed by COVID, probably before anyone else.
"He has always shown the deepest consideration for our community's health and Brett made sure that we took clear, evidence-based, decisive action when it was needed."
Allen Cheng, the director of infectious diseases at Monash Health, has experienced some of the pressure Sutton faced during the worst periods of the pandemic. At the peak of Victoria's second wave epidemic, Cheng served as one of Sutton's deputies and occasionally stood in for him as CHO. "This is very much public service," he said. "I only had a small taste of his world but jeez, it is hard work.
"You feel like you are the fulcrum. Everyone is trying to tell you what to do, you are having robust discussions with business, government, the rest of your department and the Commonwealth government. All the pressure just gets funnelled through one spot. There is so much pressure, you are getting it from everywhere, and he was so calm and methodical throughout that time."
Early in the pandemic, when Cheng was working at The Alfred hospital, he called Sutton to tell him a mechanic for the McLaren Formula 1 team, who was in town for the grand prix, had tested positive. The next morning, Sutton cancelled the event as patrons were lining up outside the Albert Park gates.
"Brett had said if there were any cases diagnosed among the crew, they would call it off," Cheng said. "I had to call them on the Thursday night saying we'd picked up a positive case in one of the crew. There was silence on the end of the phone."
Sutton's relationship with the Andrews government was complex, occasionally strained and ultimately contributed to his decision to cut short what he once described as his dream job.
Loading
Sutton's press conference on Friday was his first since last August. Since then, dozens of media requests to interview Sutton about vaccine boosters, emerging variants or public health issues unrelated to COVID-19 have been rejected by his health department minders, at the direction of the premier's office.
"The job has really changed," a public health colleague with knowledge of the situation said. "Access is absolutely controlled, they don't want him anywhere near the media, ever. He is not happy with it."
Although Sutton stood next to Andrews for most of the daily press conferences used by the government to provide information on case numbers, outbreaks and changes in public health policy through the COVID crisis, the premier did not return the favour on Friday.
Instead, Andrews issued a tweet: "For more than a decade, Professor Sutton has served our state and guided us through some of the most difficult times. As CHO, Brett helped keep us informed, and above all, safe. Thank you for your service, and all the very best for your next role."
Loading
Michael O'Brien led the state opposition at the start of the pandemic and said before the introduction of new laws requiring the CHO's advice about pandemic orders to be published, it was difficult to know where Sutton's advice ended and the government's political considerations began.
"He was put in a very difficult position," O'Brien said on Friday. "These things don't come with instruction manuals, but I certainly got the sense there wasn't a broader consideration of the public interest taken on a lot of these decisions.
"Everything was done quite secretly and when we asked questions publicly, we were attacked for undermining public health. I had deep suspicions that political factors weighed heavily on what we were told was the health advice. Occasionally, a bit of daylight would sneak in."
The Morning Edition newsletter is our guide to the day's most important and interesting stories, analysis and insights. Sign up here.