David Pocock lobbied day and night by businesses, unions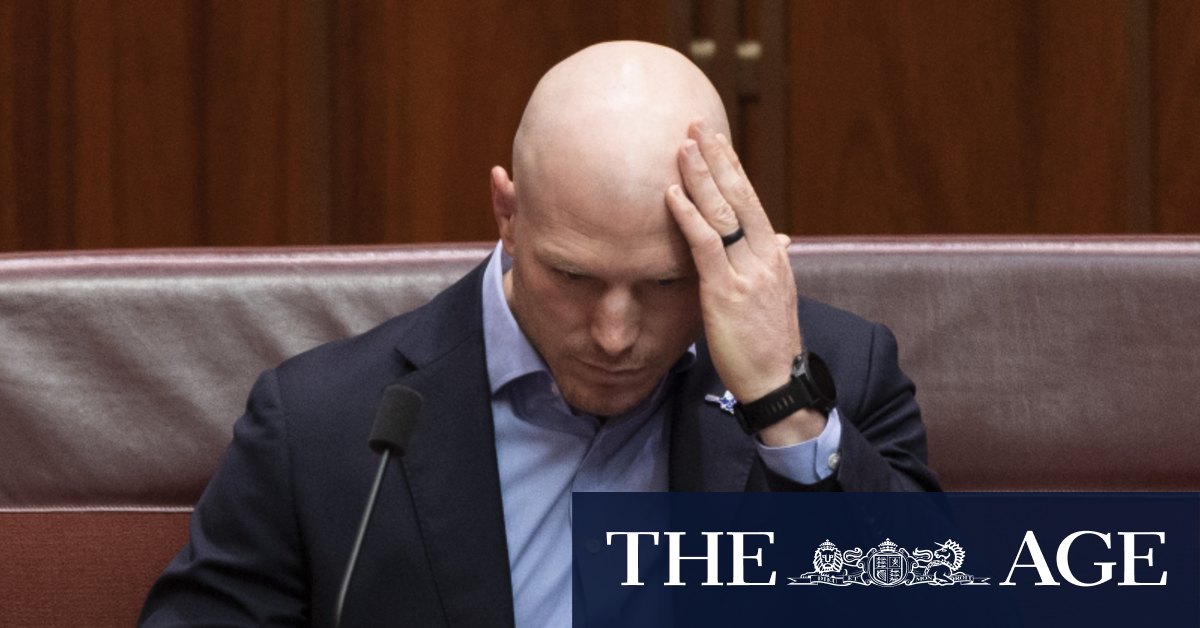 Union members have been waving placards outside his shopfront office calling for a pay rise, handing out chocolates and even set up a fake dining scene to ask for higher wages to be on the menu.
Then there were the union members in t-shirts with slogans at Pocock's town hall meeting with Workplace Relations Minister Tony Burke, who answered questions over the bill, while the senator fielded calls from workers for change.
In response to comment sought by this masthead about the call to action, McManus said: "Working people joining together as part of political campaigns is the only countermeasure we have to the vast wealth and political power of big business, who are pulling out all the stops to prevent this bill from passing."
IEU NSW/ACT secretary Mark Northam said he attended the meeting with six members, describing Pocock as a "genuine character".
Loading
"I think he's really grappling with it in a very serious manner and the IEU is hopeful the legislation will pass the house," Northam said.
Asked on Thursday whether the union movement was running a concerted campaign to win over Pocock, ACTU president Michele O'Neil replied, "we're running a concerted campaign to say wages need a rise in this country."
The IEU's ACT vice president and teacher Angela McDonald this week posted a video to Twitter telling Pocock she and him had a lot in common, including their service to the community.
Holding a bouquet of flowers she said had been bought for the senator with the donations of community members, McDonald said, "we need bread, but we need roses too," the two symbols of the union movement. "We need the basics, and we deserve real wages, dignity and respect."
Pocock has met with the Australian Industry Group's chief executive Innes Willox, who is staunchly against the bill, as well the Australian Chamber of Commerce and Industry's Andrew McKellar, who shares similar concerns to Willox.
He has also met with Electrical Trades Union, the Maritime Union of Australia, the Media, Entertainment and Arts Alliance, the Australian Flight Attendants' Association, and the Australian Council of Trade Unions – all this week.
On Thursday night he met with Burke again, as well as Prime Minister Anthony Albanese.
While everyone is talking about the Senator, he's been holding his cards close to his chest. On Tuesday, he brushed aside suggestions he would back the government's plans if they brought forward the final vote on the territory rights bill, which would allow the ACT to pass its own euthanasia bill, saying he had no plans to "horse-trade".
The future of the IR bill looks like it will remain up in the air as parliament's final week rolls around. Busy MPs of all political persuasions are jittery at the prospect of a third sitting week, anxious to head back to their electorates and their commitments in other states.
As for Pocock, he's prepared to stare down all the lobbying and enjoy his home ground advantage.
Cut through the noise of federal politics with news, views and expert analysis from Jacqueline Maley. Subscribers can sign up to our weekly Inside Politics newsletter here.