Disney Cruise Line destinations guide: The 5 best places its ships visit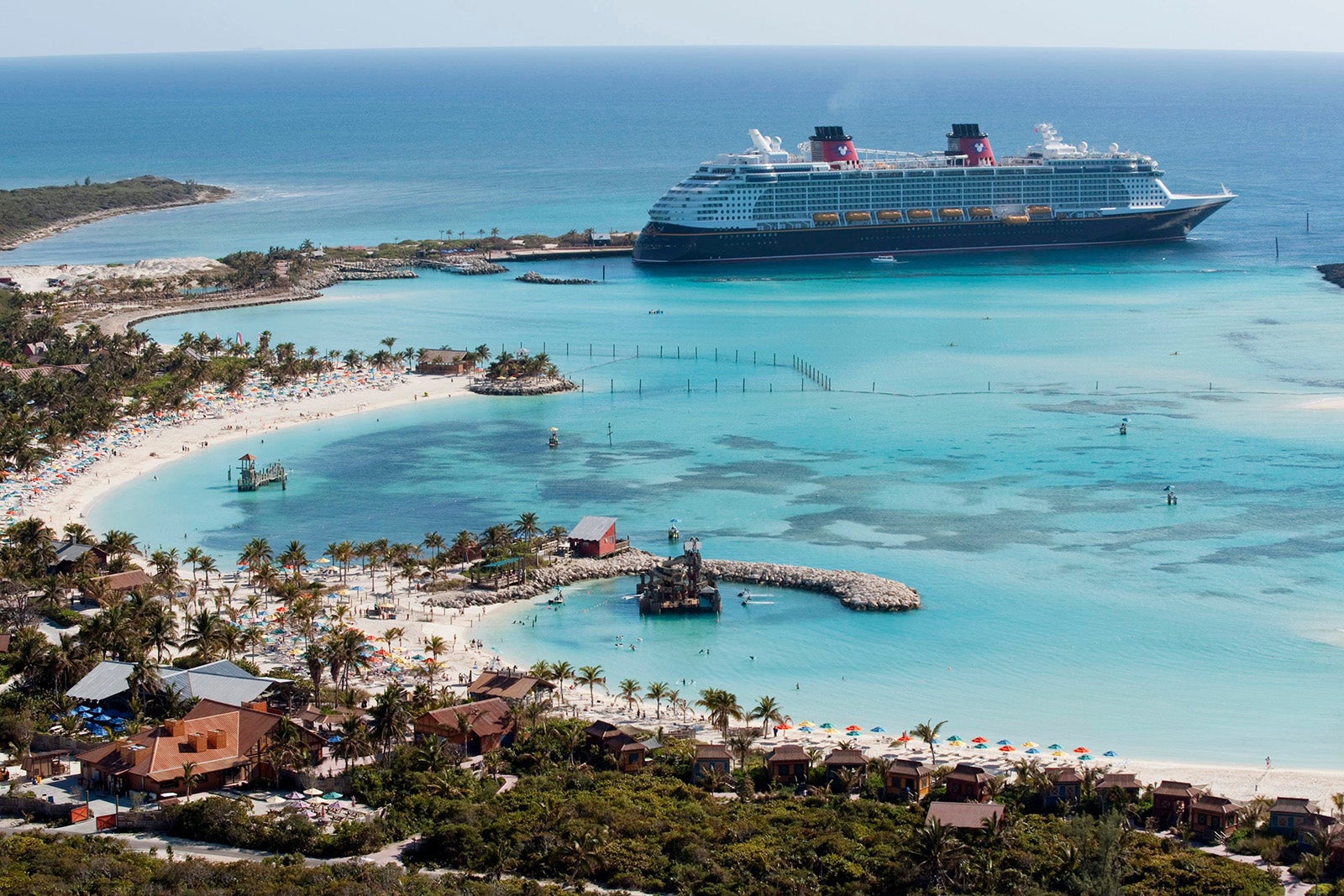 Is a voyage on a Disney Cruise Line ship on your bucket list? You'll find a growing number of options when it comes time to pick an itinerary.
While the cruising arm of Disney has long focused mostly on voyages to the Caribbean and the Bahamas, with year-round sailings to those destinations out of Florida, it also now offers a relatively wide range of seasonal sailings to Alaska, the Mexican Riviera, Bermuda, Europe and Canada.
The family-friendly cruise brand, notably, is expanding its footprint worldwide as it adds four new vessels in quick succession.
For more cruise news, guides and tips, sign up for TPG's cruise newsletter.
Already, the first of those ships, the 2,508-passenger Disney Wish, has arrived, boosting the size of the Disney fleet from four ships to five and allowing for more departures to the Caribbean, Mexico and Europe.
Two more sister vessels to Disney Wish are due to begin sailing in 2024 and 2025, respectively, allowing for further expansion in Disney cruise itineraries. In addition, the line has yet another new vessel coming in 2025 that isn't related to the other three. Called Disney Adventure, it's a one-off vessel originally designed for an Asian line, and it'll sail in Asia (perhaps catering mostly to Asian travelers; Disney has been mum so far on the target audience for it).
All these new ships arriving in quick succession will likely mean not just more departures to destinations where Disney Cruise Line is established but also sailings in new regions. For example, Disney has never before offered Asia sailings.
Here are our picks for the five best Disney cruise destinations you can visit with your family.
Caribbean and Bahamas
Disney Cruise Line's top destination has always been the Caribbean and the Bahamas. Since its founding more than two decades ago, the brand has based the bulk of its fleet in Florida to offer sailings to the islands. Port Canaveral, which is just an hour away from Disney's Orlando-area theme parks, has always been its biggest hub.
Daily Newsletter
Reward your inbox with the TPG Daily newsletter
Join over 700,000 readers for breaking news, in-depth guides and exclusive deals from TPG's experts
The line is particularly known for three- and four-night cruises out of Port Canaveral to Castaway Cay and Nassau in the Bahamas. These short getaways let families get a taste of Disney cruising that some Disney fans pair with a stay at Disney World.
The cruise line also regularly offers seven-night sailings out of Port Canaveral that visit Caribbean islands like St. Thomas and Tortola.
Related: First look at Disney Wish in photos
In recent years, Disney has also built up its Caribbean and Bahamas cruise offerings from other ports in Florida — initially Miami and, more recently, Fort Lauderdale. The ships the line has based in these ports typically offer four- and five-night sailings to Castaway Cay and one other port, such as Cozumel or Grand Cayman.
In addition, Disney is offering a growing number of Caribbean sailings out of Galveston, Texas, and New Orleans.
For 2024, the line will have four of its five ships — Disney Wish, Disney Dream, Disney Magic and Disney Fantasy — sailing to the Bahamas and Caribbean out of one of the above ports, with their home bases often shifting between them.
Disney Wish, which is Disney's newest ship, will be based in Port Canaveral year-round to operate the line's classic three- and four-night sailings to the Bahamas. These voyages are designed to be paired with a visit to nearby Disney World for a longer Disney vacation.
Disney Fantasy will also sail out of Port Canaveral to the Bahamas and Caribbean year-round, offering longer voyages.
Disney Dream will spend the start and the end of the year sailing short trips to the Bahamas and Caribbean out of Fort Lauderdale, with a stint in the middle of the year (from May to October) sailing in Europe.
Disney Magic will take Disney Dream's place sailing short trips to the Bahamas and Caribbean out of Fort Lauderdale from May to October. During the early and late months of the year, it'll sail out of Galveston.
Come 2025, Disney will have four ships — Disney Fantasy, Disney Wish, Disney Dream and Disney Magic — sailing three- to five-night getaways from Florida to the line's Bahamian destinations, including its new private beach destination Disney Lookout Cay at Lighthouse Point and its long-open private island Disney Castaway Cay. Disney Fantasy and Disney Wish will operate the trips from Port Canaveral, while Disney Dream and Disney Magic will sail from Fort Lauderdale.
Before taking up residence in Florida in April 2025, Disney Magic will also offer three months' worth of sailings out of Galveston, Texas, to Progreso and Cozumel in Mexico and Grand Cayman.
All of the 2025 sailings are already open for bookings.
Related: The best Caribbean cruise for every type of traveler
Mexico
Disney has cut back on voyages out of San Diego for 2024, after increasing its San Diego departures sharply in 2023. But it still offers several trips to Mexico out of the city on Disney Wonder.
For 2024, the 1,754-passenger vessel will offer a mix of three- to seven-night sailings to Mexico during March and April. Shorter three- and four-night sailings typically feature calls at Ensenada, Mexico, and California's Catalina Island. Seven-night sailings include calls at Cabo San Lucas, Mazatlan and Puerto Vallarta in Mexico.
Related: 11 ways to save money on a Disney cruise
The big factor driving Disney's cutbacks on sailings out of San Diego in 2024 is its new focus on voyages out of Australian ports. Disney Wonder will spend much of January and February sailing out of Australian ports and then return to the region in October for another season of Australia trips.
Europe
Disney offers a wide variety of itineraries in Europe every summer, from Mediterranean voyages out of Barcelona and Civitavecchia, Italy (the port for Rome), to Northern Europe sailings out of Southampton, England.
Ranging from seven to 11 nights, Disney's Europe voyages each year typically take place on a single ship that sails from multiple home ports throughout the season. For 2024, that ship will be the 2,500-passenger Disney Dream. The line has yet to announce which of its ships will go to Europe in 2025.
Typical for the shorter itineraries the line offers in Europe are seven-night sailings out of Civitavecchia to the Greek Islands. These sailings stop in Mykonos, Santorini and Crete in Greece, as well as Naples, Italy.
Related: 17 tips for sailing on Disney Cruise Line
A longer, 11-night itinerary starting in Civitavecchia and ending in Barcelona includes calls at Piraeus (the port for Athens), Santorini and Mykonos in Greece; Messina (on the island of Sicily), Naples and Livorno in Italy; and Toulon, France.
Among Northern Europe itineraries, Disney offers focused, weeklong sailings to Norway with calls at the Norwegian ports of Alesund, Nordfjordeid, Eidfjord and Stavanger.
Alaska
Disney does not have a large presence in Alaska. The line sends just one ship to Alaska each year. Family-friendly cruise rivals Royal Caribbean and Carnival Cruise Line, by contrast, each send three ships to Alaska each year, and Norwegian Cruise Line sends five vessels to the destination.
Still, Disney fans won't feel like they're missing out. The one vessel Disney sends to Alaska each year, the 1,754-passenger Disney Wonder, stays for nearly the entire summer season, from late June to mid-September and offers a distinctly Disney take on The Last Frontier.
Always beginning and ending in Vancouver, British Columbia, and lasting seven nights, Disney's Alaska sailings typically include stops at three of these four Alaska ports: Juneau, Skagway, Ketchikan and Icy Strait Point (which three vary by departure date). Itineraries also include a visit to Stikine Icecap, which is south of Juneau.
Related: 5 reasons Disney cruises aren't just for kids
These are fairly typical ports for an Alaska cruise. But the (extra-charge) activities that Disney has organized for the ports aren't always the same as what other lines offer.
As one might expect for Disney, the line has crafted some of its shore excursions in Alaska ports with special Disney touches, such as Disney character appearances at the Liarsville Gold Rush Trail Camp & Salmon Bake tour in Ketchikan. (Having done this one myself, I will say, for the record, that it's a little hokey; but it does get you a Disney character fix if that's your aim.)
Another shore excursion with a Disney touch is the outdoor Family Scavenger Hunt at Icy Strait Point, where participants join a local guide on a hunt for items such as clam shells and native plants, as well as a "special surprise" with a Disney theme.
Unlike many lines, Disney does not offer one-way sailings to Alaska from Vancouver or Seattle that can be paired with add-on land tours to create an extended sea-and-land Alaska vacation — something known as a "cruisetour." If that's what you're looking for, and you want to stick with a family-friendly line, you might want to consider the one-way cruisetour offerings from Royal Caribbean and Norwegian Cruise Line.
Related: The ultimate Alaska cruise guide
Bermuda
Disney typically offers at least one and sometimes several cruises to Bermuda each fall, ranging from quick, five-night trips to longer, eight-night sailings.
For the year just ending (2023), the line offered four such sailings, and it's offered even more than that in certain years. Alas, for the coming year (2024), Disney currently does not have a single Bermuda sailing scheduled — a bit of an anomaly.
That said, we would expect Disney to bring back its Bermuda sailings for 2025 or 2026. It's been such a mainstay of the brand.
So … stay tuned.
Related: The ultimate guide to Disney Cruise Line
Bottom line
Family-friend Disney Cruise Line is a relatively small cruise brand, with just five ships (one of its biggest rivals in the family cruise market, Royal Caribbean, has 26 vessels). But that doesn't mean its itinerary choices are limited. The line offers regular sailings to the Caribbean and Bahamas, Mexican Riviera, Alaska, Bermuda and Europe.
Planning a cruise? Start with these stories: