Downing Street parties: What Covid rules were broken?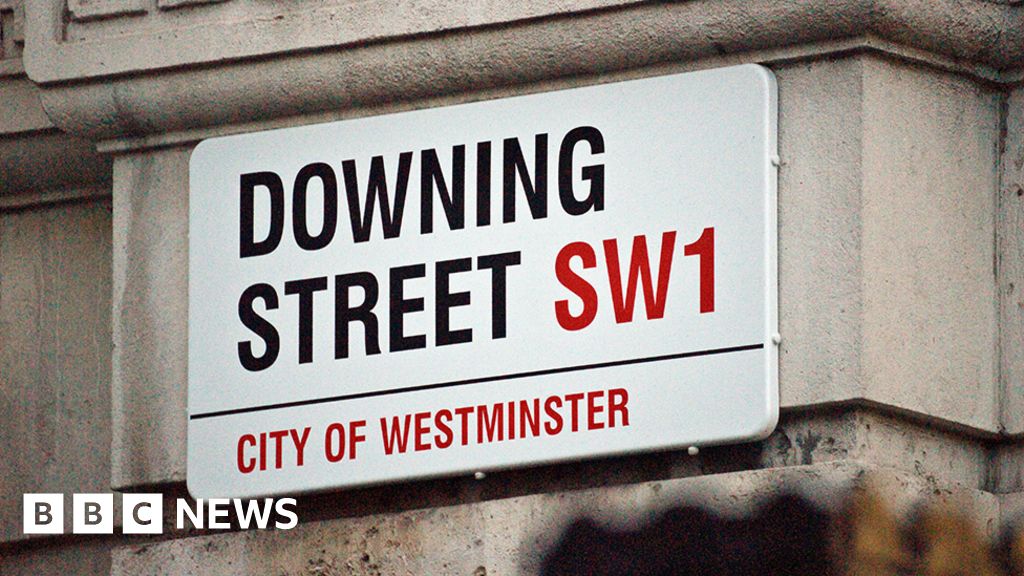 By Reality Check team
BBC News
Prime Minister Boris Johnson and Chancellor Rishi Sunak have both paid fines for breaking Covid lockdown regulations by attending a gathering in Downing Street.
An investigation by the Metropolitan Police into illegal parties has led to at least 50 fines being issued.
The prime minister's wife Carrie has also paid a fine.
Downing Street has confirmed that Mr Johnson is being fined for his birthday celebration on 19 June 2020.
19 June 2020 – birthday celebration
This took place in the Cabinet Room and was reportedly arranged as a surprise for Mr Johnson by his then fiancee, Carrie Symonds.
Rishi Sunak was also there, but he told BBC News in February that he had gone to the Cabinet Room for a Covid meeting.
Up to 30 people attended, sang Happy Birthday and were served cake, according to ITV News. As well as Downing Street staff, the interior designer Lulu Lytle – who was not a member of No 10 staff – was present.
No 10 said staff had "gathered briefly" to "wish the prime minister a happy birthday", adding that the PM had been there "for less than 10 minutes".
Gatherings of more than two people inside were banned by law. An exception was allowed if the gathering "was reasonably necessary" for work purposes.
The fines known as fixed penalty notices (FPN) started at £100, which would fall to £50 if paid within 14 days. The fines double for each further offence. The initial fine increased to £200 in September 2020.
As Mr Johnson is to be issued with an FPN for this gathering, it is clear the police have not deemed the gathering to have been necessary.
20 May 2020 – garden drinks party
Boris Johnson apologised to MPs for attending a drinks party in the Downing Street garden, saying he spent 25 minutes thanking staff, before returning to his office.
Staff had been invited to "bring your own booze" to the event. Mr Johnson said he had not been notified in advance and had "believed implicitly" it had been a work event.
This was during the first lockdown when people could not leave their homes – or be outside the place they lived – without a reasonable excuse, which included work (where you couldn't work from home).
Covid rules expert Adam Wagner, a barrister at Doughty Street Chambers, says it is difficult to see how this Downing Street event would have been in line with the rules.
"If you were doing something which wasn't necessary for work then you weren't outside of your house [with] a reasonable excuse and you were potentially committing a criminal offence."
However, he added that as the prime minister and his wife live in Downing Street they would not have technically left their home to attend the party.
The law also banned gatherings in a public place of more than two people, unless they were all members of the same household or the gathering was "essential for work purposes". However, lawyers have noted that Downing Street is not a public place.
On the day of the party, the government Twitter account reminded people of the existing guidance that gatherings must be limited to two people outside.
Mr Johnson told MPs that as a "work event", he believed the gathering was technically within the guidance.
But at the time, the "working safely during coronavirus" guidelines said only "absolutely necessary participants should attend meetings and should maintain 2m separation throughout". Generally, workers were told to "reduce the number of people you spend time with in a work setting".
There is nothing in the guidelines that would suggest that drinking, socialising or other types of work event along these lines would have been allowed.
13 November 2020 – two gatherings
Ms Gray says two gatherings took place in Downing Street: one to mark the departure of a special adviser and one in the Downing Street flat.
According to the Daily Telegraph, a celebratory event was held in the private flat of Mr Johnson and his wife Carrie following the departure of Dominic Cummings, the PM's former senior adviser.
The Telegraph claims Mr Johnson was seen heading up to the flat on the night of the event. Downing Street said it could not comment on this.
A second national lockdown was in force at the time and indoor gatherings with other households were not allowed (unless for work).
16 April 2021 – leaving parties
The night before the socially-distanced funeral for Prince Philip, two leaving parties took place in Downing Street.
Boris Johnson did not attend these gatherings but has apologised that they happened.
We know that some of the fines issued relate to the leaving party for former No 10 director of communications James Slack, who has also since apologised.
The rules had been eased in England on 12 April 2021, but working from home continued to be recommended and socialising indoors with people from other households was not allowed.
There was an exemption for "work purposes" but this did not mention socialising at work.
Meeting others outdoors was limited to groups of six people or two households.
14 January 2021 – gathering
A gathering was held in Downing Street for the departure of two No 10 private secretaries, Ms Gray's report states.
According to the Guardian, Boris Johnson made a short speech and stayed for around five minutes. Prosecco is alleged to have been drunk by some staff.
England had entered its third national lockdown on 6 January 2021. A "stay at home" order was in place. People were allowed to leave home for work (if they could not reasonably work from home), but were not allowed to meet socially with others.
15 December 2020 – Christmas quiz
Number 10 said the prime minister "briefly took part virtually" to thank staff for their work and that no rules were broken.
The Daily Mirror subsequently published a second photo of the event showing Boris Johnson behind two staff (one wearing tinsel) and an open bottle of wine on the desk.
At this time, London was under tier 2 restrictions. These rules banned two or more people from different households from meeting indoors, unless "reasonably necessary" for work purposes.
What about the rules around other gatherings?
On 18 June 2020 there was a gathering in the Cabinet Office for the departure of a No 10 private secretary.
The former director of ethics in the cabinet office, Helen MacNamara, has apologised after confirming that she received a fine for attending the event.
This gathering was the day before the one for Mr Johnson's birthday – the rules were the same.
On 17 December 2020 three events took place: two for the departure of officials and a Christmas quiz. There was also a gathering ahead of the Christmas break on 18 December 2020, which was joked about in a leaked Downing Street press conference video.
Furthermore, the government's guidance for the Christmas period specifically said: "Although there are exemptions for work purposes, you must not have a work Christmas lunch or party, where that is a primarily social activity and is not otherwise permitted by the rules in your tier."