Easy riding: Sweden's newest national cycle route is perfect for a towpath adventure | Sweden holidays
Swifts dart and swoop from Norrqvarn's eaves, the morning sun filtering through the pines as I load my panniers and get set for a slow day's cycling. A former mill turned welcoming and, crucially, affordable hotel, Norrqvarn is my starting point for a multi-day bike ride taking in Sweden's most impressive engineering feat, the Göta canal. The canal celebrated its 200th anniversary in 2022 and the newly opened Göta kanalleden section is the main attraction along Sweden's national cycle route 7.
Getting the Göta canal primed for national cycling route status has been a years-long project, explains Amanda Hessle, my guide for the day (from local agency Värdskapsbyrån). Regular picnic sites replete with barbecues, fika (coffee and cake) spots alongside many of the 58 locks, plus toilets and even showers, are proof of how the state-owned canal company has dedicated time to making life as easy as possible for those on two wheels.
The canal and cycle path are split into two parts, totalling 125 miles (200km) of trails. The western section runs from Sjötorp, on the banks of Lake Vänern, to Tåtorp, on Lake Viken. From there, ships pass through Lakes Viken and Vättern, before entering the eastern canal at Motala, where it heads to Mem and on to the Baltic Sea and Stockholm. The cycle path swings inland at Tåtorp and cleaves close to Lake Viken, before pausing at Karlsborg, from where cyclists can sail to Motala to continue their ride (packages available or private boats can be booked in advance). I am riding the western section, covering 100km over three days.
The canal was the brainchild of Swedish naval officer Baltzar von Platen, who turned to Scottish canal pioneer Thomas Telford for assistance. Its construction took 20 years of hard manual labour, connecting the North Sea with the Baltic and boosting industry in west Sweden in the process. Having closed to industrial traffic in 1969, today it is a haven for walkers and cyclists, with three million visitors a year heading here for a dose of glorious nature. My bike and panniers come courtesy of Sustainable Stella, a local cycle hire company. It can book hotels on behalf of visitors, but it also offers simple bike hire, with hostels, hotels and campsites easily booked independently.
As we set off, the peaceful countryside looks resplendent in the summer sun. Stands of oak and birch line the towpath, cowslip and foxgloves lending the scene a cheery brightness as we pedal against the strong easterly breeze. "The here and now, this is what the canal is all about for me," says Hessle. "You just can't go quickly. People arrive wanting to rush and leave completely relaxed after a few days. It's lovely to see it happen."
Originally from Switzerland, but having lived locally for 23 years, Hessle is clearly obsessed with the Göta canal. She talks passionately about the hard work of von Platen, Telford and the labourers who built it, as well as the boats that ply its length.
The gravel track serves up easy riding and soon we are passing pretty yellow wooden lock houses. Traditionally, lock keepers worked 24 hours a day throughout the year, says Hessle. Now though, it's become a summer job for students. About 350 will take up posts during the summer holidays, easing boats' passage along the waterway.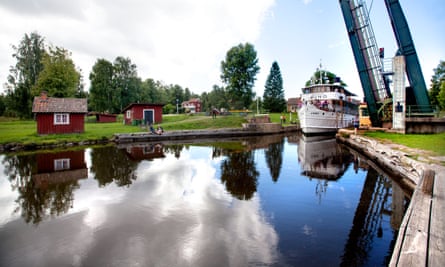 We stop to watch three yachts glide into a lock, Swedish flags atop their sterns snapping in the wind. This part of the route is car free, all the better for taking in the views of endless fields and dense forest. Kids leap from overhanging branches into the cool embrace of the water near Hajstorp locks, their splashes the only sound other than the mellifluous song of an unseen blackbird.
I spend the night at Pensionat Prästgården, a charming guesthouse in the heart of Töreboda with locals enjoying cold beers in its lush garden.
The following morning, I have a quick cup of coffee with Peter Wicks, from Sustainable Stella. A Cornwall native, he's lived here for eight years. "The cycling infrastructure in Sweden is incredible," he says, praising not just the new Göta canal path, but the bike lanes which run alongside every road in every town.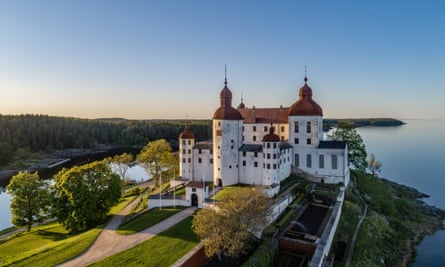 It's hard not to agree as I set off, alone today, regular signposts pointing me in the right direction. After an hour passing poppy-filled meadows and the still, pollen-dusted canal, I reach Tåtorp cafe. Set in an apple orchard, owner Jonas emerges and greets me with a firm handshake and points to a table laid out with sandwiches of local salami and cheese, strong black coffee and a cinnamon bun.
"You'll need your energy for the next part," he grins, making an up and down motion with his hands to suggest the undulating terrain. He's not wrong. With the canal entering Lake Viken at Tåtorp, the path takes a winding route along quiet country lanes and unsealed tracks. Soon the going is hard, with long, uphill pulls rewarded with speedy downhill runs. Skylarks sing above crop fields, pied wagtails darting ahead.
On Jonas's advice, I stop just north of Beateberg at a swimming spot on the banks of Lake Viken. I haven't seen a soul since lunch and the place is deserted. I slide into the cool embrace of the water and swim out into the open expanse, the sky an endless, high summer blue.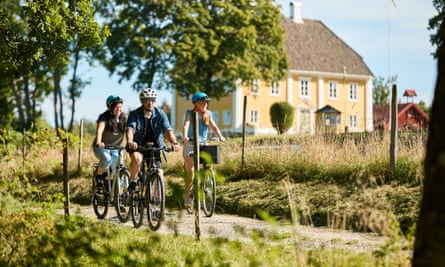 Back on the track, the route remains easy to follow, but tough going in the heat. So it's with deep joy that I turn on to the main road into Forsvik, where I'm spending the night. After 60km of riding, I'm in need of a rest. My room at the Forsvik hostel is laid out with snacks and a can of icy orange soda which I glug in two gulps. A former residence for workers at the nearby Forsviks Bruk, a mill and forge complex dating back to 1410, today it's enjoying a new lease of life as a beautiful lakeside resting place.
My final morning starts early, with a breakfast of yoghurt and granola taken outside before a deliberately slow 10km ride into Karlsborg. Home to an imposing fort of the same name, built as an alternative Swedish capital during the 19th century, today it's best known as a tourist town, with boats heading out into Lake Vättern or making the trip along the canal back towards Sjötorp. I prop my bike up at the fort's cafe and stretch out on the grass, my legs tired but my mind loosened by the ride. As Hessle said, you can't help but take it easy in this part of Sweden. And with this brilliant new bike path, it's easier than ever to while away a few days in this gorgeous corner of Scandinavia.
The trip was provided by Visit Sweden. Rooms at Norrqvarn start from 1499 SEK per night (£110) for a double room, including breakfast, based on two sharing. Rooms at Pensionat Prästgården start from 1000 SEK (£72) for a single room, including breakfast. Doubles cost 1550 SEK (£111). Rooms at Forsviks hostel start from 1270 SEK (£93) for a double room with private bathroom, including breakfast. Sustainable Stella offers bike hire from 550 SEK (£40) per day