England must show steel as emotions run high before visit of Ukraine | England
It is fair to say that there will be a lot going on at Wembley on Sunday before England kick off their second Euro 2024 qualifying tie, against Ukraine. A golden boot presentation for Harry Kane to mark his status as the nation's record goalscorer; he set the mark with a penalty in Thursday's 2-1 win over Italy in Naples and would be congratulated by the prime minister, Rishi Sunak, on Saturday.
Another presentation, this one of a posthumous honorary England cap to the family of Jack Leslie, the black player who was denied the chance to play for his country in 1925 because of the colour of his skin. And a minute of applause for George Cohen, the 1966 World Cup winner, who died in December. So, sporting achievement; anti-racism plus the righting of a historical wrong; and the celebration of a cherished football figure. The power of the game – and specifically that of a sold-out Wembley – to provide a platform for so much continues to amaze.
There is something else, something that will colour the occasion, gruesomely unavoidable – the knowledge that war continues to rage in Ukraine, more than a year on from the Russian invasion; unspeakable cruelty and everyday reality.
"There is no one in Ukraine who didn't lose something," said the Ukraine and Arsenal player, Oleksandr Zinchenko. "Every single day, Ukrainian people are dying."
The Football Association will welcome to the game more than 1,000 displaced Ukrainians and their host families in the United Kingdom. Around 4,200 Ukraine fans will be in the crowd and the players will come together before kick-off to send a message of peace.
The emotion whenever Ukraine play is almost overwhelming because Zinchenko and his teammates are acutely aware their compatriots are watching from afar, craving a moment of release and happiness, feeling the pride in the shirt and the badge.
Gareth Southgate was asked whether it was tough to predict how Ukraine would play given all of the trauma in the lives of their players and staff. "No, I would say it is entirely predictable," the England manager said. "They are very proud. We saw that right at the beginning of the war when they went to Scotland and Wales for the World playoffs [last June]. They are totally committed to bringing enjoyment to their public."
It was interesting to see the reaction of Scotland and Wales, how the teams and supporters in the stadiums in Glasgow and Cardiff lived the occasions.
"I think that was difficult," Southgate said. "Hampden had a different feel – a different feel to what we'll get in September when we go there [for a friendly], that's for sure!"
Scotland lost 3-1. It would be different again for Wales, who won 1-0 to advance to their first World Cup since 1958. From Southgate's point of view, as he tries to prepare with cold-hearted professionalism – however hard that might be – the situation in Ukraine is a part of this.
"It's not irrelevant because we all want to pay our respects and show our support – that's important for all of us," he said. But to listen to Southgate was to realise it must not be hard; this is indeed a challenge of his players' mentality, one they must pass.
The victory against Italy, England's first on Italian soil since 1961, represented a big step forward, the clearing of surely the most difficult obstacle in the qualification group. Some of the shine would come off if England were to stumble – even if Ukraine could be the one team in world football people would not mind losing to.
"Well, I would," Southgate said. "We want to win games of football. Our job is to qualify. Our job is to represent our country with the pride that they're going to represent their country with. I would be worried if our players don't have that same level of motivation that Ukraine have.
"As soon as Ukraine enter the competition, they want to go through and it's game on, so in a football sense we need to do what we need to do to win. We need to be on six points when we leave Wembley. If we are going to be considered a really top team, we have to back up our performance against Italy."
The Italy game was a triumph. Southgate said that the first half, after which England led 2-0, was "as well as we have played with the ball against a top team". Nobody could disagree.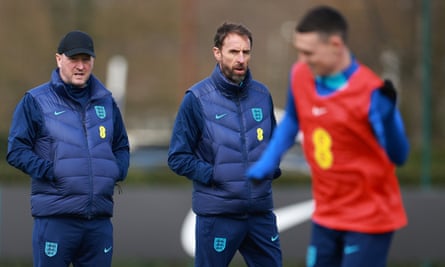 Kane was outstanding and so was Jude Bellingham; counter-pressing effectively as a No 10, bolting from box-to-box when England had possession, making things happen. "Jude is in that bracket we love – high performance, low maintenance," Southgate said. "He continued the other night where he was for us in Qatar at the World Cup."
It nevertheless felt typical that the victory was almost snatched away and overshadowed by a sloppy second-half showing when England went back to old failings on the ball. Thankfully for Southgate, he could also salute the team's defensive resilience.
"Other than the physical aspect, we've got to make sure that our level of motivation and focus is what it was before the game in Italy," Southgate said. "We had a lot of drive for that because we were still smarting from the World Cup [quarter-final exit to France] and from previous games against Italy."
In technical terms, England need to put both sides of the game together over the 90 minutes against Ukraine. It will not be the only requirement.