European cities that are best experienced in the fall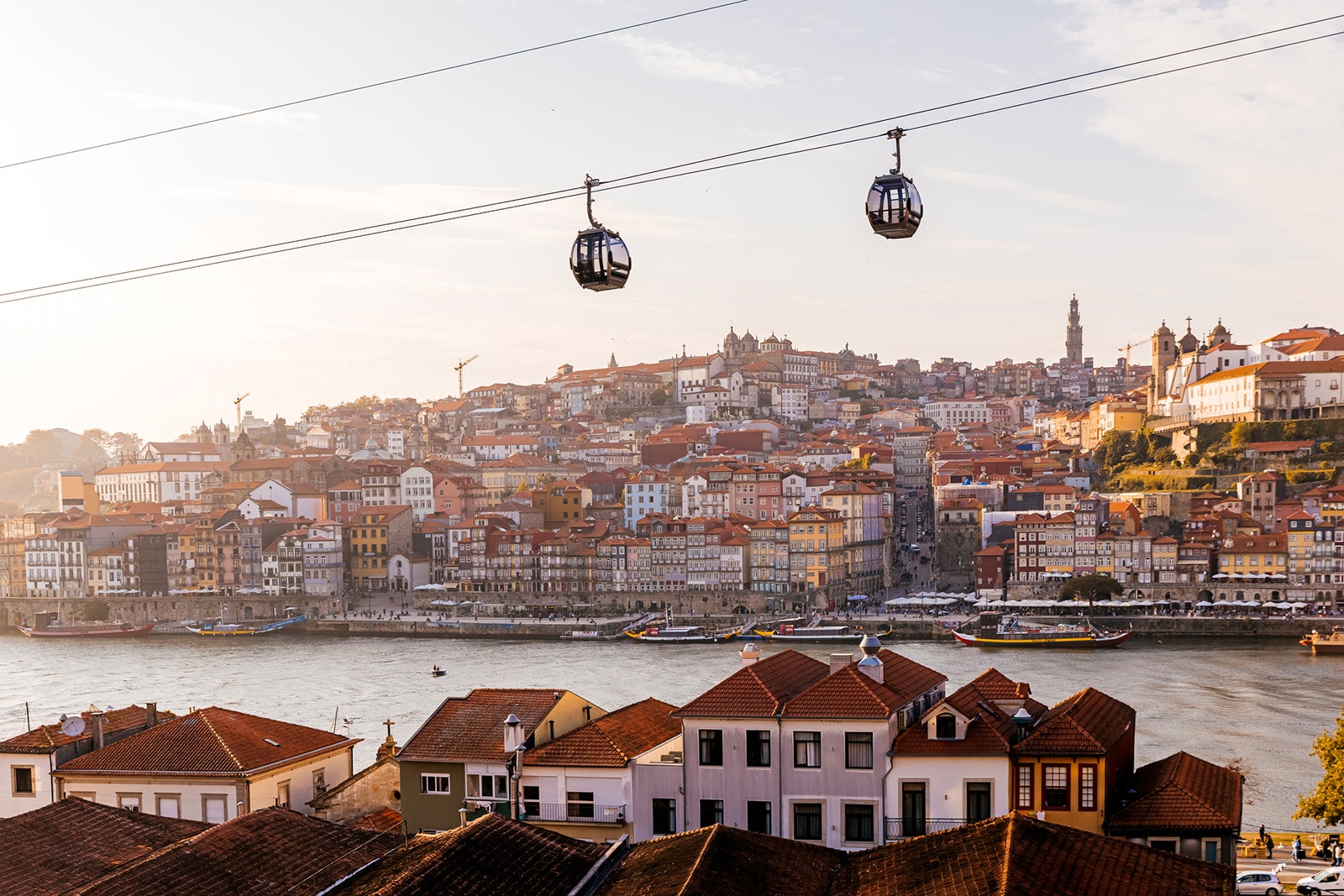 I know, I know — those Instagram photos your friends and colleagues have been posting from Mykonos all summer have created some serious fear of missing out. But trust me when I say that many of Europe's most desirable destinations are actually much more pleasant in the fall.
After a series of sweltering heat waves spread across southern Europe this summer, autumn will finally bring some relief as the temperature drops. In the fall, you rarely have to jostle past hordes of tourists, or line up and wait to get that perfect photo — something that will be especially true this year.
Plus, since Europeans tend to travel in the summer, you're going to experience the cities more authentically now that their residents have all returned from vacation. Not to mention the fact that cultural offerings increase while the cost of flights and hotel rooms decreases as the days grow shorter.
Whether you want to spend your European holiday getting cultured, relaxing at the beach or exploring the countryside, here are 12 destinations that are best experienced in the fall.
Porto and the Douro Valley
Lisbon usually steals the spotlight, but Porto in northern Portugal is drawing more travelers. Many go to admire the beautiful azulejo tiles, learn about the city's rich history, and sample delicious Portuguese food and wine.
In Porto, visitors should spend some time strolling around the historic center and the Douro River, which is lined with cafes, bars, restaurants and shops. Then, cross the river to visit one of the historic Port wine cellars, like Graham's Lodge, the preferred cellar of the British royal family. Porto is also a great jumping-off point to visit the scenic Douro Valley, the wine region known for terraced vineyards that cascade toward the river.
To stay in the heart of the city center, book a room at Maison Albar Hotels — Le Monumental Palace, a member of the Leading Hotels of the World. Then rent a car and drive to the Douro Valley, where you should base yourself at the luxurious Six Senses Douro Valley (rates start at $868 per night).
Amalfi Coast, Capri and Ischia
Jutting out into the Tyrrhenian Sea, the Amalfi Coast is one of Italy's most picturesque and iconic destinations. It's also one of the most crowded, especially in the peak summer season. In the fall, after most tourists leave, you can soak up the beautiful landscapes and lifestyle with fewer crowds and more affordable rates.
The three main towns to visit are Positano, Amalfi and Ravello, and it's a good idea to spend a day exploring each of them. There are plenty of smaller, lesser-known towns as well. In fact, between the Amalfi Coast and the nearby islands of Capri and Ischia, you could spend a week exploring the area and still not see everything. Just keep in mind that most of the top hotels close at the end of October.
Daily Newsletter
Rewarding reading in less than 5 minutes
Join over 700,000 readers for breaking news, in-depth guides and exclusive deals from TPG's experts
Related: Here's why fall is a great time to visit Italy in 2023
The best new place to stay in Amalfi is the Anantara Convento di Amalfi, which is perfectly positioned overlooking the town and within easy walking distance of the historic center (rates from $445). The coast is also home to a few Leading Hotels of the World members, including Le Sirenuse in Positano (from $845 per night), Hotel Santa Caterina in Amalfi (from $555 per night) and Palazzo Avino in Ravello (from $647 per night). Want to spend a night on Capri? Book a room at the buzzy new Hotel La Palma, a member of the prestigious Oetker Collection (from $749 per night).
Greek islands
Who says that summer is the only time to visit the Greek islands? Fall brings pleasant weather, fewer crowds, and more affordable airfares and hotel rooms.
There are 200 inhabited islands in Greece, so you have plenty of options. If you're not sure where to start, Variety Cruises offers a handful of itineraries in Greece; the small ships depart from Athens and hop around the Cyclades and other islands. Or you could base yourself on a larger island like Crete, which has everything from ancient ruins to beautiful beaches and luxury resorts. In September and October, it's generally still warm enough to swim.
Marriott Bonvoy members will find some great options, including Cosme in Paros (from 88,000 points per night), Mystique in Santorini (from 96,000 points per night) and Blue Palace Elounda in Crete (from 70,000 points per night), all of which are members of the Luxury Collection. Also in Crete is Cretan Malia Park, which is offering a series of wellness retreats this fall (rates from $172 per night).
Berlin
Although Munich draws crowds for Oktoberfest every fall, Berlin offers more cultural attractions and events. The German capital has a range of activities to suit every taste, from highbrow entertainment like opera performances to techno raves and everything in between.
This fall, the city will welcome Fotografiska Berlin, a new outpost of the Swedish photo museum. There's also the new Deutschlandmuseum and the Cold War Museum. Two exhibitions will be dedicated to the work of Edvard Munch. Go in October to see the Festival of Lights or in November for the Jazz Festival.
Book a room at the luxurious Hotel de Rome, a Rocco Forte Hotel housed in a historic bank building in east Berlin (from $404 per night). Or, redeem your Marriott Bonvoy points for a room at the Provocateur, a member of Design Hotels in west Berlin (rooms start at 30,000 points per night).
Rome
Romans use the term "l'ottobrata romana" to describe how lovely the city is in October when the summer heat has subsided and the climate is warm but mild.
Visiting archaeological sites like the Colosseum and Roman Forum is much more pleasant when you don't have to battle the crowds and the heat in the sweltering summer sun. If you've already seen those, you might want to visit the Sacred Area of Largo Argentina, where Julius Caesar was assassinated; it recently opened to the public for the first time.
Related: 10 exciting new hotels to check out in Rome
While Rome's most famous dishes are available year-round, it's worth seeking out seasonal specialties featuring ingredients like porcini mushrooms, pumpkin and squash. It's also a great time of year for a daytrip to the Castelli Romani, where you can visit vineyards and taste the famous porchetta di Ariccia.
If you have Marriott Bonvoy points, you can use them at the W Rome (rooms start at 79,000 points per night in October) or the sleek new Rome Edition (from 78,400 points per night).
Istanbul
Aside from great weather, you'll find exciting cultural programming in Istanbul this fall. Of course, if it's your first time, you should definitely visit Topkapi Palace, the Hagia Sophia (be sure to go outside of prayer times) and the Grand Bazaar. The Blue Mosque recently emerged from a years-long restoration, so now is an ideal time to admire its famous dome.
Related: How to spend 1 day in Istanbul
The city's best hotel — Ciragan Palace Kempinski, built as an Ottoman sultan's palace — is a Leading Hotels of the World member, so Leader's Club members can earn and redeem points there (rates start at $513 per night). If you have World of Hyatt points, you can use them at the Park Hyatt Istanbul in the posh Nisantasi district, which is full of designer shops and chic restaurants (rates start at 20,000 points per night). Members of Le Club AccorHotels should book a room at Raffles Istanbul, which boasts some of the largest rooms and suites in the city (from $523 per night).
Paris
Everyone loves Paris in the spring, but there's something magical about strolling through the Jardin du Luxembourg and the city's other parks when the leaves change colors.
And a few cultural attractions are adding new sparkle to the City of Light. The Maison Gainsbourg will open on Sept. 20 in singer Serge Gainsbourg's former home. It will have a cafe that becomes a piano bar by night. In November, the Musee National de la Marine (dedicated to promoting maritime heritage) is scheduled to open. And it might be worth taking a daytrip to Versailles to see Marie Antoinette's private quarters, which debuted recently.
Related: Paris Pocket Guide: What to see, do and eat in the City of Light
One of the best points redemptions you can make in the city is the Park Hyatt Paris-Vendome, from 35,000 points per night. Marriott loyalists can also find great value at the Prince de Galles, a Luxury Collection Hotel which has rooms from 107,500 points per night. For more inspiration on where to stay in Paris, check out TPG's favorite hotels in Paris.
Dubrovnik
Though you might think of Dubrovnik as a summer destination, it's still warm enough to go to the beaches through the end of October. Plus, without the onslaught of tourist crowds, the city is quieter and more enjoyable. You can stroll through the historic center, take the cable car up to Mount Srd for panoramic views of the city and even visit an oyster farm in the nearby town of Ston.
Adriatic Luxury Hotels has 12 hotels in Dubrovnik, so whatever vibe you're looking for, you can find it at one of their properties. The Hotel Bellevue, renovated in 2019, has direct beach access and rooms from $156 per night. There's also Hotel Excelsior — the city's most iconic hotel — and Villa Orsula, which exudes Old World charm (rates from $872 per night). As part of Small Luxury Hotels of the World, Hotel Excelsior accepts reservations with Hyatt points (from 35,000 per night).
Madrid
"Madrid is amazing all year long, but fall can be especially beautiful. The autumn foliage in the Retiro Park is a medley of colorful hues and the city's wine culture is even more alive than usual as it's harvest season throughout Spain," TPG writer Lori Zaino, who has lived in Madrid for 15 years, said. "Weather is often mild and sunny through early November, and by the end of the same month, Madrid is already all lit up with holiday decor, ringing in the chillier [temperatures]," she added.
Madrid has plenty of points-based hotels, including the Westin Palace, which starts at 49,000 points per night and the new Thompson Madrid, which is a great use of Hyatt points (from 12,000 World of Hyatt points per night or $400). A luxe option is the Mandarin Oriental Ritz, which reopened in 2021 and is one of the city's most historic hotels (rates from $922 per night).
Amsterdam
Everyone talks about tulip season in the Netherlands, but autumn is just as lovely. Amsterdam's canals take on the golden hue of the Dutch master paintings you can admire at the Rijksmuseum. If there's a chill in the air, cozy up in one of the city's many brown cafes for a beer and a shot of genever. And don't miss the apple pie at Cafe Winkel 43.
Leader's Club members can earn or redeem points at the Conservatorium Hotel, a design masterpiece inside Amsterdam's old music conservatory (from $812 per night), or Hotel de L'Europe, a grand dame established in 1896 by the Heineken family (from $693 per night). There are options for Marriott loyalists too, including the hip Sir Adam Hotel, a member of Design Hotels; points redemptions are available from 35,000 points per night on off-peak dates in September, October and November.
Ticino
Outdoorsy types will love Ticino, Switzerland's only Italian-speaking canton. The towns on the Swiss side of Lake Maggiore have scenic hiking trails with a long history of attracting hippies and nudists. You're not likely to see them in the picturesque town of Ascona, where cobblestone streets are lined by casual restaurants, cafes and shops, though. It has a more classic Old World vibe. You can also take a boat over to the Brissago Islands, home to a stunning botanical garden.
After a day of hiking in the mountains, relax at the Hotel Eden Roc, a member of Leading Hotels of the World. It has a midcentury modern design that will make you wonder if Don Draper is about to check in. The pool overlooking the lake with its yellow umbrellas looks like something out of a Slim Aarons photograph. Rates from $353 per night.
Copenhagen
As the days get cooler and shorter, Danes start to focus on hygge — that untranslatable concept that prizes comfort and coziness. And what better way to experience hygge than to cozy up with pastries and a cup of coffee at Copenhagen's best bakeries?
Bageriet Benji, opened by a Noma alum, and Collective Bakery, by the team behind one of Copenhagen's best coffee roasters, are just a couple of the best bakeries in town. But there's so much more to do in Copenhagen than eat and drink. The city is the 2023 UNESCO World Capital of Architecture and offers events ranging from exhibitions to open houses.
Check into the sleek Nobis Hotel, a member of Design Hotels (with rooms available for 53,000 Marriott Bonvoy points per night in October), or the Hotel d'Angleterre, the city's grand dame and a member of Leading Hotels of the World, which has rooms from $835 per night.