Federal integrity body becomes an issue in battle for Brisbane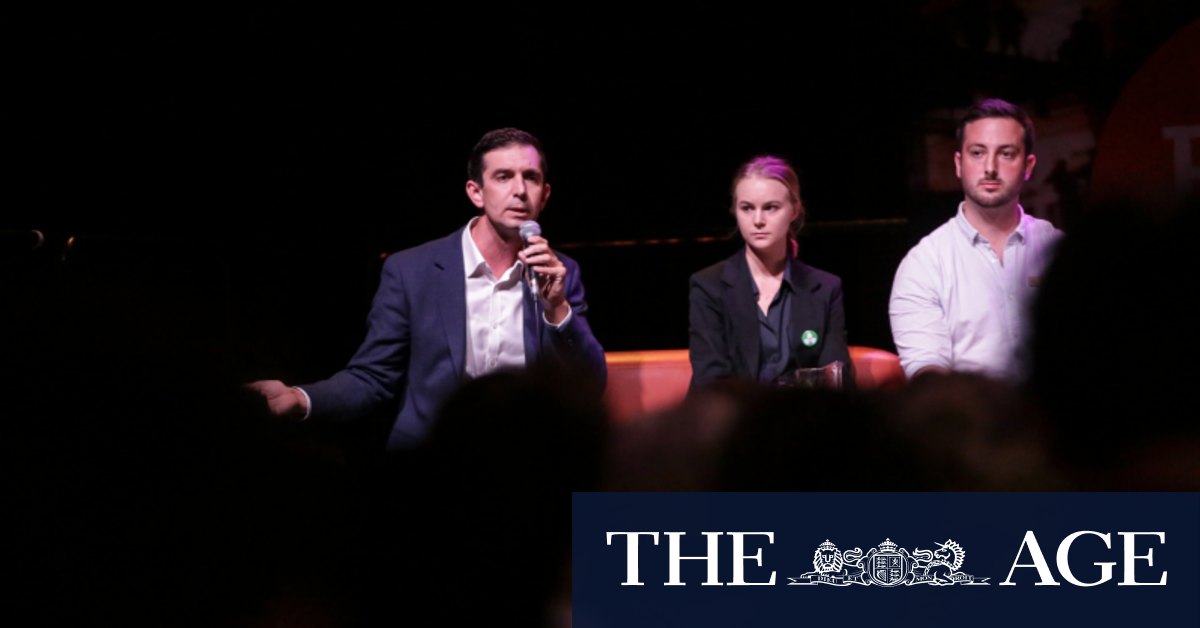 Loading
Evans claimed the model that had been put forward by the government was the only detailed one on the table, however his own party colleague Bridget Archer backed a crossbench push to debate independent MP Helen Haines' bill in November.
"Here's my prediction: after the election, whoever is in parliament will be passing something that looks and feels very, very much like the government model that is on the table," Evans said.
Greens candidate Stephen Bates responded by saying "you can have 300 pages and say nothing but bullshit," drawing applause from the crowd.
Brisbane is among a handful of marginal Coalition-held seats in the Queensland's south-east corner, along with Longman, Dickson and Ryan. The capital's namesake electorate is one of eight in the state that Labor leader Anthony Albanese previously vowed to target.
Loading
Shadow treasurer and Rankin MP Jim Chalmers has suggested the party could pick up electorates around the south-east, or those such as Leichhardt or Flynn in the regions, but not both. Defence Minister and Dickson MP, Peter Dutton, has said he "just can't see" seats such as Brisbane falling.
The seat is the sole federal electorate encompassing a state capital CBD, or named after it, not held by a Labor, Green or independent MP. Before 2010, Labor had held the seat for all but five years since 1931.
After days of apparent Coalition conflict over climate change policies, moderator and ABC Radio presenter Rebecca Levingston put a question to Evans on the matter.
Asked if Nationals senator Matt Canavan's comments that the pursuit of net zero emissions was "dead", in support of Flynn candidate Colin Boyce, would hurt his chances in Brisbane, Evans said all parties experienced division and Canavan's views were not those of the government.
Labor's candidate Madonna Jarrett seized on the topic to suggest it was a major issue when she was doorknocking. "I think that we've spent 10 years having a lost opportunity when it comes time to climate change," she said.
The rise of the Greens in state parliament and Brisbane City Council has led to speculation the minor party could help decide the outcome in Brisbane on May 21.
Jacqueline Maley cuts through the noise of the federal election campaign with news, views and expert analysis. Sign up to our Australia Votes 2022 newsletter here.