Former Pakistan foreign minister Qureshi released from Rawalpindi prison; to meet Imran Khan tomorrow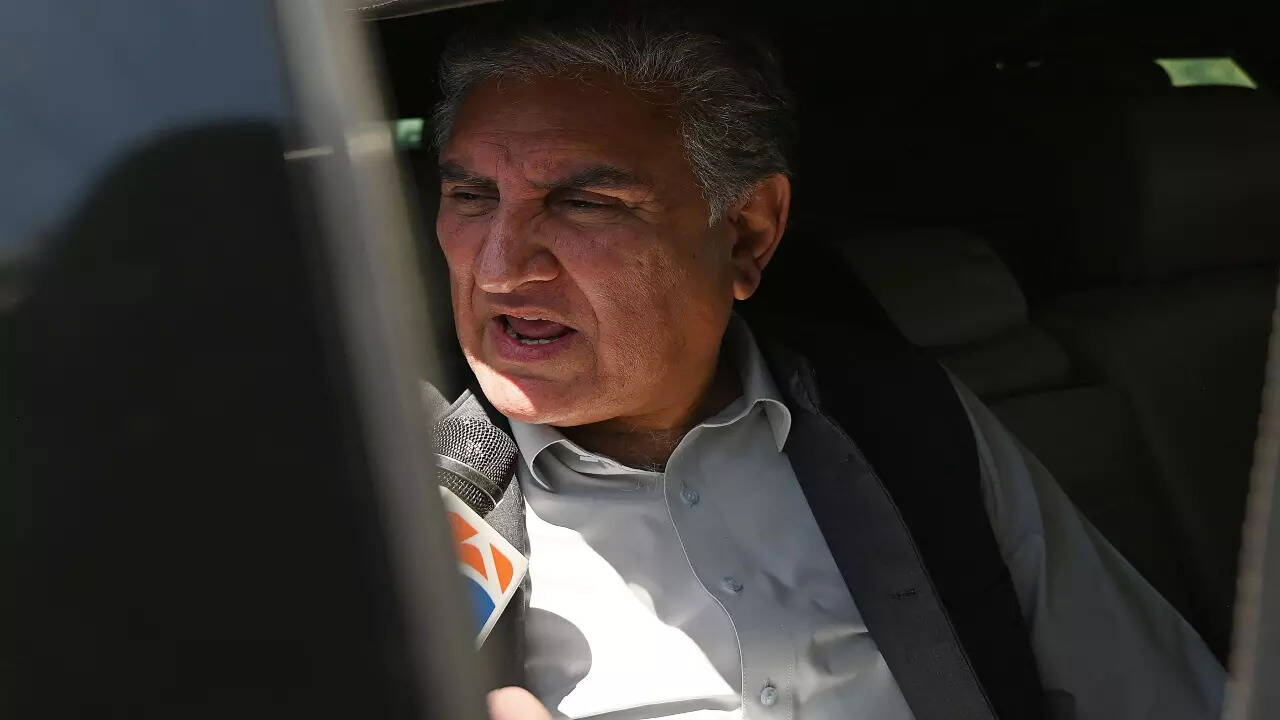 ISLAMABAD: Pakistan's former foreign minister Shah Mahmood Qureshi, who was among some of the top leaders of Imran Khan's party to be arrested following the May 9 violent protests, was released from a Rawalpindi prison on Tuesday following a court order.
The vice chairman of the Pakistan Tehreek-e-Insaf (PTI) party was arrested last month on a plethora of charges, including inciting violence following chairman Imran Khan's arrest in a corruption case on May 9.
Qureshi, 66, served as Pakistan's foreign affairs minister from 2018 to 2022 under Khan's regime.
On Tuesday, the Lahore high court's Rawalpindi bench ordered the PTI leader's immediate release and set aside his detention orders.
Upon his release from Adiala Jail, Qureshi said he will meet PTI chief Khan at his Zaman Park residence in Lahore on Wednesday and discuss the prevailing political turmoil in the country, according to Geo TV.
"I want to tell the PTI workers that the 'flag of justice' is in my hands and I am still part of this movement.." he was quoted as saying by local media, upon his release. Addressing PTI supporters, the former minister said, "This is a testing and difficult time but don't lose hope because after every night there is a dawn."
"I think in different jails there are countless innocent people who should be released. I will try, and we will pursue their cases after consultation with our legal team," the Dawn newspaper quoted Qureshi as saying.
On May 18, the Islamabad high court ordered the former foreign minister's release.
However, his release was delayed due to his apparent reluctance to provide an undertaking to refrain from engaging in "unruly" protests.
On May 9, violent protests erupted after the arrest of Khan by paramilitary Rangers in Islamabad.
His party workers vandalised over 20 military installations and government buildings, including the Lahore Corps Commander House, Mianwali airbase and the ISI building in Faisalabad.
The Army headquarters (GHQ) in Rawalpindi was also attacked by the mob for the first time.
Khan was later released on bail.
The violence elicited a strong reaction from the government and military with vows of taking action against the culprits, leading to an ongoing crackdown against those involved.
Law enforcement agencies have arrested over 10,000 workers of Khan's Pakistan party across Pakistan, 4,000 of them from Punjab province.
The Punjab Home Department has constituted 10 different joint investigation teams to probe into the attacks and violent protests on May 9, which the army dubbed "Black Day".
Following the May 9 incidents, several senior leaders of Khan's party were taken into custody.
The leaders included Qureshi, Fawad Chaudhry, Asad Umar, Dr Yasmeen Rashid, Shireen Mazari, Maleeka Bukhari, and Fayyazul Hassan Chauhan.
A few days later, many prominent leaders including Fawad, Imran Ismail, Shireen Mazari, Fayyazul Hassan Chauhan, Firdaus Ashiq Awan and others quit Khan's party. Last week, a delegation of former leaders of Khan's party comprising Fawad Chaudhry, Imran Ismail, Mahmood Moulvi and Aamir Kiani met Qureshi in Adiala jail and tried to convince him to part ways with the deposed prime minister.
However, Qureshi's son Zain Qureshi said that his father has only done politics of "principles" not "position and greed".