Harry Souttar's $23m English Premier League move to Leicester City shows why Socceroos must cast wide net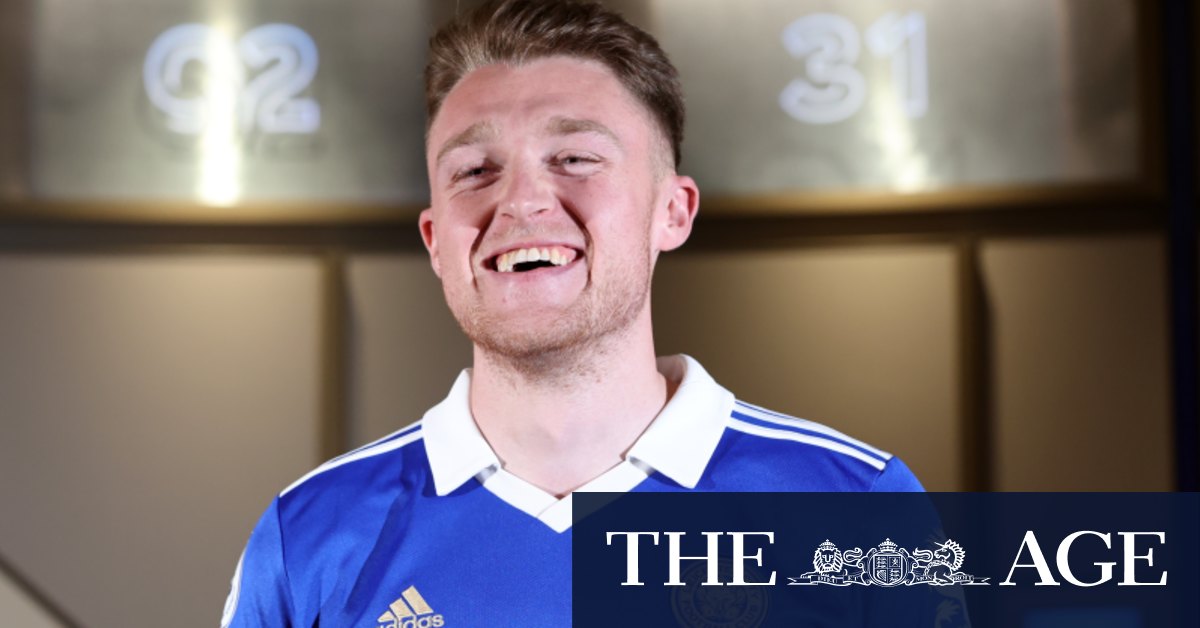 "His passion to play for Australia is incredible; his mentality is so good. He's perfectly made for the Premier League. I have met Brendan Rodgers a couple of times, I can see the way he coaches … he's spent that much money, I can see Harry walking straight in. He'll be one of the mainstays in that Leicester City squad.
"The harder the task, the higher level he goes, the better he will perform. He's got that in him."
There was no escaping the irony, though, that Australia's newest most expensive footballer has only been in this country twice in his whole life. Both times after he decided to play for the Socceroos over Scotland, where he's really from.
Not that there's any doubting his commitment to his adopted nation – as evidenced by the posters on his bedroom wall as a child in Aberdeen, the coat of arms and cap number tattooed on his left calf, and the desperate goal-saving interventions he made against Tunisia and Denmark.
Arnold copped a lot during the past World Cup cycle – some of it deserved, some of it not. The criticism of his "Ancestry.com" recruits, such as Souttar, Martin Boyle and most recently Jason Cummings – all of whom are Scottish through and through but qualify for the Socceroos via family ties – falls into the latter category.
While some argue this sort of foreign scouting can cheapen the jersey, Arnold isn't about to stop, and nor should he. Especially since the Croatian federation was in Sydney and Melbourne last month running junior training camps with national team boss Zlatko Dalic and Josip Simunic, who is from Canberra but famously chose to represent the country of his heritage, and now coaches their under-19s.
They said they weren't here to steal talent from Australia, but they definitely weren't selling the virtues of the Socceroos either.
"All countries do it," Arnold said.
"People talk about us doing it, but Croatia did it to us with Simunic, [Anthony] Seric and Joey Didulica – they came through the Australian system, they were at the AIS down in Canberra and they chose to play for Croatia.
Loading
"In the '80s, '90s, even 2000s, a lot of other cultures came out here to Australia, and a lot of players throughout Europe are eligible to play for Australia. It's something that we got to get onto and look at, as well as fix up our pathways and bring through our own talent."
As Arnold maps out the road ahead for the Socceroos, his next three targets are clear: Parma defender Alessandro Circati, AS Roma sensation Cristian Volpato and Manchester City youngster Alex Robertson. All three were born and raised in Australia, and if their fledgling careers continue as they've started, could have roles to play at the 2026 World Cup – but the first two have been involved in Italy's junior set-up and the latter has had his head turned by England's under-20s.
Arnold even offered Volpato a spot in his World Cup squad, and was turned down, although the 19-year-old was reportedly spotted at live sites in Sydney watching the Socceroos play in Qatar, which suggests he could still be won over.
"A lot of times it's where the player's heart lies," Arnold said. "When I get a bit of time, I'll be jumping on the airplane and sitting with them face-to-face. I never got that chance with COVID restrictions and how busy I was.
"I've spoken to Circati, I've spoken a hell of a lot with Volpato, and I've been in touch with Robbo's father. They're young, they can play for other national teams, but we want them to play for Australia."
Watch every match of the UEFA Champions League, UEFA Europa League and UEFA Europa Conference League on Stan Sport. Returns for the Round of 16, with all the action streaming ad-free, live and on demand from February 15.