'I was 40 and had nothing': how I went from being a big spender to an avid saver | Are you invested in 2023?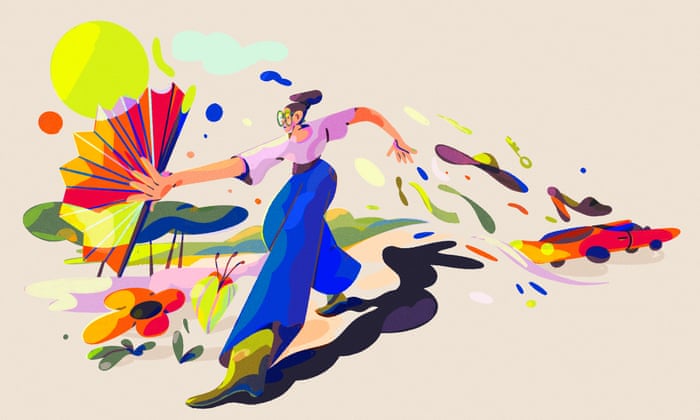 Charlotte Taylor had never been a saver. A lover of designer clothes and shoes, meals out and nice cars, it appeared as if she had "loads of money", but it was a different story behind the scenes. Everything she was earning, she would spend. Then, in 2017, it all changed. "I split with my partner, I changed careers, came out of my business, lost my flat, all around the same time. It made me suddenly go: 'Oh my god, I'm 40 and I've got no money, nothing. Where do I go from here?'"
That moment marked the start of a new financial journey for Taylor. "I started saving. I'd had really good money previously – I would buy things like Jimmy Choo shoes, eat out in restaurants three nights a week, I had an interest-only mortgage, a nice car, all the trappings of looking like I had loads of money and I actually didn't. Now, everything's different. I've got a little electric car, I buy discounted stuff. I just feel completely different, I feel like I left all that consumerism behind and I'm much happier for it. I have more financial freedom."
Taylor's change in attitude to her finances led to her buying Premium Bonds, and from there she began investing more widely – finding her way to the investment platform Interactive Investor. During the Covid lockdowns, she was working from home and noticed the effect the global climate was having on share prices – seeing it as a potential opportunity. She'd always viewed savings accounts as "not being great. That's changed slightly because some of the interest rates have gone up, but I started looking at things that were a bit more diversified. I started reading more about investing, and decided to give it a try."
She uses various platforms, but was attracted to Interactive Investor by the positive reviews she read as well as its low fees. "I've had a great experience with them," she says, adding she particularly likes how straightforward the site is to use, making it easy to see how her portfolio is doing. "It's not as easy to do that with some of the other platforms." Interactive Investor also sends quarterly statements to help customers keep an eye on their investments.
Taylor's investments vary and she has learned a lot through experience. The 47-year-old, who lives in Birmingham, works remotely, running a virtual assistant business, as well as doing other work. She and her partner, who is retired, own a rental property but Taylor believes it's her investments that will ensure a stable income and financial freedom in the future. "People say: 'Oh yes, buy property', but when you look at what happens when you have to remortgage and the costs associated with that, I think you're actually better off staying liquid with your money and investing it elsewhere." On top of that, after a recent health scare, having freedom to do what they want to do – without breaking the bank – has become even more important to Taylor and her partner.
"We live a fairly simple life," says Taylor. "We get up in the morning and go to the gym. I do my work from home. We might have a bottle of wine at the weekend and watch a movie at home, and then we save to go on holidays. But again, we make them affordable – we stay self-catering, we hire bikes, go for a ride in the morning, come home, cook a nice lunch on the terrace."
It's always been Taylor's dream to live in Spain, and the couple have now started to explore the option by spending a month there. "We found a cheap apartment, so all we've got to buy is our food, and hire a bike and find a month's pass to the gym. What we're now trying to do is not touch our capital – I still work so I'm earning and we don't need a lot to live on. We buy the monthly income bonds, and find shares that pay good dividends. So why would we ever touch the capital? You feel you're kind of setting yourself up for life in a way."
Taylor says her priorities have completely changed over the years – and that includes having money in the bank and investments that she's confident are growing enough to cater for her in the future. "I haven't got kids and my partner's are grown up, so we're aware there's nothing really keeping us in any one place, and if our investments can provide us with a steady income then that's great. My view has definitely changed."
She says she used to work seven days a week, and had done from the age of 18, "working all the hours so I could have all sorts of things. I'm different now. There was a time where my mother asked me what was on my bucket list and I would say a Chanel handbag. Now I look at a £2,000 bag and think there's no way I would buy it. I still love quality, but I'll quite happily buy a reduced handbag and keep the money for something else.
"I never say money makes you happy, but sometimes problems can seem smaller if you've got money."
Make your move today at ii.co.uk
The value of your investments may go down as well as up. You may not get back all the money that you invest. Past performance is not a reliable indicator of future results. If you are unsure about the suitability of an investment product or service, please seek advice from an authorised financial advisor.