Inside the Beltway: Gun owners describe why they own their weapons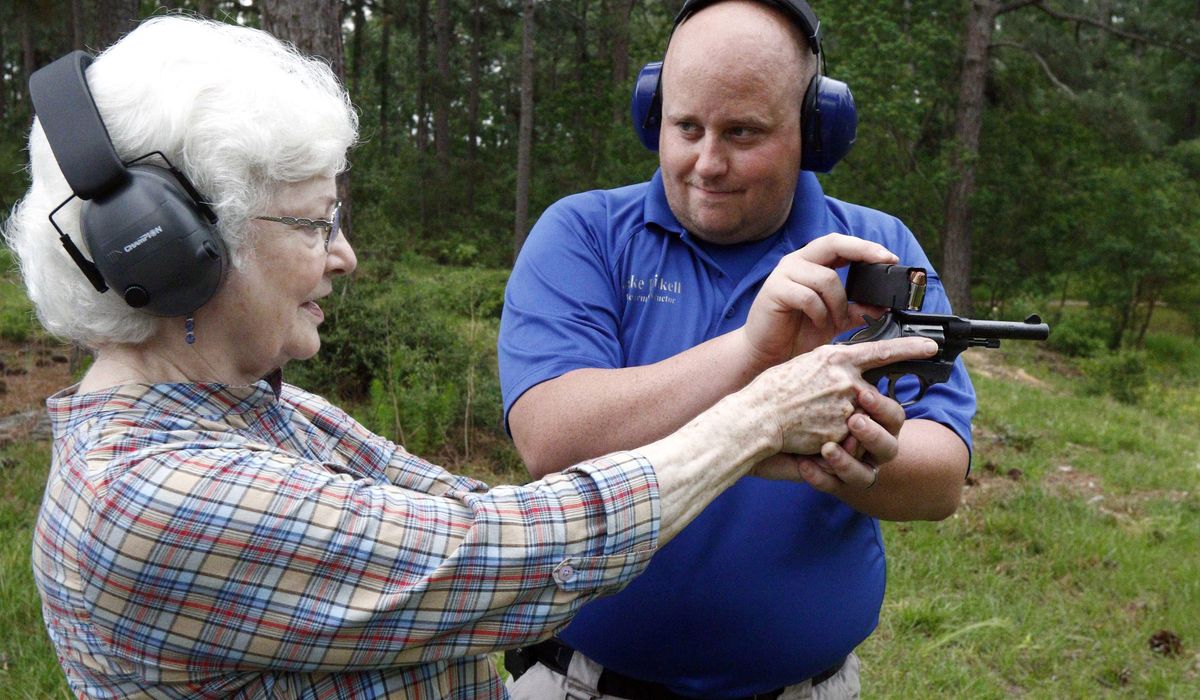 NEWS AND OPINION:
A sign of the times, perhaps: Gun owners in the United States continue to cite "protection" as the major reason they have a gun, according to a new Pew Research Center poll which reveals that 32% of Americans say they personally own a gun.
Political persuasion plays a role.
"About half of conservative Republicans (51%) say they own a gun. That compares with 38% of moderate and liberal Republicans, 24% of conservative and moderate Democrats, and 16% of liberal Democrats," an analysis of the findings said.
---
---
"While a sizable majority of gun owners (71%) say they enjoy having a gun, an even larger share (81%) say they feel safer owning a gun," the analysis noted.
The survey found that 72% of owners advise that "protection" is their major motivation — and it surpasses the shares of gun owners who cite other reasons for gun ownership — such as use in hunting, fishing, sports-shooting or to satisfy a job requirement.
"Gun ownership is far more common among residents of rural areas (47%) than among people living in suburbs (30%) or urban areas (20%). Republicans and Republican-leaning independents (45%) are far more likely than Democrats and Democratic leaners (20%) to report owning a gun," the findings continued.
Meanwhile, just 12% of the gun owners said they were worried about having a gun in the home.
"About half of Americans who don't own a gun say they could never see themselves owning one (52%) while nearly as many could imagine themselves as gun owners in the future (47%).
The sentiments are complicated though.
"A majority of Americans (61%) say it is too easy to legally obtain a gun in this country, while 30% say the ease of legally obtaining a gun is about right; 9% say it is too hard," the analysis noted.
The poll of 5,115 U.S. adults was conducted June 5-11 and released Thursday.
THE DESANTIS FORMULA
The Republican presidential debate looms large on the calendar this week whether former President Donald Trump is on the stage or not. All the candidates have carefully calibrated their public messages, including Florida Gov. Ron DeSantis — who has revealed what he will emphasize during the big bout.
"I think the most important thing is to deliver the message that our country is in decline across a variety of fronts — including the economy, military, and our culture. And the reason I'm running for president is to reverse this decline and get this country on a better path going forward. And that's autonomy, border, energy, national security — all these things that I'm sure we'll talk about in the debate," Mr. De Santis told "Good Morning, New Hampshire," a daily radio program on WASR, located in Wolfeboro.
"But part of the reason people know that I'm the guy who can beat President Biden and actually get this all done, is because I did it in Florida. Most people who run for office over-promise and under-deliver. I made bold commitments to the people. And I actually not only met the commitments, I over-delivered on my promises, and have been able to win a landslide victory in a state that's been very competitive," Mr. DeSantis continued.
"So that's a formula that we can take nationally. And Republicans need to win again. We've developed a culture of losing in this party. We can turn it around, but the time for excuses is over. We're either going to get it done in 2024, or we're going to have a lot of problems in this country over the next four years," he predicted.
DEBATE MANIA
The Republican debate is giving the press lots to do during an August week, typically a pretty sleepy time of the year.
Here's just a few titles of note from the last 48 hours: "What Trump's debate stunt says to Republican voters" (The New York Times); "Do debates matter in the GOP primary? They might be the only things that do" (Politico); "Kari Lake praises Trump for master-level trolling debate plan" (Newsweek); "GOP candidates prepare for first debate with or without Trump" (CNN); and "Fox News' debate could put Trump's GOP opponents in a minefield, moderator Martha MacCallum says" (Vanity Fair).
ON THE RADAR
Major public events centered on faith have not gone by the wayside. Consider the upcoming "PrayVoteStand Summit" scheduled for mid-September at a prominent hotel in the nation's capital. The event has been organized by the Family Research Council and boasts a significant program.
Among the many confirmed speakers who will share their thoughts and ideas at the summit: Sen. Josh Hawley, Missouri Republican; Rep. Mary Miller, Illinois Republican; Florida Gov. Ron DeSantis; former President Donald Trump; all-American swimmer Riley Gaines; and Tony Perkins, president of the Family Research Council itself — just to name a few.
The three-day event will include a "prayer tour" of Washington aboard a double-decker bus. Participants will literally stop and pray at significant government buildings and churches in the nation's capital, according to advance planning notes.
Daily sessions will cover, among the many topics, "restoring faith in America," and "equipping America for Christ."
The big gathering concludes with the Family Research Council's "40th Anniversary Faith, Family & Freedom Gala Dinner," staged in a grand ballroom and considered "black-tie optional."
Find the organization itself at FRC.org, and the link to the event at PrayVoteStand.org.
POLL DU JOUR
• 58% of registered U.S. voters say they are "extremely interested" in the 2024 presidential election; 64% of Republicans, 60% of Democrats and 37% of independents agree.
• 58% of men and 58% of women also agree.
• 21% of voters overall say they are "very interested" in the election; 20% of Republicans, 22% of Democrats and 22% of independents agree.
• 22% of men and 20% of women also agree.
• 17% overall say they are "somewhat interested" in the election; 15% of Republicans, 14% of Democrats and 28% of independents agree.
• 17% of men and 17% of women also agree.
• 4% overall say they are "not at all interested" in the election; 1% of Republicans, 3% of Democrats and 13% of independents agree.
• 3% of men and 4% of women also agree.
SOURCE: A Fox News poll of 1,005 registered U.S. voters conducted Aug. 11-14.
• Follow Jennifer Harper on Twitter @HarperBulletin.