ISSF World Cup: Manu Bhaker ends two-year wait with bronze, Doreen Vennekamp's gold for Germany halts China's run | More sports News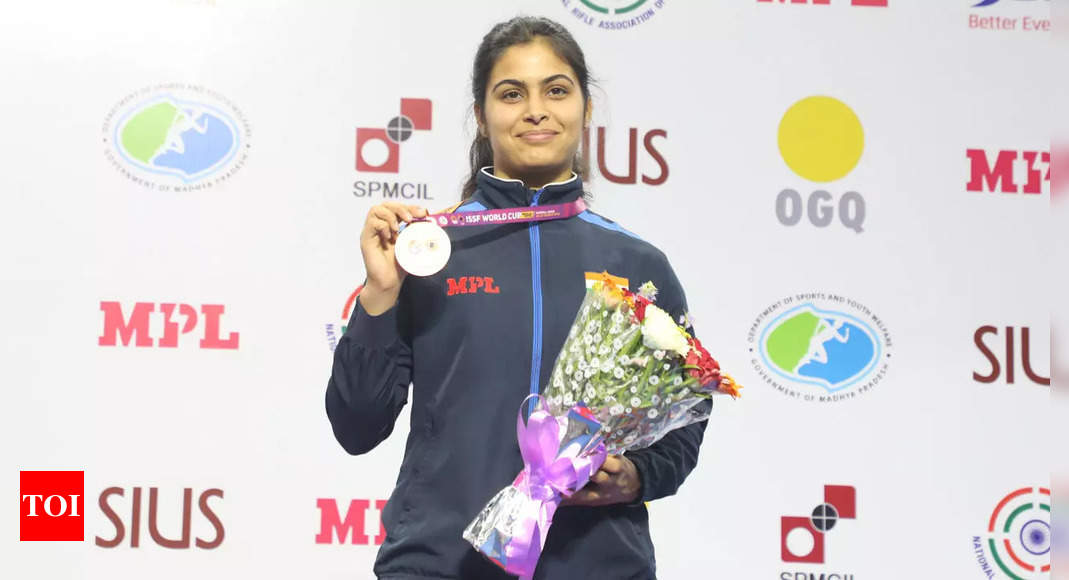 BHOPAL: With her parents in attendance and hopes of an ISSF World Cup medal here depending on her last event, 25m pistol, after a blank in air pistol, Manu Bhaker was doing all she could stay focused — be it juggling tennis balls in the lawns of the MP State Shooting Academy to focus ahead of the rapid stage of qualification or a small meditation routine after booking a place in the medal round.
The pressure was obvious. It had been two years since her last individual medal in a senior World Cup. In the air pistol women's and mixed events here, she had failed to qualify for the finals.
Her relief was highlighted in that she chose to go horse-riding at the MP State Equestrian Academy, which is only about a kilometre away from the shooting range here, after the final.
Her last senior medal came in the Delhi World Cup in 2021, when she finished third in 25m Pistol, behind gold medallist Chinki Yadav and silver medal winner Rahi Sarnobat. But this medal would rank much higher for Bhaker.
"Kehte hain na sabr ka fal meetha hota hai (being patient always helps)," Bhaker responded after her medal. "I never relented in my practice. There were ups and downs, some rough times. I was waiting for this (medal). I hope it is the start of a series of medals. So, many more to come."
(Photo credit: NRAI)
Bhaker finished third in the list of eight qualifiers for the final with a total of 584 (290 in precision stage and 294 in rapid). The other Indian to qualify was Esha Singh, who was seventh in the qualification round with a score of 581 (292 and 289).
In the first ranking match among the top four qualifiers, Manu finished second with 14 hits, the same as gold medal winner Doreen Vennekamp of Germany.
Vennekamp ended China's two-day long sweep of gold medals across events by beating Ziyue Du. The German finished with 30 hits and edged out Ziyue with a close 30-29 margin, after hitting the mark on the final shot of the 35-shot final.
Manu's 20 hits fetched her the bronze medal, while another Chinese, Yaxuan Xiong, finished fourth with 12 hits.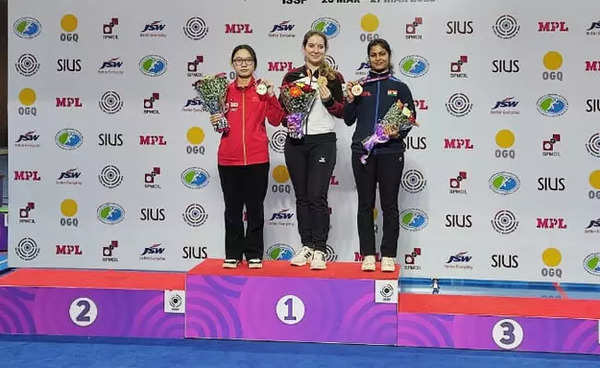 (Photo credit: NRAI)
China, however, added a sixth gold to their tally on Saturday in the men's 50m 3P event through Linshu Du. Hungary's Istvan Peni won the silver, while Jan Lochbihler of Switzerland clinched bronze. India's Aishwary Pratap Singh Tomar missed out on the podium, finishing fourth.
China strengthened their hold on the top spot in the medals tally with 6 gold, 2 silver and 2 bronze medals at the end of day four. India are second with 1 gold, 1 silver and 4 bronze, while Germany are third with 1 gold and 1 silver.
Sunday will be the last day of the competition, ending with the finals of the women's 50m 3P and men's 25m rapid fire pistol.