Kate Middleton New Hairstyle: Kate Middleton unveils chic new hairstyle at Rugby World Cup Match |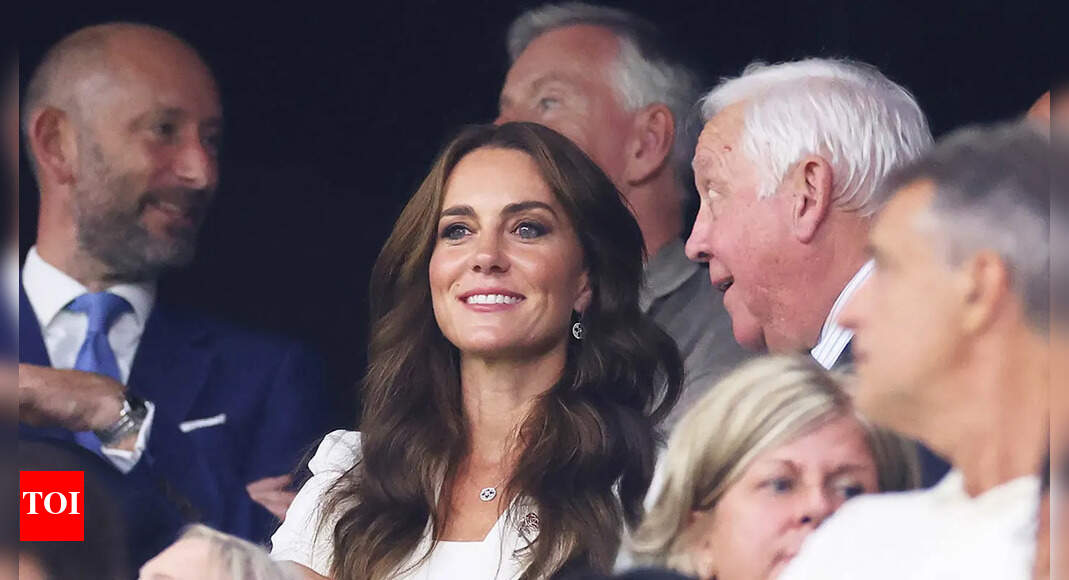 Kate Middleton, the Princess of Wales, graced the Rugby World Cup 2023 Group Stage match between England and Argentina in Marseille, France, in a stunning Alexander McQueen suit paired with Mappin & Webb jewellery. While her outfit harked back to a previous appearance at the 2022 Commonwealth Games alongside Prince William and Princess Charlotte, Kate debuted a fresh hairstyle for the occasion.
Kate Middleton at the Rugby World Cup 2023 Group Stage match between England and Argentina on Sept. 9; PHOTO: Getty Images
The 41-year-old royal arrived at Stade de Marseille sporting a middle part with face-framing layers and subtle curtain bangs. Her hair retained some highlights but displayed a slightly darker hue compared to her summer look.
Kate's previous public appearance in Wales, where she paid tribute to Queen Elizabeth on the first anniversary of her passing, featured her hair elegantly swept into a chignon and concealed under a hat, making her new hairstyle a pleasant surprise.
For the event, Kate adorned herself with a pair of pearl and diamond earrings that once belonged to her grandmother-in-law. This choice of jewellery bore significance, as pearls are traditionally worn in mourning, serving as a symbol of remembrance for a monarch, grandmother, or great-grandmother.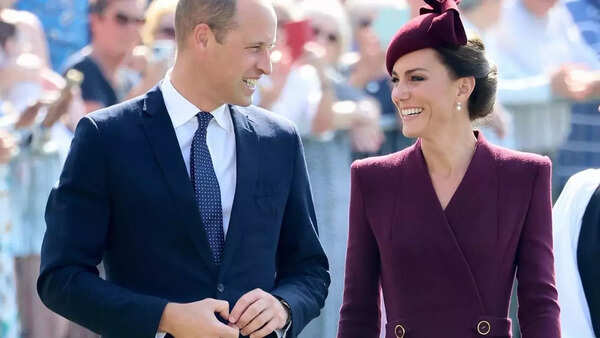 Prince William and Kate Middleton arrive at St Davids Cathedral in Wales for a service honoring Queen Elizabeth on the first anniversary of her death on Sept. 8. CHRIS JACKSON/GETTY IMAGES
Later in the day, when Kate and Prince William visited the Câr-Y-Môr Seaweed Farm in Wales, she retained her chic updo. During this visit, she swapped Queen Elizabeth's pearls for a pair of stylish gold hoops. The royal couple explored Wales' first "regenerative ocean farm" and visited Notpla, a sustainable packaging start-up that won William's 2022 Earthshot Prize for "Build a Waste-Free World."
Throughout summer, Kate typically wore her hair with a side part, styled straight and flowing down her back. This hairstyle was also featured during her appearance on Mike Tindall's podcast, "The Good, The Bad & The Rugby," where she joined Prince William and Princess Anne for a special episode dedicated to the Rugby World Cup.
During the podcast, Mike Tindall, a retired professional rugby player, playfully teased Kate about her competitive nature, revealing that he had witnessed her skills in beer pong.
Kate's hair had maintained its long and flowing look from July, including appearances at Prince William's Royal Charity Polo Day and Wimbledon. However, she subtly changed her hairstyle around the same time the previous year. In September 2022, she appeared with shorter, layered tresses compared to her summer look. This change coincided with a significant milestone for Kate and William's children, who started attending the Lambrook School after the family's move from London to Windsor.
Despite this back-to-school moment, there was no public photo op. The Duke and Duchess of Wales value their children's privacy in their school environment and choose to keep it as pressure-free as possible, unlike past years when they released first-day-of-school portraits.
!(function(f, b, e, v, n, t, s) {
function loadFBEvents(isFBCampaignActive) {
if (!isFBCampaignActive) {
return;
}
(function(f, b, e, v, n, t, s) {
if (f.fbq) return;
n = f.fbq = function() {
n.callMethod ? n.callMethod(…arguments) : n.queue.push(arguments);
};
if (!f._fbq) f._fbq = n;
n.push = n;
n.loaded = !0;
n.version = '2.0';
n.queue = [];
t = b.createElement(e);
t.async = !0;
t.defer = !0;
t.src = v;
s = b.getElementsByTagName(e)[0];
s.parentNode.insertBefore(t, s);
})(f, b, e, 'https://connect.facebook.net/en_US/fbevents.js', n, t, s);
fbq('init', '593671331875494');
fbq('track', 'PageView');
};
function loadGtagEvents(isGoogleCampaignActive) {
if (!isGoogleCampaignActive) {
return;
}
var id = document.getElementById('toi-plus-google-campaign');
if (id) {
return;
}
(function(f, b, e, v, n, t, s) {
t = b.createElement(e);
t.async = !0;
t.defer = !0;
t.src = v;
t.id = 'toi-plus-google-campaign';
s = b.getElementsByTagName(e)[0];
s.parentNode.insertBefore(t, s);
})(f, b, e, 'https://www.googletagmanager.com/gtag/js?id=AW-877820074', n, t, s);
};
window.TimesApps = window.TimesApps || {};
var TimesApps = window.TimesApps;
TimesApps.toiPlusEvents = function(config) {
var isConfigAvailable = "toiplus_site_settings" in f && "isFBCampaignActive" in f.toiplus_site_settings && "isGoogleCampaignActive" in f.toiplus_site_settings;
var isPrimeUser = window.isPrime;
if (isConfigAvailable && !isPrimeUser) {
loadGtagEvents(f.toiplus_site_settings.isGoogleCampaignActive);
loadFBEvents(f.toiplus_site_settings.isFBCampaignActive);
} else {
var JarvisUrl="https://jarvis.indiatimes.com/v1/feeds/toi_plus/site_settings/643526e21443833f0c454615?db_env=published";
window.getFromClient(JarvisUrl, function(config){
if (config) {
loadGtagEvents(config?.isGoogleCampaignActive);
loadFBEvents(config?.isFBCampaignActive);
}
})
}
};
})(
window,
document,
'script',
);



Source link