Lunch with historian Simon Sebag Montefiore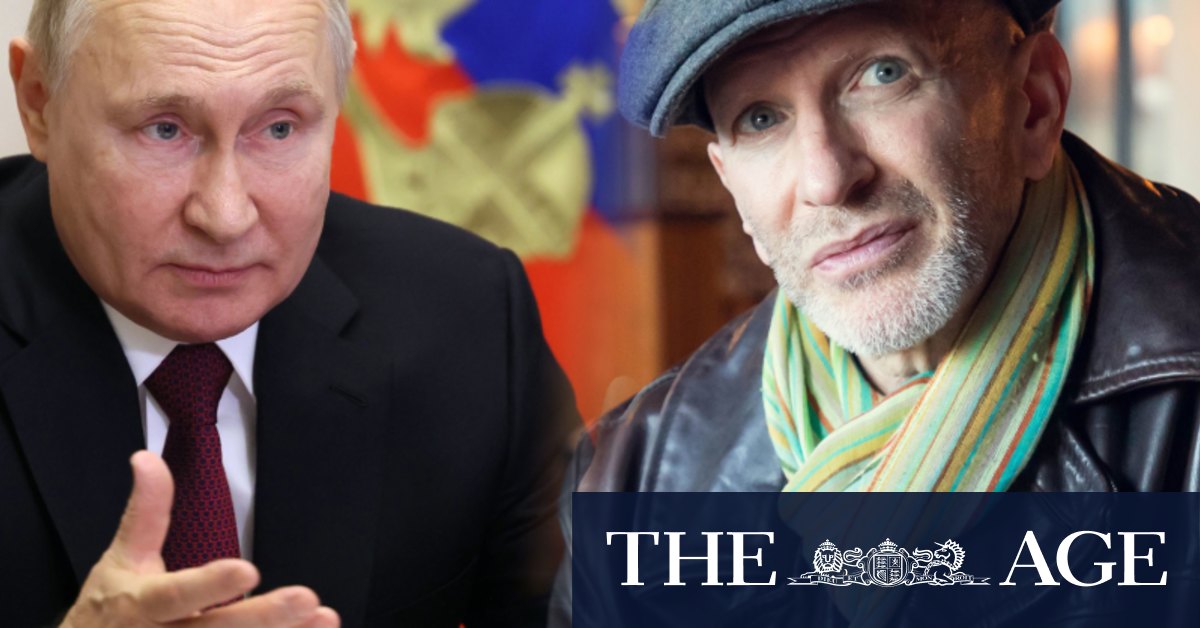 London: The last time I interviewed Simon Sebag Montefiore was in March, just after Vladimir Putin's invasion of Ukraine.
We met in Kensington near to where he lives but this time he crosses the river to south-west London to lunch at Wright Brothers, a seafood restaurant overlooking the Thames, next to the redeveloped Battersea Power station.
"I thought it would be fun to check it out," he says, arriving wearing his trademark peaked cap, a scarf and leather jacket, which he doesn't remove.
Loading
We order quickly, both keen to pick up from where we left our conversation last time we spoke and indulge in a gossip about how much has transpired – not just in the war but at home in Britain, where the country's politics went through an unedifying spasm of Australian-style dysfunction.
But he is on a tight schedule, we have less than 90 minutes before he is due back across the river to a book signing on Picadilly. And so, we forgo any small talk and order immediately.
He chooses three scallops, roasted on the half shell in garlic butter while I opt for six house oysters.
After some to-ing and fro-ing on the main, he settles for the special, hake, and I go for the Scottish sea trout with pistachio pesto.
Water and, later, caffeine are the beverages of choice. With the chore of food selection out of the way we begin where we left off last time – Russia.
While he said Putin's interest in his first book on Catherine the Great and her lover Potemkin, "showed his interest in annexing Crimea and Ukraine 20 years ago", not even The Romanovs author could have foreseen Putin's gruesome act of homage, the theft of Potemkin's bones from the 18th-century ruler's grave in Kherson, Ukraine.
"I did predict all this, the enduring power of Putin's Russian imperialism, on the last page of The Romanovs … but I would never have guessed that he would steal Potemkin's body, that was just extraordinary.
"It never occurred to me that they'd just take it, that really did amaze me. It's a surreal, bizarre necro-history thing to do," he says.
Putin is someone his own idols would have hated, he adds. "It's a perversion of the history because Prince Potemkin and Catherine would have hated Putin, partly because they were very aristocratic they would have hated all the vulgarity of this regime, all the kitsch, apart from anything else, but also they would hate the nationalism.
"It wasn't that they weren't ruthless and didn't love power, they weren't imperial, they were all of those things and Catherine was responsible for killing her own husband, so I don't have a deluded view of Catherine and Potemkin, they were pretty ruthless empire builders too.
"But this they wouldn't have liked."
He argues that Potemkin "adored other nationalities" and he and Catherine "were children of the Enlightenment who envisioned their new Russia as the link between Europe and the Near East".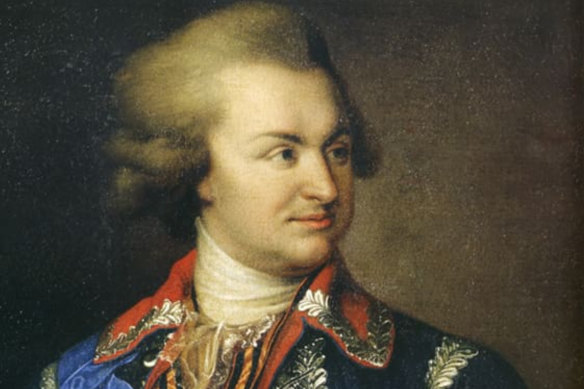 Sebag, as he insists he be called (only his late mother ever called him Simon), is the world's go-to historian on Russia, having also written two books on Stalin and a trilogy of historical novels set in Moscow.
His latest non-fiction, The World, a family history of humanity, just released in Australia, is his most ambitious yet, charting no less than the world's history, ending with the war in Ukraine.
With the starters devoured and plates cleared, I retrieve my copy which, running 1262 pages or 400,000 words, weighs a whopping 1.4 kilograms, and place it between us.
"It's a monster, but it is beautiful though isn't it," he says, his eyes gleaming as he appraises the cover of his masterpiece.
If Catherine the Great & Potemkin is his "first love," The World is his favourite. "It's a once-in-a-lifetime, monstrous, monster project, I'm never going to do anything like this again, and it's hugely ambitious.
"It's very daunting, and it's very satisfying to have done it."
The World was Sebag's lockdown project, but the genesis of the idea had been percolating in his mind for decades.
"I always wanted to find a way to do world history that combined the sort of span of global history with the intimacy of biography."
While The World is told chronologically, it singles out families and dynasties, showing how the intra-relationships at times shaped the arc of destiny or fell victim to it, through rivalries, warfare, illness, rape, incest and so on.
This narrative allowed him to focus on women, children and slavery, often overlooked by historians.
"This book is full of countries that people should know about but actually don't, like Albania, Cambodia, Haiti and all these places," he says.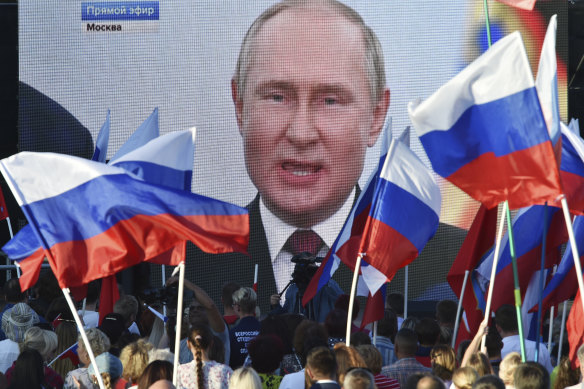 He says it's a corrective to the "warped" schoolroom history that taught older generations about Empire but not slavery but has now gone to the other extreme to focus on the evils, almost solely, of the British Empire.
"Now we've gone too far, and it's overcompensating, and now we just need to broaden our very, very Anglo and American-centric view and look more widely.
"This is not in any way to diminish the great crimes of history but just to understand other crimes and not to leave out any victims or other empires that were essential to understanding the world at the time.
"All empires start with acts of violence, but the fact is that this book also has all the other empires in it," he says.
While the book focuses intently on women, it doesn't try to argue that women somehow make better leaders simply by virtue of their gender. In its pages, we see women leaders consumed by the same paranoias, hatreds and bouts of violence as men, and we also see leaders of both gender excel.
Asked if he felt any pressure to focus on these themes given the culture wars raging around how prominent those who committed historic wrongs should be in modern accounts, Sebag says he was "very aware of it".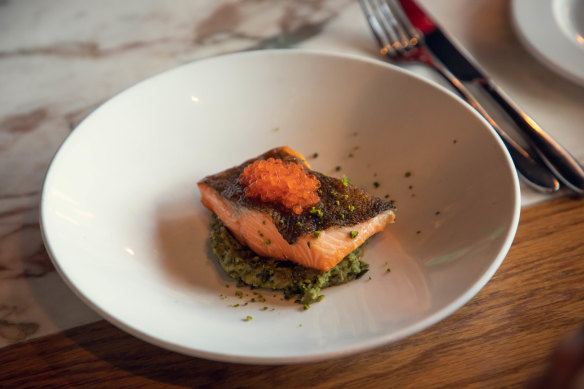 "But all these things suit very well what I'd already chosen to do, which is using families because families are diverse, families are hybrids from different races, continents, different religions, families and that includes women and children, both much left out of history.
"I love female history; I love to celebrate the women of history, not just the female potentates from Catherine the Great and Cleopatra but many you won't have heard of – Marozia or the Pirate Queen of Morocco!"
Sebag's mother's family (the Jaffes) escaped pogroms in the Russian Empire a century ago and made their way to Britain, the Sebags came from Morocco in the 1820s and the Montefiores settled from Italy much earlier, in the 1700s.
His family name has a deep and global history stretching from Jerusalem to Australia where Dora Montefiore was a prominent suffragette.
"We were brought up Montefiores, and that we should serve, we should be philanthropic and be useful to humanity, not just earning money or promoting ourselves, and first with the Jewish community but secondly with everybody and that was something we were always brought up with.
"But that's a very Jewish thing as well, we're very proud to be connected to Dora Montefiore."
Young Sebag toyed with the idea of entering politics. However, he proved rather an "imbecile" with this first foray, when, as a schoolboy at the elite public school (private school in Australian terms) Harrow, he and another student secured an interview with then prime minister Margaret Thatcher.
"I was an idiotic schoolboy, I was a sort of Trotskyite, Maoist," he recalls.
"I had Mao's Little Red Book in my pocket when I interviewed her which I thought was clever, now I realise that is the sign of an imbecile, I don't think I've ever told anyone that before!"
While he counts many Tory MPs as friends, including cabinet minister Michael Gove, it's clear he would be deeply unsuited to party politics of any stripe.
"I hate to be limited and shackled by any ideology and any political party and I think as an historian if you're following an ideology you're not being a good historian, good history means just trying to get as close as you can to what really happened."
He says he also abhors the intense scrutiny on politician's private lives in the "the great age of sanctimony".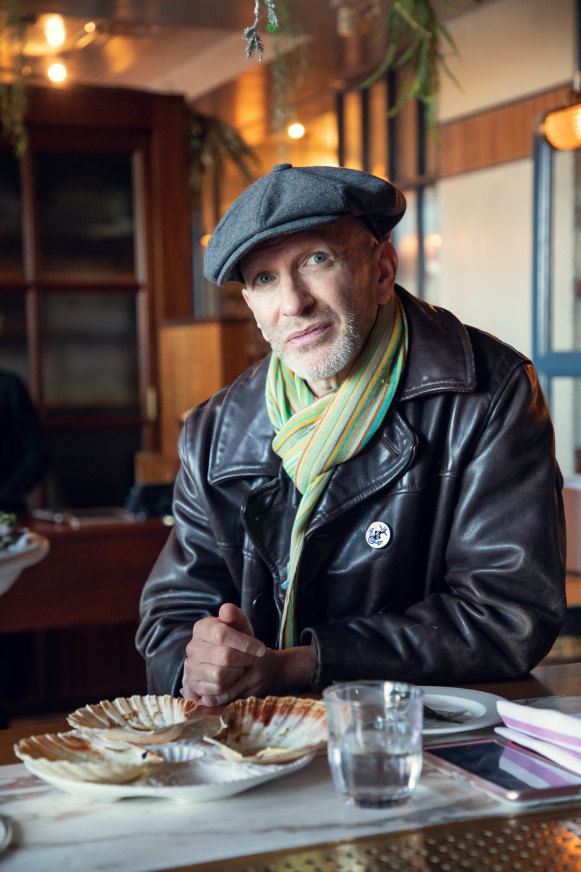 "We're living in such a prim, judgmental, sanctimonious time," he says. "Cromwell would feel right at home here."
As we delve into our fish ("this is delicious," he exclaims, eating enthusiastically, mine is surprisingly, but certainly not unpleasantly, sweet), I wonder how the British royal family fits into the picture, having survived revolution and recently transitioned to a new monarch seamlessly.
"Monarchy is the personification of our idiosyncratic British constitution that contributes to its stability," he said. "It works because it has no power but, yet, represents the continuity of state and stability, and let's face it, what we want is not perfect representation but just stability with representation, which is a different thing."
Sebag, who is close friends with the King and the Queen Consort, Camilla, through his wife, novelist Santa née Palmer-Tomkinson, says he is not surprised by the successful transition to Charles and the early show of support from the public for the new monarch despite the prevailing orthodoxy that he would be disliked because of his meddling as Prince of Wales and messy divorce from Diana.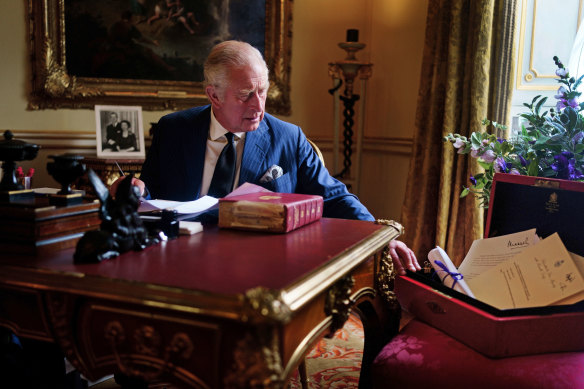 "I've been lucky enough to know him for 25 years through Santa and Santa's parents. She was brought up knowing them very well, and he calls himself her honorary godfather," Sebag explains.
"They're very establishment, but that isn't really what it was connected to, they met skiing, and they had a chalet that was linked to a kind of shack. When the young of Prince of Wales went skiing with them, it was very basic, and that's how you kind of establish deep friendships and that was my parents-in-law, and they were also very good friends with the Queen Consort, who we also love dearly, and who is clever and fun, which is a very unusual combination."
Sebag hails Charles as a "visionary Prince" in a footnote in the closing chapters of The World, for his work in being one of the world's earliest environmental and climate change campaigners.
"We're very lucky to have him, he's very warm, he's a great friend," he said, praising the King's "dedication to duty" and "tireless service".
"He's always thinking.
"The fact that the transition has been an enormous success that he hasn't put a foot wrong … doesn't surprise me, he's an unusual person, he's the real deal."
We agree there's time for coffee, he orders a double espresso and I an oat flat white, but before they arrive he is interrupted by a phone call. It's the cab driver calling time on our 90 minutes.
He downs his espresso and then is he off.
The Morning Edition newsletter is our guide to the day's most important and interesting stories, analysis and insights. Sign up here.