Marlene gains world time in 100 yards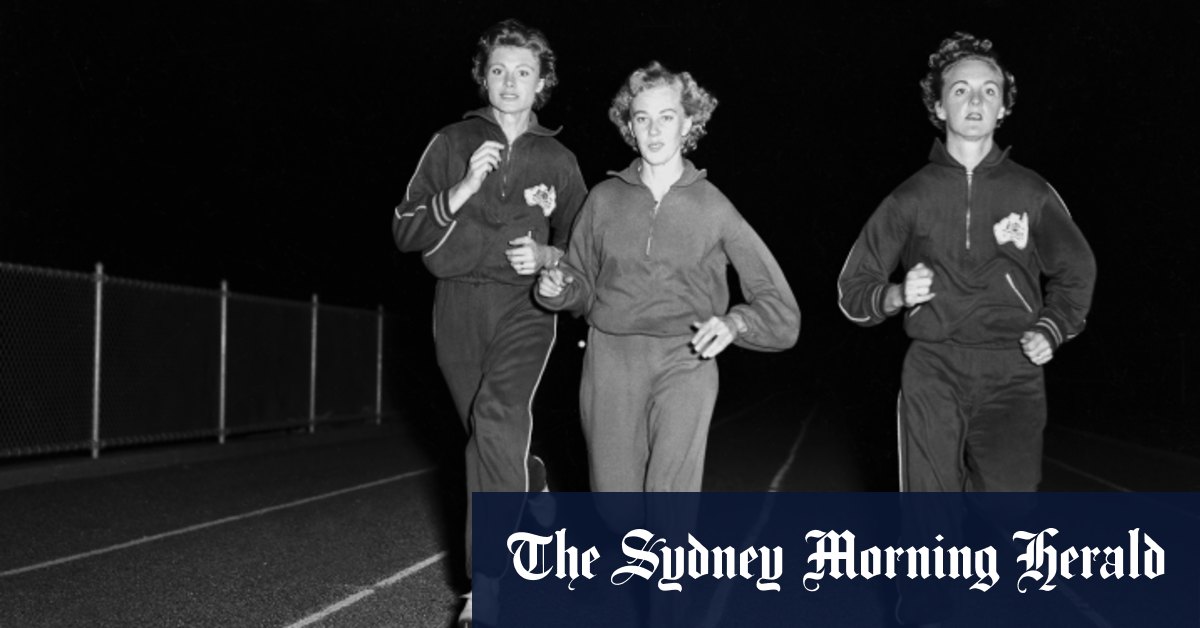 LEAD GROWS
At the third attempt the field got away, with Miss Cuthbert and Miss Hayes slightly in front of Marlene Mathews.
Miss Mathews pulled up and overtook the pair near the halfway mark and went on extending her lead.
Betty Cuthbert made no impression on her in the closing 25 yards and it looked as though she might be beaten by Miss Hayes.
There seemed little doubt at the finish that a world record had been broken, but the crowd still waited in case wind assistance had been ruled.
When it was announced that Miss Mathews had broken the record there was a great roar which would have done credit to a crowd five times as large as the paltry number that watched this classic race.
SETBACKS
There would not have been one on the ground—and I include Miss Cuthbert—who would begrudge Marlene Mathews her success.
Over the years since 1950 she has been a persistent trier and has often suffered disappointments, first through unlucky wind assistance in some of her great runs and then again through leg muscle injury.
She represented at the Vancouver Empire Games and the New Zealand Centenary Games as well as at Melbourne in the Olympics.
After the race she said: "I know now how Betty felt after she won her gold medal at the Olympic Games.
"This is the first time I have held a world record and the Australian sprint title."
SLIMMER NOW
Miss Mathews, who in private life is Mrs Barry Willard, said: "Married life seems to have got rid of all my nervous approach to running.
"I feel, too, that I have been helped by slimming down three or four pounds since the Olympic Games.
"Also, for the first time, I felt I could come out and call it just another race, and I have Wendy Hayes to thank for drawing me out over the early part of the event."
In past years Miss Mathews has been at times a tense and nervy runner, although she won the State 100 yards every year from 1954, when Marjorie Jackson retired, until this year when beaten by Miss Cuthbert.
"I will be really trying for the double and a win in the 220 yards on Saturday," she said.
There must have been a certain heart-burning for Betty Cuthbert, although she said after that she had no excuses.
This Australian 100 yards sprint is a title that has eluded her.
The women's championships are held every two years, and the last time, in Brisbane, she won the 220 yards, but failed on a boggy track in the 100 yards.
Miss Mathews' win gave her coach, Bill Harrison, a wonderful double within four days.
Loading
Last Monday night his charge, Terry Gale, shocked with a men's 220 yards national sprint win over young Gary Bromhead, at Brisbane.
He forecast that Marlene Mathews would take a double for him because she had run 10.3s in a handicap a week ago.