Model Luisa Dunn on documenting her hair transitioning to grey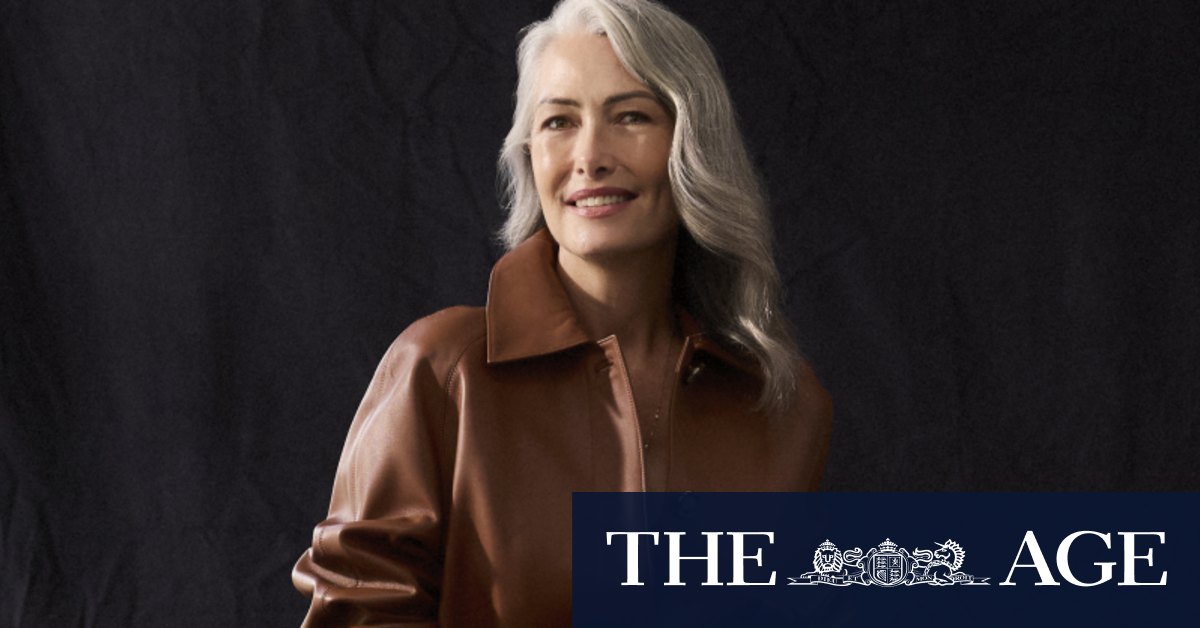 Scrolling through Luisa Dunn's social media accounts is a masterclass in pro-ageing, the 52-year-old joyfully showcasing her love of fashion and beauty with lashings of age-positive messaging. You are encouraged to "Wear Whatever Makes You Happy", with myriad fun fashion on display, some of the styles far from the societal norm for a woman in her 50s. Beauty looks also feature heavily, the model's striking silver hair always front and centre.
It's no exaggeration to say Dunn's life changed when she decided to go grey and document it on her Instagram account, @thesilverlining_1970. It catapulted her into being a champion of the silver-hair movement, and she has since amassed more than half a million followers on Instagram and more than 200,000 on TikTok.
One TikTok video, in which she referenced not wanting to look 25 when she was 50, garnered 2.4 million views. She caught the eye of a modelling agency – more than a decade after she'd retired from the industry – reigniting her career and taking it to new heights. But it would also open the floodgates to dealing with a lifetime of ageism, which she's hellbent on dismantling.
"I'd been conditioned to look in the mirror and dislike my physical self and want to fix it," Dunn explains. "Going silver taught me to question what else I've been made to feel bad about. Because I realised that I actually like my natural hair, despite 30 years of conditioning telling me it makes me look 20 years older."
"I'd been conditioned to look in the mirror and dislike my physical self and want to fix it."

LUISA DUNN
Dunn made the decision to go grey in November 2019, aged 49, as she was tired of feeling like a slave to the two-week cycle of touching up her roots. "I found my first grey hair at 16. I was still at school, I didn't see it as a big deal," she says. "I dyed my hair for fun for the next 20-odd years. But by the time I was in my 40s I was dying my roots every two weeks and was sick of it. I'd started searching the #silverhair hashtag on Instagram for inspiration and saw all these women embracing their natural hair and I wanted to be part of it.
"I've since been asked the question, 'What did your husband say about you wanting to go grey?' Well, he didn't ask me when he went grey," she says.
"It was my decision and I was already working on unpicking my conditioning [around ageing], so I needed to make it for myself. I didn't ask anyone's opinion."
Incidentally, her husband Peter Dunn, 57, along with her children Blake, 23, and Olivia, 22, are her biggest supporters. The family have a good laugh at how many of her son's friends are following her on Instagram.
Loading
A former photographer, marketer and part-time model, Luisa Dunn sought a creative outlet in documenting her hair journey, but connecting with other women was her main goal. After a bad experience with bleach, trying to lighten her hair to better match her silver roots, her hair was so damaged it was breaking clean off, so she got a pixie cut. Dunn snapped the arduous two-year journey of growing back her natural hair, experimenting with styling along the way.
She quickly established an online community: the followers grew in their thousands, then hundreds of thousands, and Dunn is now a revered member of the silver-hair movement. She is in good company, with Andie MacDowell, Jamie Lee Curtis, Diane Keaton, Jodie Foster and Queen Letizia of Spain among its famous champions.
Her impressive following is tangible proof that there has been a seismic shift towards pro-ageing, but Dunn says getting there personally wasn't without its challenges.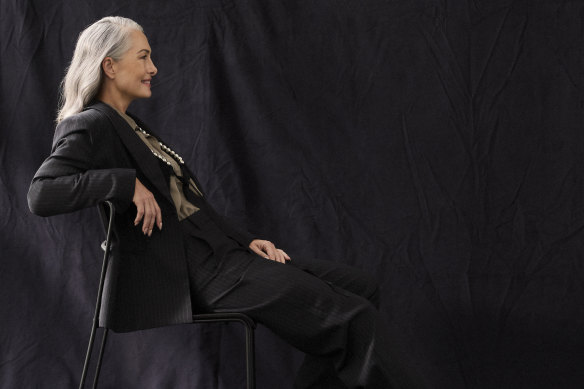 "It's not easy existing as an older woman who's trying to lean in, rather than fight the process," she admits. "We see advertising everywhere for how to fix these bags or wrinkles or greys. I think coming to a place of neutrality is where a lot of women can comfortably go from – you don't necessarily have to love your wrinkles, but you can look in the mirror and say: 'I'm not going to dislike myself today because this is actually a natural part of my body's progression through life.'
"And when women decide to go grey, they need to knuckle down and try to push through layers of conditioning."
"I don't want my daughter to hear her mother talking badly about any part of herself."

LUISA DUNN
Dunn notes there are similarities between diet culture and ageism, and says the ageing body should be considered a vital branch of body positivity. "We know to watch what we say about our bodies in front of our children as it passes on unhealthy thought patterns, but positive body image should also include the older body. It's an unusual exclusion. I don't want my daughter to hear her mother talking badly about any part of herself. Anti-ageing culture could be like diet culture for the next generation."
In a full-circle moment, Dunn's daughter Olivia recently found her first grey hairs at 22. "For me it's a good thing," she says. "She's not the least bit worried because she's seen my journey over the last three years, and she's seen how it's challenged me to think differently about things and she's also been on that journey with me."
The sense of responsibility goes further than what she's teaching her daughter, the weight of what she posts always at the forefront of her mind.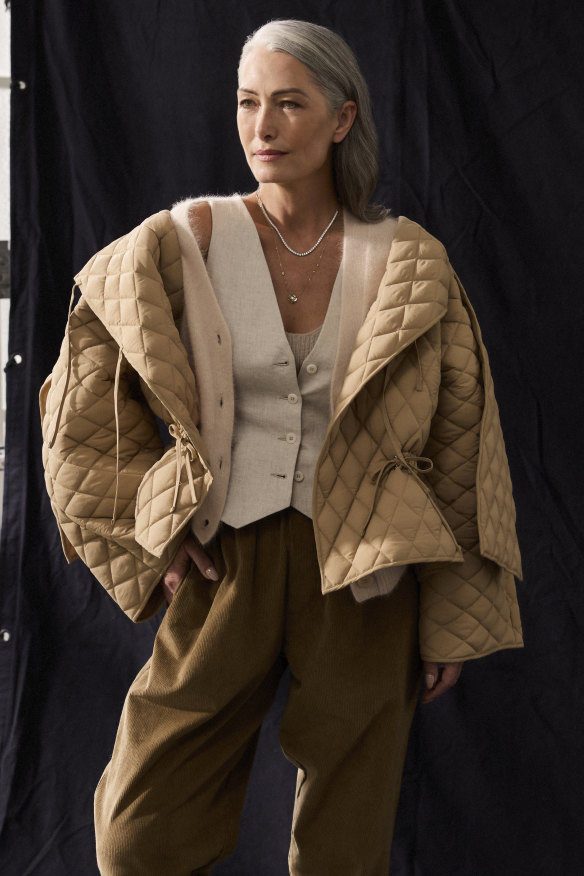 In a bid to promote realistic images, Dunn often shows what her photos would look like using filters, alongside the original image. Her aim is to challenge people's perceptions.
"I don't retouch my photos or smooth out any wrinkles or use filters [unless to prove a point, as mentioned above]," says Dunn. "It's not helping anyone for me to use a filter and show skin that's not natural.
Loading
"We need to be exposed to what skin looks like as we age. It's not about pointing a finger at people who use filters, it's about looking at the system. I shouldn't use them because I'm just compounding the problem."
She's also selective about which brands she partners with. "I feel extra uncomfortable about anti-ageing messages because they're ageist," she explains. "I don't promote anything that makes women feel like they need to change anything about themselves. Ninety-five per cent of sponsorship offers from businesses that came to me in that first year [of posting on Instagram] were anti-ageing-related. That did make me sad."
Dunn was scouted by Silverfox MGMT, a modelling agency for mature models, within five months of posting on Instagram. She'd been a part-time model for eight years while still working in marketing but had retired more than a decade earlier when she started a photography business. Since coming out of retirement aged 50, she's been booking huge campaigns and posing in her underwear, something she couldn't have imagined doing 10 years earlier.
"Being shot in my underwear at 52 wasn't easy, but I knew that being part of that visibility message was worth pushing through. Women over 50 don't expire in their love of fashion, they want to see themselves represented."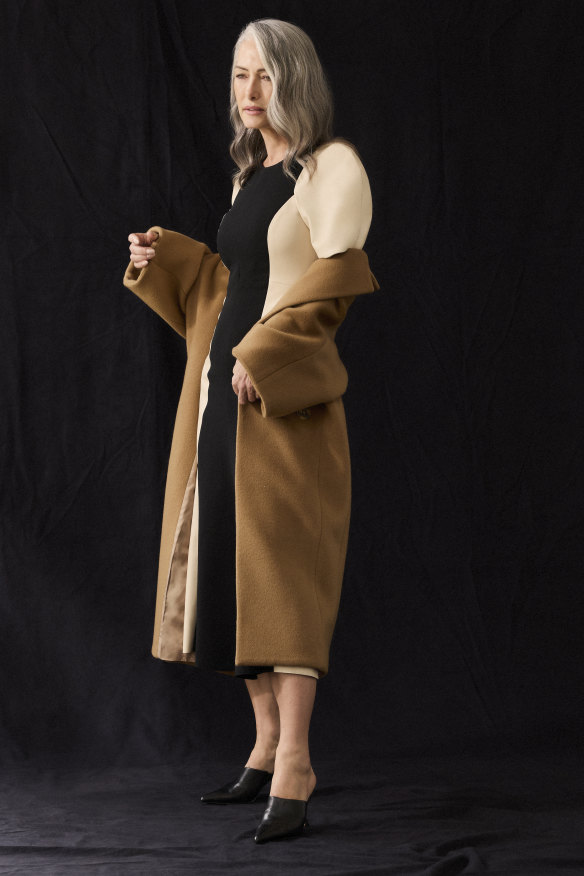 Representation and visibility matter, and while age-inclusiveness has come a long way, Dunn says she'd love to see more campaigns that have "nothing to do with anti-ageing or seeing older women in clichéd roles or selling retirement villages".
"I also try to be mindful that we all experience ageism in different ways. For me, it might be turning up on set and nobody realises I'm the model, or when make-up artists leave me until last because nobody wants to do the mature woman. The industry is much more inclusive than it was, but still needs to be massaged in a positive way."
"I like the word 'unapologetic'. My body isn't flawed, it's just a body that's lived on this earth for 52 years."

LUISA DUNN
Dunn hopes to continue to advocate for pro-ageing and show women there's a different path to ageing that doesn't include getting lots of work done.
"I like the word 'unapologetic'. My body isn't flawed, it's just a body that's lived on this earth for 52 years."
Fashion has always been a source of great joy to Dunn. In her "Fashion Over 50" series on social media, she experiments with styles society told her she was too old to wear, and "Still Wearing the Dress" recycles items in her wardrobe from decades earlier. "A lot of the so-called rules for dressing are just plain ageist," she says. "I was in the fitting room, trying on a top, and [an internal] voice said, 'You shouldn't wear this over 50 because you can see part of your stomach.' The other part of my brain kicked in, saying, 'Do you feel good in it?'
"I'm not wearing it to show off my stomach, I'm wearing it because I like the way I feel in it. I wouldn't wear anything for shock value, I just enjoy fashion."
Of course, the internet is not all sunshine and rainbows, and Dunn is often subjected to visceral negative commentary, particularly on TikTok.
"I wasn't mentally prepared for the negative side of TikTok," she says. "One of my first videos went viral and I'd never been confronted with a thousand messages on a video in one day with people telling me how old I looked.
"Obviously in the beginning it did weigh on me heavily because I'd never had those comments before, but I later realised having a photo of me with dark hair before a photo with grey hair is a trigger for people to project the way they feel about anyone looking older."
The viral reaction to her content has always been overwhelmingly positive, reminding Dunn why she does it.
"I've loved getting messages from young women who love following an older woman because they want to look forward to ageing," she says. "That's what it comes down to, not, 'Gosh, this is how wonderful you can look at 52.' It's about saying you can enjoy your later years in whatever way you want, without fear."
Make the most of your health, relationships, fitness and nutrition with our Live Well newsletter. Get it in your inbox every Monday.