My trip to a Greek island idyll where electric vehicles rule | Greece holidays
After my seven-hour ferry journey across rolling azure seas, it's a relief to be back on land. Along with a handful of locals returning from Athens laden with boxes of bougatsa custard pies and neat bags of shopping, I've arrived on the Dodecanese island of Astypalea – known as the butterfly island because of Mesa Nisi and Exo Nisi, its two wing-shaped islands linked by a narrow strip of land. You can break the journey in Naxos or Mykonos. But despite the length of the journey, nothing can beat the pleasure of leaving the bustling port of Piraeus and arriving on a peaceful Greek island by boat.
Traditionally, the inhabitants of this rugged island, which is one of Greece's remotest and poorest, scratched a living from agriculture and fishing. Nowadays, most of the island's 1,300-strong population are pinning their hopes on tourism. Many believe this will be boosted by the Greek government's groundbreaking agreement with the Volkswagen Group to transform Astypalea into "a model island for climate-neutral mobility".
As part of the plan, cars are being replaced by electric vehicles (locals and local businesses have been given substantial grants – sometimes for more than two-thirds of the cost – to buy them), and a series of innovative ride-sharing and on-demand public transport schemes have been introduced. "Astypalea will be a future lab for decarbonisation in Europe," Herbert Diess, Volkswagen's CEO has said. "We will be researching in real time what motivates people to switch to e-mobility."
A customs official, who seems to be on first-name terms with most of the passengers, waves me off the dock into the car park where most vehicles are electric. There are e-charging points at most hotels, and in the capital Chora's main car park electric cars, scooters and e-bikes can be hired from local travel agencies and via the island's astyMOVE app.
Picking up my own electric car I follow the lazy loops and sinuous curves of the island's only main road. The scent of wild thyme mixes with the invigorating briny smell of the sea through the open windows. Even in late June the tiny sandy beaches are mostly deserted. In one glorious horseshoe of sand and sea dotted with bright coloured kaiki fishing boats, however, I spot the ugly diesel station that still provides the island with some of its electricity.
Greece has been a laggard when it comes to cleaning up its environmental act. According to a recent EU report the country has been fined some €66.5m since 2015 and is facing more fines because of its illegal landfill sites, which include a vast, paper-strewn eyesore on the popular volcanic island of Santorini. However, the island's mayor Nikos Komineas swears that Astypalea's monstrous smoke-belcher will be phased out over the next two or three years and replaced with solar panels and wind-generated turbines.
After lunch at Salis, a low-key kafenion (cafe) that prides itself on sourcing the ingredients for its succulent meze snacks locally, I check into Saluti da Stampalia, a seven-suite boutique hotel with views over a pretty bay and Chora's massive medieval castle in the distance. Along with fellow hotels Kallichoron and Mouras, Saluti da Stampalia's forward-thinking owners – Giorgos Berdos and wife Virginia – have signed Unesco's Sustainable Travel Pledge. Over a breakfast of farm-fresh eggs, local cheeses, baked cakes and crispy homemade spinach pies, Virginia, who studied architecture in Athens, tells me she wanted to create an old-style stone manor house fitted with modern comforts fuelled by renewable energies. "The building's bioclimatic design facilitates natural ventilation, we have solar panels, we don't use plastic and we source food locally. We even have an EV charging station," she tells me, adding: "We see this programme as very positive for our island."
After a peaceful night, I take an electric bike into Chora. Rented via e-Astypalea's bike-sharing scheme, it whizzes me along hilly roads to the tiny city where I take photos of white-painted windmills and explore alleys lined with craft shops, before lunching on seafood at family-run taverna Parathinalos on Livadi's pretty shingle beach. A group of black-clad women are waiting for an Astybus, one of the island's fleet of electric minibuses "We live in villages over there," one of them tells me, pointing towards Vardia, Astypalea's highest mountain. "The old buses were always late, but this service is on demand – it's changed our lives."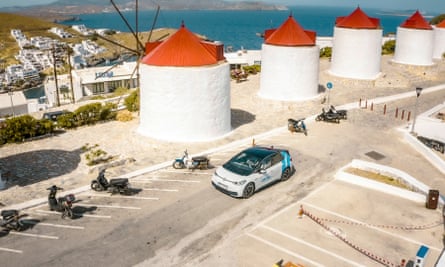 With a warren of footpaths spanning the island, Astypalea is also a paradise for hikers. The next day I head for the tip of Exo Nisi, the "outer island
", along a ecently resurfaced road. Near Mesa Vathi, however, the road suddenly fizzles out; I continue my journey along a dusty track dotted with cobbles the size of ostrich eggs. My electric car slips and grinds past the crumbled ruins of stone houses – staved in roofs showing their tree trunk-size rafters – surrounding an abandoned Byzantine chapel. Wild goats skitter out of my way at the last minute, their panicked hoofs pinging pebbles at the windscreen.
Later, I hike for an hour along a path fringed with clumps of wild fennel. At the end of the track there's a perfect curve of bay where I float beneath a cerulean sky listening to the harsh squawk of herons and the tinkle of goat's bells.
On my way back to the car, I spot a house with a pair of darned black trousers drying outside. Eighty-year-old Manolis, who is the last inhabitant of this abandoned village, tells me that he doesn't understand much about this newfangled electric business, but he hopes it will bring young people back to his island. "Like their renewable energy this island needs new blood," he jokes.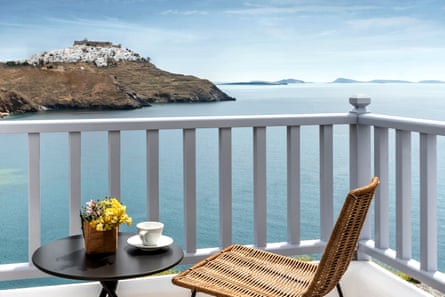 With travellers increasingly seeking uncrowded regions and sustainable travel options since the pandemic, Astypalea is seeing increased interest from tourists, while young Greeks who have been badly affected by the country's 10-year economic crisis see Astypalea's groundbreaking project as an opportunity to innovate.
One of the young people who returned to start a business on the island is local-born Nikolaos Stavlas of Glykia bakery. He works with the island's giagias (grandmothers) to recreate traditional cakes and pastries. "I can't find a wife here – what woman would want to move to such a remote island?" he confides. "My only hope is that this electric project will bring us some tourists." He laughs. "With any luck our butterfly island is emerging from its cocoon at last."
The trip was provided by Discover Greece in collaboration with Salis kafeneion, Saluti da Stampalia and Parathinalos. Fast ferries from Piraeus reach Astypalea in just over seven hours. It's also possible to break up the journey with a night in Naxos or Mykonos. Find options at ferryscanner.com