New England road trip: Where to see the most spectacular foliage this fall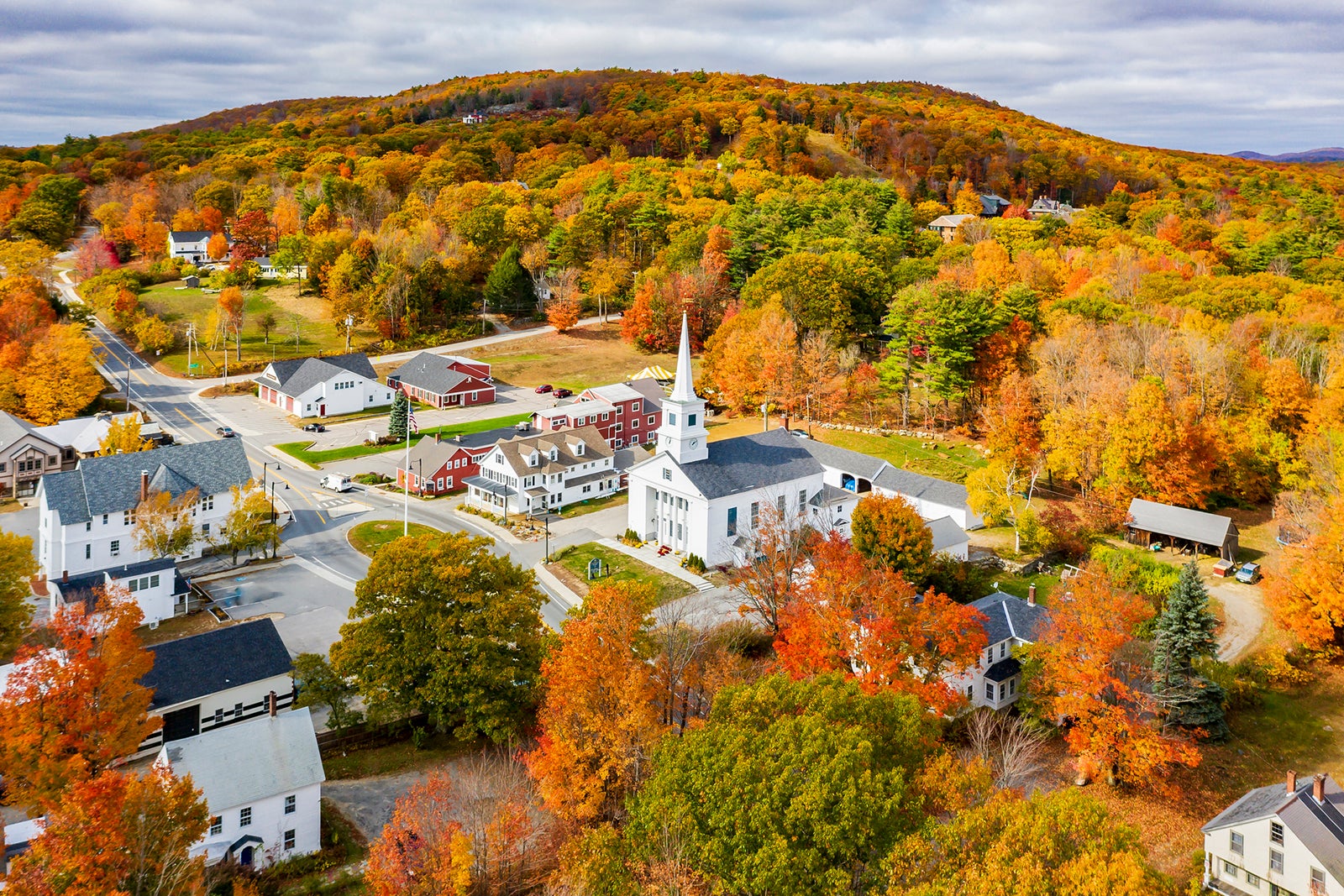 No place in the U.S. puts on a more breathtaking display of changing fall foliage than New England — particularly the region's densely forested, ruggedly mountainous interior. Here, you'll find vast forests of the trees best known for their eye-popping color: Maples lead the charge, but beech, birch, oak, elm, ash and willow also stand out for their dazzling plumage.
This New England road trip lazily meanders along country roads, crossing New Hampshire's White Mountains, Vermont's Green Mountains, the beautiful Berkshires of western Massachusetts and Litchfield Hills of northwestern Connecticut.
Although this trip abounds with brilliant shades of crimson, rust, mustard and chestnut in autumn, it still offers unparalleled beauty, sophisticated dining and lodging and a bounty of cultural diversions the rest of the year.
Planning advice
Best start and end points
This trip is lovely no matter which direction you decide to follow.
Either begin in Wolfeboro, New Hampshire, on Lake Winnipesaukee and loop up through Vermont; then, zigzag your way south into western Massachusetts and end in Litchfield, Connecticut. Or, do this drive in reverse. Either way, flying into one of the several airports in southern New England allows you to drive a loop, thereby avoiding one-way car rental fees.
Connecticut's Bradley International Airport (BDL) is a relatively compact, user-friendly facility that's served by most major domestic airlines. It sits outside Hartford, less than an hour from Litchfield, and three and a half hours from Wolfeboro.
Just more an hour from Wolfeboro and about three hours from Litchfield, the even smaller Manchester-Boston Regional Airport (MHT) is another easy option. It's served only by American, Southwest and United.
The region's largest facility, Boston Logan International Airport (BOS), is just less than two hours from Wolfeboro and about two and half hours from Bradley. It offers countless direct flights, but it also tends to have higher car rental rates and requires contending with Boston's notorious traffic.
Something of a sleeper choice, northern Vermont's Burlington International Airport (BTV) also sits directly along the route. It's easy to navigate and is served by most major airlines (minus Southwest). However, it has fewer flights per day and, generally, slightly higher fares.
Daily Newsletter
Reward your inbox with the TPG Daily newsletter
Join over 700,000 readers for breaking news, in-depth guides and exclusive deals from TPG's experts
When to go for peak foliage viewing
The region's foliage begins changing color earliest in northern New Hampshire and Vermont (around the last 10 days of September), with the Berkshires and Litchfield Hills typically peaking closer to mid-October.
If you're short on time and want the biggest bang for your buck, a good strategy is to spend the bulk of your trip in Vermont and New Hampshire during the last week of September or the first week of October.
Related: Where and when to see fall foliage across the U.S. this year
If you have a week or more, start in New Hampshire the first week of October and gradually make your way south. You'll encounter plenty of color up north, and you'll continue to experience amazing color in the Berkshires and Litchfield Hills if you pass through these areas the second week of October.
Keep in mind that you will encounter steep airfare, not to mention higher car-rental rates and hotel prices during the fall foliage season.
When to visit for outdoor adventure
Thinking about making this trip during another time of year? The whole region is absolutely stunning in summer and even late spring, a period hugely popular for hiking, boating and other outdoorsy activities. So, this is also considered high season price-wise.
Much of interior New England is popular for skiing and snowboarding from December through March, as well. Outside of ski areas, though, businesses sometimes shut down or reduce hours during this period, and winter driving can be treacherous. The post-foliage shoulder season (roughly mid-October through November) is a great time for scoring bargains and can still be quite beautiful — and snowy at high elevations.
Times to avoid
Whatever you do, avoid the wet, muddy early spring months of April and May (especially in Vermont and New Hampshire), which are prone to unpredictable weather and biting black flies.
Time needed to drive the route
Give yourself no fewer than five days and as many as 10 to complete this full itinerary. If you only have time for a long weekend, focus on a portion of the trip — Litchfield County and the Berkshires are easy to explore from the New York City area. Philadelphia corridor, New Hampshire and even parts of the Berkshires and Vermont are pretty accessible for weekend trips from metro Boston and Montreal.
Wolfeboro to Mount Washington
Wolfeboro, Alton Bay and Mount Major
Begin your trip on the southeastern shore of New England's second-largest lake — Lake Winnipesaukee — in the tidy, upscale village of Wolfeboro, which has been drawing vacationers since the 1770s.
Fully leaning into its claim as the nation's oldest resort community, the postcard-perfect town curves around a quiet bay and offers an endearing mix of neatly kept shops, galleries and eateries. The Yum Yum Shop bakery, the Wolfeboro Dockside Grille & Dairy Bar, Black's Paper Shop and the Country Bookseller are some highlights.
As you circle counterclockwise around the southern tip of the lake, it's fun to watch seaplanes take off from narrow Alton Bay. For a relatively easy hike with spectacular lake and forest views, you can make the 3-mile round-trip trek up a series of granite ledges to the top of 1,786-foot-tall Mount Major.
Weirs Beach and Meredith
As you continue up and around Winnipesaukee's jagged western shore, you'll encounter the nostalgic, family-friendly amusements of Weirs Beach and Meredith. Think video arcades, candy and ice cream counters, and hot dog and burger shops. The scene can be fun or grating, depending on your tolerance for hokey diversions. Still, one worthwhile activity this time of year is taking a scenic cruise around the shoreline on the historic M/S Washington.
In Meredith, you'll encounter a campus of popular hotels and restaurants along the lake's edge, plus a marina where you can rent kayaks and canoes.
Holderness to Tamworth
Follow U.S. Route 3 to Holderness for a look at the smaller but arguably even more beautiful Squam Lake; it's surrounded by several inviting country inns. The lake is well-known as the setting of the sentimental Henry Fonda and Katharine Hepburn movie, "On Golden Pond." Be sure to stroll the nature trails and admire the gardens and animal enclosures of Squam Lakes Natural Science Center.
Follow Route 113 east to Tamworth, where you can sample artisan spirits at Tamworth Distilling, explore the offbeat Remick Country Doctor Museum and Farm, and watch a performance at the 1931 Barnstormers Theatre (which presents first-rate plays through September).
Related: Top 15 destinations in the world to see beautiful fall foliage without the crowds
Fryeburg to Jackson
Route 16 leads north through the eastern side of New Hampshire's fabled White Mountains, a gorgeous tract of craggy, pristine wilderness that covers about a quarter of the state. It's home to more than 50 peaks with elevations greater than 4,000 feet.
If it's the first week of October, consider making a short detour just a few miles over the Maine border to attend the bustling Fryeburg Fair, a legendary agricultural expo that dates back to 1851.
After creeping through the inevitable traffic of lively (but touristy) North Conway, continue to the utterly charming village of Jackson. Here, you'll find an Insta-worthy covered bridge, several excellent country inns and hearth-warmed taverns.
Mount Washington
A bit farther north, you'll come to the tiny town of Glen, the main jumping-off point for exploring lofty Mount Washington. At 6,288 feet, the mountain is the highest peak in the Northeast. Hiking this mammoth promontory is a difficult and extremely vertical undertaking — it's nearly 9 miles round-trip via the shortest routes.
Through October, weather permitting, you can drive to the top via the Mount Washington Auto Road. This 7-mile route twists and turns some 4,600 feet up a very narrow road and can be a test of nerves if you're uneasy about heights. At the top, you can visit the justly named Extreme Mount Washington meteorology museum, where the strongest gust of wind ever was recorded (231 mph in 1934).
Guided tours up the mountain in custom vans are also available, but be sure to pack extra layers as snow is a distinct possibility even as early as September.
Where to stay
Steps from Wolfeboro's lakefront and colorful shops and eateries, the posh Pickering House (rates start at $685) offers the most sophisticated accommodations on Lake Winnipesaukee. Its Pavilion restaurant turns out superb farm-to-table cuisine.
On Winnipesauke's western shore, the town of Meredith is home to the Mills Falls resort (rates start at $199). The resort comprises several distinct lodgings and restaurants, along with an expansive spa.
Up in the eastern White Mountains, the busy town of North Conway has plenty of hotel rooms, from budget chains to rambling Victorian inns. The village of Jackson feels more relaxed and has several upscale lodgings, including The Inn at Thorn Hill & Spa (rates start at $460). The 18-room property is a short walk from one of the best dining experiences in New Hampshire: the Thompson House Eatery.
For proximity to Mount Washington, you can't beat the Glen House (rates start at $299) — a modern, eco-conscious boutique hotel at the base of the Mount Washington Auto Road.
Mount Washington to Stowe
Kancamagus Highway
Return south along Route 16 to the town of Conway, where you'll cross over into the western side of the White Mountains via the famous Kancamagus Highway (aka Route 112, though most locals simply call it "The Kanc.").
This tree-lined National Scenic Byway ascends through an alluring stretch of alpine scenery that's been thankfully protected from any kind of commercial development or road signage. Try to drive this road early on a weekday to avoid heavy leaf-peeping traffic; you can break up the drive with an easy half-mile hike to refreshing Sabbaday Falls.
Lincoln, North Woodstock and Franconia Notch State Park
Route 112 continues west into a couple of family-friendly ski and recreation towns, Lincoln and North Woodstock. Their unabashedly goofy attractions — like the Lost River Gorge and Boulder Caves — have been delighting kids for generations.
Turn north onto Interstate Highway 93, which soon narrows from a typical freeway into a single, scenic lane in each direction as it pierces a deep, lush valley for 8 miles within Franconia Notch State Park. There, you can hike through dramatic Flume Gorge and view a massive granite cliff. (Until it collapsed in 2023, the cliff had been a distinctive rock formation named Old Man of the Mountain. Its human-face-like profile still appears on New Hampshire license plates.)
Franconia, Bethlehem and Littleton
In the idyllic town of Franconia, the verdant grounds of the Frost Place Museum, which preserves the onetime home of American poet Robert Frost, are a fine place to take in the fall colors. The area is also home to a nearly century-old breakfast tradition, Polly's Pancakes Parlor, which doles out hefty platters of flapjacks with enticing toppings.
As you approach the Vermont border, consider stopping in two more charming villages that abound with galleries, funky shops, brewpubs and cafes. In Bethlehem, you can treat yourself to a luscious dessert at Super Secret Ice Cream. In Littleton, you can visit the stylish Schilling Beer Taproom for great pizza and German-style ales on a terrace overlooking the crystalline Ammonoosuc River.
Vermont's "Northeast Kingdom"
As you cross the Connecticut River and enter Vermont's sparsely populated "Northeast Kingdom," sweeping panoramas of the state's stunning Green Mountains range — which forms an angular 250-mile spine from north to south — lie ahead.
These forested peaks are generally lower in elevation than those in New Hampshire, but they stand out for their exceptional beauty and for the many endearing hamlets surrounding them. They are filled with quaint general stores, maple syrup-producing sugar houses, and peaceful farms and meadows.
St. Johnsbury, Montpelier and Waterbury
Make a stop in the area's largest town, St. Johnsbury, for a walk through the pet-friendly preserve Dog Mountain Home and to explore the engaging Fairbanks Museum and Planetarium.
Follow U.S. Route 2 west through a series of cute villages to Montpelier, the nation's least populous state capital (with just more than 8,000 residents). Then, turn northwest and parallel the Winooski River to Waterbury — best known as the world headquarters of Ben & Jerry's. This famously socially conscious ice cream maker offers amusing factory tours that include a visit to its Flavor Graveyard (where you can lament the discontinuation of beloved concoctions like Bovinity Divinity and Holy Cannoli).
Stowe
The vibrant fall colors really burst to life as you follow Route 100 north to the classic country hamlet of Stowe, with its handsome inns, bistros and shops. Famous for skiing and snowboarding in winter and mountain biking and hiking in summer, it's also a beautiful spot to spend an autumn day — or weekend.
In early October, it also hosts the Stowe Foliage Arts Festival. Continue north up one of the prettiest roads in the Green Mountains, Route 108, which becomes extremely narrow along a several-miles-long stretch of boulders and rocky outcroppings that lead through Smugglers' Notch.
Related: 12 best family ski resorts in the US
Where to stay
In the western White Mountains, the Lincoln-Woodstock corridor has the largest selection of hotels and ski lodges. But, look to the area's smaller towns for distinctive accommodations. Sunset Hill House (rates starting at $374) is a grand 1880s hotel set high on a ridge in Franconia overlooking miles of mountains. The gracious Adair Country Inn (rates starting at $199) in Bethlehem has an outstanding restaurant, clubby public spaces and fragrant country gardens.
In Stowe, you'll find an appealing mix of accommodations, from cozy bed-and-breakfasts to quite snazzy spa resorts. The storied Trapp Family Lodge (rates starting at $280) is set on a 2,000-acre property with astounding views; it was founded more than 70 years ago by the family that inspired The Sound of Music. The historic Green Mountain Inn (rates starting at $209) comprises eight early 19th-century buildings in the very center of Stowe village.
Stowe to Woodstock
Burlington
Just north of Stowe, in quaint Jeffersonville, head west and then southwest through some glorious mountain passes to the state's largest city, Burlington. The city has a population of 45,000 and hugs the eastern shore of Lake Champlain.
From downtown's dapper Waterfront Park, the panoramas of New York's soaring Adirondack Mountains are a sight to behold, especially in autumn. Burlington is a spirited, upbeat college town (home to the University of Vermont) with an exceptional restaurant scene and plenty of appealing indie boutiques, friendly bars and hip cafes.
Shelburne
U.S. Route 7 leads south through a fertile green valley to Shelburne Farms, a 1,400-acre Victorian estate with gorgeous grounds and gardens designed by Frederick Law Olmsted. It features a beloved dairy and a stately seasonal inn and restaurant. Be sure to visit the excellent Shelburne Museum, which has nearly 40 buildings transplanted here from around the state as well as a vast collection of pre-automobile-age carriages.
Clemmons Family Farm
Farther south, explore the historic buildings, art galleries, storytelling programs and agricultural operations of 148-acre Clemmons Family Farm, a highlight among the 22 sites on the state's African American Heritage Trail and one of New England's largest Black-owned family farms.
Middlebury and the Green Mountains
Follow picturesque U.S. Route 7 south to the stately college town of Middlebury, with its handsome village and handful of excellent art galleries. From here, Route 125 zigzags east over the Green Mountains; there are several photogenic spots — including at Texas Falls and Riley Bostwick Wildlife Management Center — where you can hop out, stretch your legs and snap a photo.
Woodstock
Head south to Woodstock, one of Vermont's most enchanting small towns. Late conservationist and philanthropist Laurence Rockefeller and his family made it a mission to preserve the town's colonial heritage. The Rockefellers established the Marsh-Billings-Rockefeller National Historical Park, where 555 acres of gardens and carriage paths are anchored by the opulent mansion in which the Rockefellers once resided. Across the street, you can explore one of the state's oldest working farms, the Billings Farm and Museum.
Lake Sunapee region
If you have an extra day or (ideally) two, consider detouring back across the New Hampshire border to explore the glorious Lake Sunapee region.
You can make a loop from Woodstock by driving across the dramatic Quechee Gorge and then crossing the Connecticut River into Hanover. The town is anchored by the tree-shaded campus of Dartmouth College with its acclaimed Hood Museum of Art and Hopkins Center for the Arts.
Continue southeast to the town of New London for a drive around rippling Lake Sunapee, where you can stroll through the gardens at John Hay Estate at the Fells. Head back toward Woodstock via the scenic Connecticut River village of Cornish, setting aside an hour or two to explore the stunning gardens, lawns and buildings of Saint-Gaudens National Historical Park. The famed sculptor created many of his most memorable works here.
To return to Vermont, cross the 445-foot Cornish-Windsor Bridge — the longest historic covered bridge in the country. It's about a 20-minute drive northwest back to Woodstock.
Where to stay
Burlington has the area's greatest concentration of lodgings, including the contemporary Hotel Vermont (rates starting at $459). Many of its well-equipped rooms offer impressive vistas of Lake Champlain. Next door, have dinner at the James Beard Award–nominated Hen of the Wood restaurant.
With its fairytale setting on Woodstock's classic village green and a spectacular spa, the grand Woodstock Inn & Resort (rates starting at $519) offers luxe accommodations, four restaurants and a slew of activities. Across the border in New Hampshire, the Hanover Inn Dartmouth (rates starting at $489) overlooks the gracious campus of Dartmouth College.
Woodstock to Williamstown
Manchester and Mount Equinox
Head west on U.S. Route 4 and Route 100A to Plymouth, then take Route 100 on a scenic journey past picturesque villages (Ludlow, Londonderry) and popular ski areas (Okemo, Bromley). You'll then reach historic Manchester, the largest town in southwestern Vermont. It's home to several notable attractions, including the American Museum of Fly Fishing and Hildene, the imposing early-20th-century estate home of Robert Todd Lincoln — the son of Abraham Lincoln and a future statesman and railroad executive in his own right.
On your way south, make the 5.2-mile drive up stunning Skyline Drive to the peak of 3,855-foot Mount Equinox, one of the best spots in the region to admire the autumn foliage.
Arlington, Bennington and Williamstown
Continue south via slower and more scenic Route 7A rather than U.S. Route 7. You'll enter Arlington, a relaxing village that was, for more than a decade, the home of iconic illustrator Norman Rockwell. Rockwell depicted the community on several occasions on the covers of Saturday Evening Post magazine.
As you approach Bennington, you'll spy the 306-foot-tall Bennington Battle Monument high above the treetops. Take the elevator to the top for a fantastic view of the countryside and the striking campus of Bennington College. You'll soon cross the Massachusetts border and enter the Berkshires range, an extension of the Green Mountains.
Stop in another stately collegiate community, Williamstown. It's home to a pair of outstanding museums: the Williams College Museum of Art and the Clark Art Institute, with its sleek contemporary addition by Japanese architect Tadao Ando.
Where to stay
In Manchester, you'll find a number of romantic accommodations, including the Kimpton Taconic Hotel (rates starting at $392 or 63,000 IHG points). Although it has a classic Colonial design, this three-story boutique property with a wraparound veranda and a popular gastropub offers many modern perks, including a heated plunge pool and tech-savvy rooms.
Just up the road, the Equinox Golf Resort & Spa (rates starting at $262) abounds with amenities, including a plush spa, Walter Travis-designed 1920s golf course and several restaurants.
In North Adams, the stylish Porches Inn (rates starting at $269) has been created out of a row of restored Victorian mill workers' houses. Reflecting its location just across the river from the Massachusetts Museum of Contemporary Art (Mass MoCA), it's filled with well-curated contemporary artwork.
There are a few other accommodation options in town and several more — including the upscale William Inn (rates starting at $399) — in neighboring Williamstown.
Williamstown to Litchfield
North Adams, Mount Greylock and Pittsfield
A few miles east of Williamstown, the once bustling mill town of North Adams fell on hard times in the 1980s with the closure of a major electric plant. Fifteen years later, the plant's handsome vintage red brick buildings were reimagined as the outstanding — and enormous — Mass MoCA.
Head south on Route 8 and either drive or hike to the 3,491-foot summit of the highest point in Massachusetts, Mount Greylock. The striking Massachusetts Veterans War Memorial Tower sits at the top.
Continue down through the region's largest city, Pittsfield, which has a population of about 43,600. There, you can tour the excellent Pittsfield Museum; Arrowhead, the former home of Moby Dick author Herman Melville; and Hancock Shaker Village, one of the most interesting of several northeastern U.S. communities housing this almost-extinct religious sect.
Lenox
Farther south on U.S. 7, the tony vacation town of Lenox has drawn generations of well-to-do families, many of whom built lavish summer estates during America's Gilded Age. Some of these are now museums, including The Mount — where American novelist Edith Wharton once resided— Ventfort Hall Mansion and the Gilded Age Museum.
Lenox is best known for two famous performing arts venues: Shakespeare and Company presents year-round plays, and Tanglewood is a 200-acre outdoor performance space and summer home to the Boston Symphony Orchestra.
Chesterwood and Great Barrington
U.S. 7 continues south through Stockbridge, home to Chesterwood — the turn-of-the-20th-century estate of sculptor Daniel Chester French. It's also home to the Norman Rockwell Museum (the artist resided in this town for the last 25 years of his life), which contains his relocated former studio.
This colorful village is anchored by the Red Lion Inn; the rambling, if idiosyncratic, hotel dates back to 1773. It also inspired Arlo Guthrie's beloved folk song "Alice's Restaurant."
The last major stop in the Berkshires is Great Barrington, a fashionable weekend retreat among New Yorkers and Bostonians with see-and-be-seen restaurants and trendy galleries.
Litchfield Hills
Follow Route 41 south to Salisbury, in the northwestern corner of Connecticut's Litchfield Hills. It's a warren of dapper villages, dense forests and small family farms that — like the neighboring Hudson River Valley — is quite popular with celebrities. (Meryl Streep, Michael J. Fox, Patti Lupone, Kevin Bacon and Dustin Hoffman all have homes in the area.)
Cornwall to Litchfield
Rejoin U.S. 7, following it down through Cornwall, with its scenic 1841 covered bridge crossing the serene Housatonic River. Continue to the quaint, affluent town of Kent, then along the rippling shores of Lake Waramaug. The lake's alpine setting recalls Switzerland.
Continue into New Preston and Washington, neatly kept towns filled with fine antique shops, stylish boutiques and renowned art galleries.
Turn northeast up through the region's cultural and spiritual heart, Litchfield, stopping for a hike amid the lush wetlands, boardwalks and bird-watching platforms of the 4,000-acre White Memorial Conservation Center.
Where to stay
An easy walk from local restaurants and shops in lovely downtown Lenox, the Georgian-style Hampton Terrace Inn (rates starting at $309) has 14 smartly appointed rooms, many with fireplaces. You'll find several other hotels in Lenox and along U.S. 7 as you head north into Pittsfield. Farther south, Stockbridge and Great Barrington have a good range of mostly upscale options.
In Connecticut's Litchfield County, the 1806 White Hart Inn (rates starting at $299) has a handsome setting overlooking Salisbury's pretty town green. It contains 16 rooms plus an excellent restaurant and casual cafe.
Just south of Litchfield in Morris, Winvian (rates starting at $899) is definitely a splurge. However, its 18 one-of-a-kind cottages are among the most memorable accommodations in the state. There's even one suite that's been created from a 1968 Sikorsky helicopter.
You'll find several other high-end inns throughout the area's towns, especially Washington and Kent. There's a sizable selection of mostly chain hotels and motels farther south and east in a handful of small cities outside Litchfield County, including Danbury, Waterbury and Hartford.
Related reading: