Newcastle Knights players Bradman Best and Enari Tuala missing the team bus proves why the club has to find its DNA again quickly, writes Andrew Johns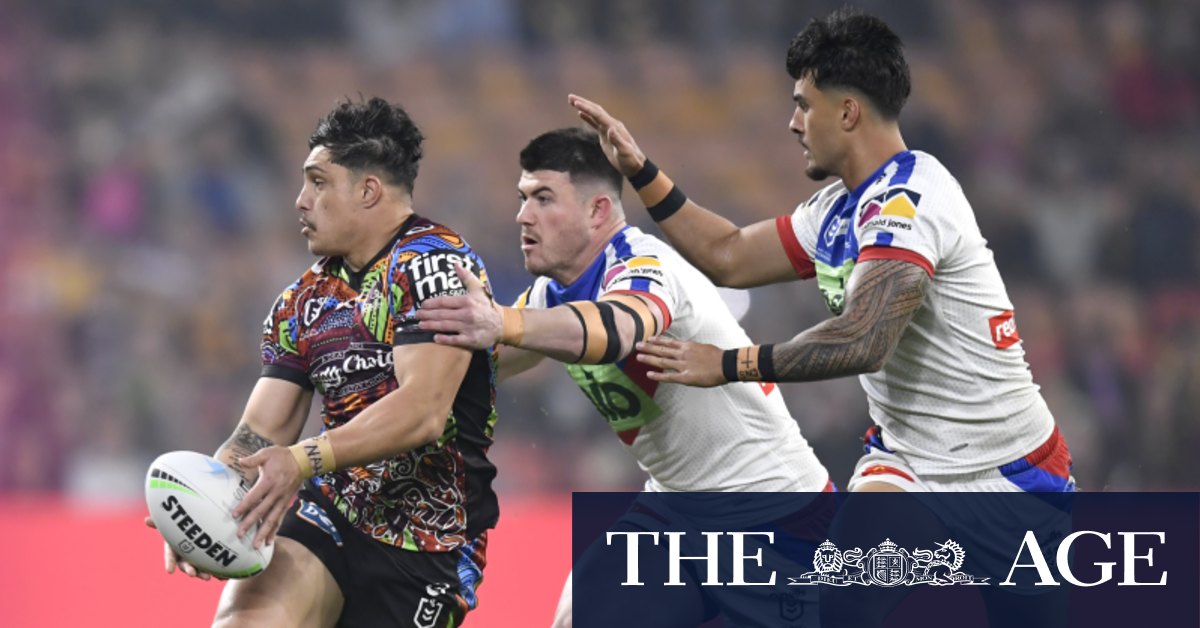 But I will talk about Bradman Best and Enari Tuala being dropped this week for missing the team bus in Brisbane last weekend.
That is one of the biggest no-nos in team sport for me. It is disrespecting your teammates. I don't care if you've had a drink the night before, you always front up the next day – whether it's for recovery, training or wherever it is you're required.
It has just put more pressure on everyone in the organisation. Director of football Peter Parr is a great addition for the club, but he shouldn't have to deal with an issue like this.
I've said it before and I'll say it again, I just feel desperately sorry for the fans. I know they'll turn up again, but this year we've had scores put on us by the Panthers, Eels, Storm and Broncos at home and were comfortably beaten by the Bulldogs. They have every right to voice their frustration and anger.
I just hope they watch a decent performance against the Raiders on Sunday.
Better Lat than never
If there is one team I'd be looking over my shoulder at before the finals, it's South Sydney. They look in a mood to entertain and have a style you cannot coach against.
I spend all week thinking about watching Latrell Mitchell and Cody Walker play – I can't imagine what it's actually like for Rabbitohs fans. I get the sense the Rabbitohs and Roosters are timing their runs to perfection.
I listened closely to what Mitchell said last week. It was along the lines of, "you haven't seen anything yet". It is rare for players to put themselves out there these days, but it was refreshing to hear. I'd love to hear more of it.
This is shaping as a great game against the Panthers. We're going to get a fast and dry track with a little bit of wind around, which means there should be no dew on the surface. That is the style of football that should bring out the best in these teams.
Everyone knows the way they attack down their left, but no one can stop it. You see it coming, you know it's coming, but they do it so well – with their attention to detail – it can't be stopped.
The Rabbitohs are getting back to full strength with Campbell Graham returning, but I really like their back row. I think it's the best in the competition, with the champion Cameron Murray, Keaon Koloamatangi and Jai Arrow really balancing it out.
A special mention for Lachlan Ilias. As a young halfback, I've paid close attention to him this year. He's improving each week, but the thing I really like is he plays gun-barrel straight in attack. A lot of young halves take space away from their outside men by shuffling across field, but he's established a really good combination with Koloamatangi and is learning how to read Damien Cook's game.
I think the next project for him is to work on his running game, but he's done a tremendous job after coming in with all the pressure of Adam Reynolds leaving for the Broncos.
Dylan Edwards is a big inclusion for the Panthers, but I'm not sure they can stop a red-hot Rabbitohs.
Joey's tip: Rabbitohs by 10
First try-scorer: Keaon Koloamatangi
Man of the match: Latrell Mitchell
Suaalii, Cobbo up for the Cup
You wouldn't have thought it was a possibility at the start of the year, but Australia's World Cup wingers could be Joseph Suaalii and Selwyn Cobbo.
Loading
Brian To'o is committed to Samoa, Josh Addo-Carr will be in the mix, but he won't play in the semi-finals, and I think Valentine Holmes is now a centre.
Suaalii and Cobbo both play without fear.
Suaalii plays without the fear of getting whacked. The way he runs the ball and bends the line is frightening.
Cobbo plays without the fear of making an error. He took an intercept off Tex Hoy against the Knights last week and it was like he was playing in the park at Cherbourg with his mates. He has the gift of putting himself in a situation to get the ball or score a try. You can't coach that – and you can't coach against it.
Stream the NRL Premiership 2022 live and free on 9Now.
Sports news, results and expert commentary. Sign up for our Sport newsletter.