Pakistan's ruling coalition turns down Imran Khan's talks offer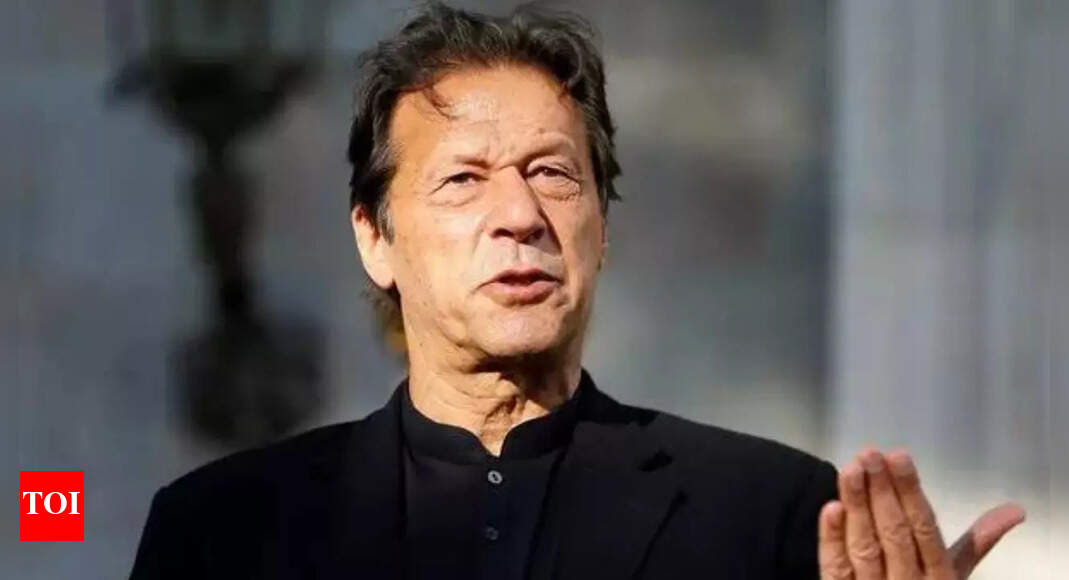 ISLAMABAD: Pakistan's ruling coalition has rejected former prime minister Imran Khan's offer for dialogue, saying that talks were held with politicians, not terrorists, a media report said on Sunday.
The government also stated that the Pakistan Tehreek-e-Insaf (PTI) chief was now himself seeking a National Reconciliation Ordinance (NRO), the Express Tribune newspaper reported.
The development came as Khan constituted a seven-member team to hold talks with the government – for developing consensus on a date for general elections – amid a massive crackdown on his party.
The crackdown launched after May 9 violent protests have thrown the PTI into a deep existential crisis with dozens of key party leaders jumping ship every day.
The prominent leaders who have quit the party include Secretary General Asad Umar, senior leader Fawad Chaudhry and former minister Shireen Mazari.
On May 9, violent protests erupted after paramilitary Rangers arrested Khan from the Islamabad High Court premises. His party workers vandalised a dozen military installations, including the Lahore Corps Commander's House, the Mianwali airbase and the ISI building in Faisalabad in response to Khan's arrest.
The mob also stormed the Army headquarters (GHQ) in Rawalpindi for the first time.
Thousands of Khan's supporters were arrested following the violence that the powerful Army described as a "dark day" in the history of the country.
Responding to the talks offer, the supreme leader of the ruling Pakistan Muslim League-Nawaz (PML-N), Nawaz Sharif, took to Twitter to state that talks are held only with politicians. "There will be no talks with a group of terrorists and saboteurs who burn memorials of martyrs and set the country on fire," he said.
In a statement, Information Minister Marriyum Aurangzeb said: "Those who attack the state are punished; they are not negotiated with."
She claimed that Khan's appeal for talks is an appeal for a National Reconciliation Ordinance (NRO).
When in power, Khan often said former military ruler Pervez Musharraf ended criminal cases against the leaders of various parties including the PML-N and the Pakistan Peoples Party (PPP) through the NRO but that he would not give "looters" any NRO.
Marriyum said holding talks with those who desecrated the memorials of martyrs is a "desecration of martyrs".
She said Khan wants talks after burning ambulances, hospitals, and schools and poisoning youths' minds, adding there will be no talks with him.
"Imran has called for talks when his party leaders have abandoned him in flocks," he said.
She reminded Khan that he had not talked with the opposition on the economy, Kashmir, national security issues, Covid-19 and the FATF issue but he is now urging for talks.
Declaring him a "foreign agent" and "Toshakhana thief", the information minister said negotiations are not held with the ones who allegedly looted Rs 60 billion as such a person is brought to the court of law and not to the negotiations table.
Minister for Poverty Alleviation Shazia Marri, who belongs to the PPP, said Khan was responsible for the situation arising after May 9. She said talking about talks now was nothing but eyewash.
The minister said mobs attacked Jinnah House in Lahore and the GHQ in Rawalpindi on the order of Khan. "He keeps his children in the safety of London but incites the children of the nation to commit anti-state acts," she said.
Marri recalled that PPP Chairman Bilawal Bhutto Zardari, the country's foreign minister, tried to bring political parties to the negotiating table and constituted a team consisting of senior leaders for negotiations with political parties. "Imran, however, sabotaged Bilawal's efforts."
She said Khan's arrogance led to his downfall, regretting that the former prime minister did not allow the PTI to become a political party.
"Talking about negotiations after everything has been done is pretentious," she said.
Jamiat Ulema-e-Islam (JUI-F) spokesperson Hafiz Hamdullah also called Khan the mastermind behind May 9 attacks. He said targeting military installations was tantamount to waging a war against the state.
A rebel, he said, is not negotiated with but deserves severe punishment.
Hamdullah while predicting that jail will be Khan's Khan's destination said it was time for him to answer for his actions. "Khan's appeal for talks is nothing but a joke," he added.