Portugal v Uruguay: World Cup 2022 – live | World Cup 2022
Key events
64 min Portugal maraud down the left with Guerreiro, whose cross is a goodun, Olivera doing really well to dive in and lever away from Ronaldo. If Uruguay commit men forward, I'd not be surprised to see them concede again on the counter, because Bruno and Bernardo move the ball so well. I wonder if Santos will get Leao on for that reason.
62 min Double change for Uruguay: De Arrascaeta and Pellistri for Vecino and Godin. That'll mean 4-4-2 as opposed to 3-5-2, and as I type that, Valverde puts Diogo Costa under and almost blocks his clearance with a brave leap.
61 min Uruguay are showing a but more attacking inclination now, Vecino crossing from the right and overhitting it by plenty.
59 min "I am sure he didn't touch it," emails James Foster, "and certainly it didn't do more than brush his hair. Fernandes' goal in my opinion."
If it brushes his hair, it's his, but I'm not sure it does. But I'm even surer Fifa aren't confiscating the goal from him – though they've got to televise him finding out if they do.
58 min Varela advances down the right and crosses nicely – for Cavani, who's done well to lose his man. But well though he drills fresh air into the corner, it wasn't his intention and the chance disappears.
57 min Ronaldo now has nine World Cup goals, the same as Eusebio. But he's limping after a challenge with Nunez.
56 min As things stand: Portugal are through and Uruguay need to beat Ghana in their final game, while hoping South Korea don't beat Portugal by more.
GOAL! Portugal 1-0 Uruguay (Ronaldo 54)
Or is it?! Bruno drifts left, a little feint conjured the yard he needs for a cross, and he curls a gorgeous ball onto Ronaldo's gel, and the ball doesn't deviate on its way into the corner, but of course Ronaldo celebrates like he's Keith Houchen. I think it's Bruno's goal, but it'll be given to Ronaldo.
54 min Portgual continue probing, but the lack of width is a problem….
52 min An attack into space! Bernardo breaks through the middle, feeds Felix to his left, and Bruno is in the centre, wailing for a cross … but his mate clouts into the side-netting, probably because, like the rest of us, he fancied being entertained by the tantrum which follows.
51 min Neves went off but is now back on, then a fan invades the pitch waving a rainbow flag. Godspeed, old mate.
50 min Neves is still down…
48 min Vecino is late on Neves, knee and foot into thigh and calf respectively – he does well to avoid a caution – then Olivera clatters Felix – he does well to avoid a second caution.
48 min Felix runs at Uruguay off the left and tries to clip a reverse=pass in behind; it's deflected behind for a corner … that comes to nowt. You guessed that, I imagine.
47 min I don't think we'll much different – at least not until someone scores. But if Portugal get a goal and even if they win, Uruguay will still need to beat Ghana, as they do the way things stand.
46 min We go again…
"The champion suit-wearer so far must be the Japan manager," advises Charles Antaki, "in both games he's rocked a three-piece, even during the midday kick-off. Hopefully Fifa has a prize for that?"
A mirror?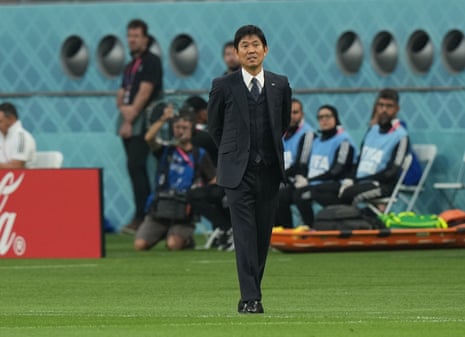 "Just one small thing – so far," says Marlise Lienhard ominously. "The smooth Felipe Melo is not 'honey' in Portuguese. It would be 'mel'. But let's apply poetic license here."
I'm afraid you've overestimated my linguistic ability – I meant "mellow".
Half-time email: "I see what you mean about the Uruguay manager's rig out," says Rod Wooden. "The only word for it is bizarre. But I have to say that I have also been known to wear oversize trainers with no socks, my excuse being that I live in tropical climes (Colombia) and suffer from swollen toes. But certainly not with a suit, in fact the last time I remember wearing a suit was at my wedding, and look how that turned out."
I too don't quite grasp the wearing or suits – nor shoes. Air Max and Havaianas are the only footwear a fashionista needs.
Half-time: Portugal 0-0 Uruguay
Portugal were the better side but Uruguay came closer to scoring – and what a goal it would've been. But instead we're locked at 0-0, and I'd not be surprised if we sill were an hour from now.
45+2 min I wonder whether, if this was knockout, either side's approach would be different. Ultimately, a draw kind of suits both – Uruguay won't want to risk losing to win, and Portugal know that beating South Korea will likely take the group. Anyway, Guerreiro gets down the left courtesy of a nice leave by Bernardo, Felix, sending the ball out wide. His cross is low and hard, but no one gambles, and that's the last action of the half.
45 min We'll have three added minutes. I was rather hoping for treble.
45 min Bruno tries to take a free-kick quickly, partly because he knows Olivera is close by; Olivera blocks the ball, and is booked.
44 min "My daughter, 7, is an aspiring footballer (we can never thank the Lionesses enough),": says Julian Menz, "but I showed her THAT Carlos goal, and now that's her epitome. It doesn't help that she's right-footed either."
Great stuff – I took my then-eight-year-old to the final, and though she's now conceded that I've not spent all my life and most of her inheritance pursuing nonsense, she's not taken it on. I suggest reinforcing your windows.
42 min Nuno Mendes is down and almost immediately, is replaced by Guerreiro. He must've been carrying something, because he knew he was jiggered – he didn't even try to masochism it off.
41 min "Nicely poised, this one," reckons Jamie O'Sullivan. "I'm enjoying the needless bit of needling between Gimenez and Felix every time the ball goes near them. One to watch as a potential entry into the 'clubmates falling out with each other on international duty' lists. I look forward to Felix calling Gimenez a rat in a candid interview/head massage with Piersbot 3000 in the year 2040."
I'm surprised we don't see more of that. When I found myself playing against mates, there was always (even) more needle than when playing against randoms, because we knew each other's weak points and were desperate to make each other look silly/not be made to look silly.
40 min Eventually, Valverde's free-kick comes in, Portugal get first contact, and when Bentancur retrieves, Carvalho clears.
38 min Good from Nunez, who takes the ball down well and moves forward, finding Varela, who's quickly introduced to grass by Neves; Neves is quickly introduced to the yellow card by the ref. Free-kick Uruguay, 30 yards out, right-hand side.
37 min This is lively now, Mendes finding Bruno whose shot is blocked, then Ronaldo, who's been pulling left a lot, brings the ball down on his chest, but as he falls, can get away neither shot nor cross.
37 min "Temper XI," says Simon Harpin. "Gotta be Lee Tomlin, he of two yellows (and shoulda been three) within about 30 seconds not so long ago."
36 min Suddenly, Uruguay are into this, Bentancur finding Olivera down the left, who crosses low, and Bentancur stretches but can only send his shot wide as Nunez tries to turn it goalwards.
34 min That should represent a major warning for Portugal, who've been dominant but impotent. So they get the ball down the other end, where both Ronaldo and Felix have shots blocked at source.
32 min BUT HERE COME URUGUAY NOW! Bentancur picks the ball up in his own half and lanks through the middle as no one comes to unload him! Then, just outside the box, he sways outside Dias and he's in! Costa comes out, and all he has to do is round or nick it over him for one of the great goals … but instead he panics and shoots straight at the keeper. What a run, but what a shame!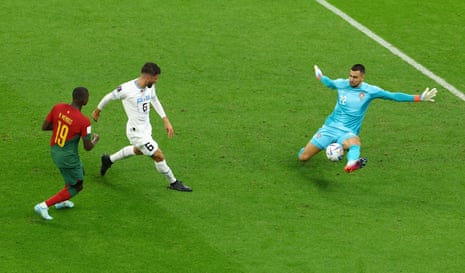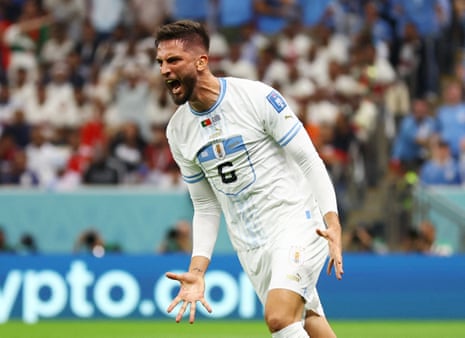 31 min A bit of possession for Uruguay, who've done almost nothing offensive so far – a shame in both senses of the word. Valverde has barely had a kick, and they need to find a way of getting him on the ball if they're to create anything.
29 min Neves allowed to run forward unmolested, chips a ball over the top and Fernandes, close to the by-line and trying to nod back across, heads into the side-netting before giving the hoarding a minor ketsbaiaing. The flag goes up, though, so he's in the clear.
27 min "When you look at the stats," brags Matt Dony, "Roberto Carlos had a horrendous record with free kicks. But, he had an incredible knack of getting them right on the big stage, when everyone was watching. There was an absolute beaut against China (I think) in the 2002 World Cup. Ronaldo appears to be trying to muscle in on that territory. His stats have gone from impressive to horrendous, but you just know that he's likely to pull something out of the bag in Qatar. Annoyingly."
I've been wondering if we'll get to a point when players stop trying to score, because the stats say they're better off putting a ball into the box. And while we're on the subject, I wrote this about one of my favourite of the genre, and boyz being ladz.
26 min A ball into Nunez, an avant-garde first touch. Ctrl C, Ctrl V.
25 min "US commentator here says Ronaldo needs people around him to complement him," says Jim Cotter. "Any chance Piers Morgan is still up his [redacted] and could whisper one for the team?"
Wahey! There was a time I feared he'd miss the World Cup because that head massage was still going on.
23 min And there he is, curling with the outside of his boot out to Ronaldo down the left. But the eventuating cross is nowhere near anyone, so Portugal retrieve possession and build again.
22 min Bruno and Nnuez catch each other, the former booting the latter's studs. He suffers some pain, but he'll be fine.
20 min We've seen precious little Pepe so far, but I think he'd be in my Temper XI. So too would be the ironically-named Felipe Melo – and who else? I wish YouTube wasn't silent on David Prutton's total loss of noggin for Southampton against Arsenal in 2005.
19 min Bernardo's inswinger is deflected behind so Bruno runs over to try an outswinger and lamps it beyond the back post. Lovely stuff all round.
18 min Ronaldo smashes into the wall, Vecino leaping to head behind.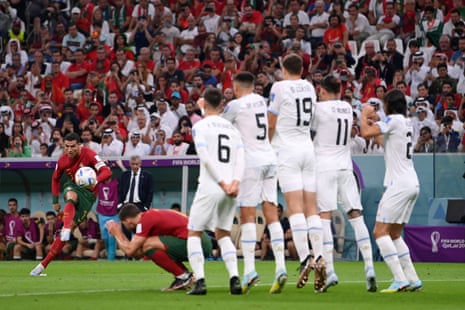 17 min The corner is flighted to Carvalho on the edge and he ponders leathering a volley towards Selhurst, then takes a touch and absorbs Vecino's foul. Free-kick Portugal, 25 yards out, a fair way left of centre, and Ronaldo prepares to smash into the wall.
15 min There's a better balance about Portugal than against Ghana, I think because Bruno and Bernardo are central together. And as I type that, Bernardo darts a ball into Felix, who ducks inside and tries a curler that's deflected at source, lopping over the top.
14 min How are the whole Uruguay team not getting dropped for making sport of their manager's rig?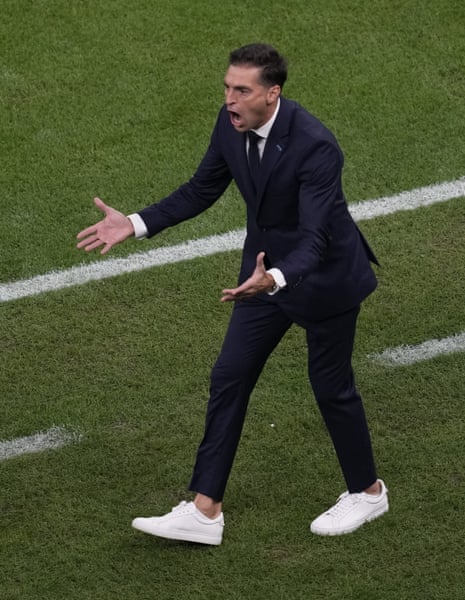 13 min Bentancur is in late again, hands on Dias and with a leg through his. That's never a booking but he gets a talking-to and needs to have a word with himself because any more and he's struggling.
12 min The corner goes short and then into the box, where Gimenez leaps, lobbing a header over the bar.
10 min The Portugal fans are making themselves heard but then we get our first flash of Nnuez, who bustles down the left, wins a corner off Cancelo, and noises up the crowd prior to the corner. He's already on a rolling boil, which augurs well for our handbags-hope.
9 min Portugal are looking lively! Ronaldo comes deep and flicks inside for Felix. But the ball's behind his mate, so Bruno collects and tries to slide into the box, but the flag goes up.
8 min Mendes tries a diag and Ronaldo gets up early and high, all over Olivera and nodding down for Bruno, who drags a shot from 20 yards wide of the far post. Portugal have started the better.
6 min It's been a bitty start – Mendes fouls Carvalho, then Bentancur catches Dias on the calf and is booked at the lino's behest. This prompts him to share some sentiments, and looking again, I'm not sure he did it on purpose, but as I type that I find myself laughing at my own naiveté.