Scotland v Cyprus: Euro 2024 qualifying – live | Euro 2024 qualifying
Key events
32 min: Kastanos performs the dying swan in the vague environs of McGregor, and goes into the referee's notebook for his brazen cheek.
31 min: Cyprus press, but Scotland stroke it around the back with confidence and play their way out of trouble. Hickey, Hanley and Porteous all assured.
29 min: Robertson and Tierney combine down the left, where Scotland are finding plenty of joy. Another deflected cross, but this one doesn't quite fall for either McGinn or Adams. Cyprus clear their lines.
27 min: The ball bounces loosely in the midfield. Artymatas decides to meet it with an almighty whack, and isn't too far away from embarrassing Gunn, who was on walkabout. The ambitious effort sails harmlessly wide right, but for a split second, Scottish hearts were in mouths.
26 min: That's McGinn's 16th goal for Scotland. Not a bad return for his 53 appearances, huh.
25 min: That's got the home crowd going again. The atmosphere had fallen a little bit flat as a result of Scotland's patient approach. And there's another roar as Adams plays Tierney into space down the left, but the cross doesn't find a dark-blue retro shirt in the box.
23 min: No bother! The goal stands, and Hampden roars! Roberge was playing Robertson on in the middle.
22 min: … but they're checking for offside. Did Robertson go too early? VAR is on the case.
GOAL! Scotland 1-0 Cyprus (McGinn 21)
Armstrong slips a ball down the left channel for Robertson, who crosses. A deflection loops it towards McGinn at the far stick. He can't miss. He opens his body and sidefoots into the bottom right. Easy as that!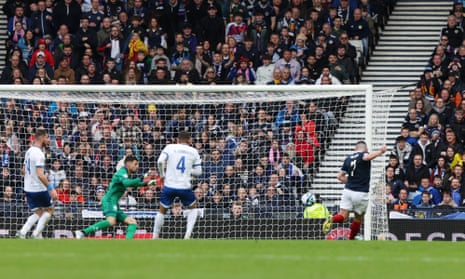 20 min: Kyriakou's fresh-air kick affords Armstrong the opportunity to make good down the left and cross. Unfortunately the ball in goes nowhere near Adams. No matter, though, because …
19 min: Adams and McGinn combine cutely down the right and very nearly send Hickey clear. Cyprus slam the door shut just in time.
17 min: Kastanos is fine to continue, and he's soon whistling a range-finder straight at Gunn, who is thankful for his first meaningful touch as a Scotland international. He handles well.
15 min: That was a strange one, though. Armstrong caught his man, and by stopping the Cypriot charge, was always going to be yellow carded. But he got the ball as well. Scotland claim the booking is harsh; Cyprus want a red. VAR has a second look and shows absolutely no interest in upgrading the punishment.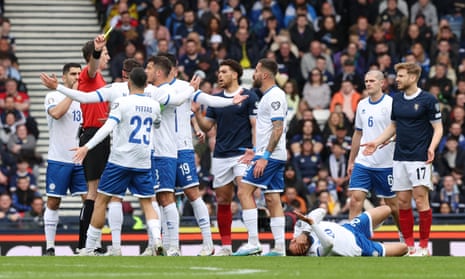 14 min: Robertson swings it in, but Cyprus break quickly upfield. Armstrong slides in on Kastanos and the counter is nixed at source. Armstrong goes into the book as a result.
13 min: Hickey garrinchas his way into the box from the right. He sends Laifis off to the shops with a drop of the shoulder, then arrows a surprise shot towards the bottom right from a tight angle. Demetriou is forced to turn around his post. Corner.
12 min: Scotland are playing a patient game and Hampden has simmered down as a result. It doesn't help that Porteous lumps an aimless ball upfield, nowhere near any of his team-mates. It sails apologetically through to Demetriou.
10 min: This is a little sharper, though. Armstrong reaches the byline out on the left and cuts back for McGinn who attempts, from the left-hand corner of the six-yard box, a cute flipper towards the bottom right. He doesn't quite get enough on it and it sails across the face of goal. Not sure Demetriou was getting to that had it been on target.
9 min: It's all Scotland in terms of possession. All a bit sterile, though.
7 min: Scotland clearly fancy this left flank. Tierney tries to release Armstrong with a speculative pass down the channel, but again it's too long. Demetriou comes to the edge of his box to gather.
6 min: Robertson pings long down the left for Adams, who lays back for Armstrong. Robertson had kept going, and Armstrong tries to find him on the overlap, but his pass is way too strong. Goal kick. Had that been weighted properly, Robertson was screaming into space.
5 min: Porteous sticks his elbow into Ioannou's lug and it's a free kick out for Cyprus out on the left. Everyone lines up on the edge of the Scotland box. Kastanos hoicks it into the mixer. Hanley heads clear and the danger is over.
3 min: Demetriou flaps at the corner. Tierney tries to return the ball into the mixer from the right, but his cross is blocked. A bright start for the hosts, though.
2 min: Armstrong hugs the left touchline and makes off at speed. Antoniou is forced to make a fine last-ditch tackle as he threatens to break clear. Then McGinn gets involved to win the first corner of the afternoon.
1 min: Scotland are also wearing white shorts and red socks. All is right with the world.
Scotland get the ball rolling. Hampden roars.
The teams are out! Scotland are in dark blue, Cyprus in second-choice white. The hosts wear their glorious new retro shirt that celebrates 150 years of the SFA. It is an absolute belter. As is Flower of Scotland, which gets a passionate pre-match bellow. We'll be off in a minute!
Steve Clarke, whose first match as Scotland boss was against Cyprus at Hampden four years ago, talks to Viaplay Sports. "A new campaign, and hopefully the players can continue doing what they've done … hopefully Angus Gunn has a very good debut for Scotland … I've got options on the pitch, I can change in-game formation if we have to, and I have fantastic options off the bench, which shows how far we've improved as a national squad … we hope to pick up enough points to qualify directly for Germany 2024 … we have the backup of the playoffs, but we don't want to go through the knockout stage, we want to do it through the groups, and that starts today."
Celtic midfielder Callum McGregor wins his 50th cap for Scotland, while in goal Norwich City's Angus Gunn makes his debut. St Mirren midfielder Alex Gogic starts for the visitors.
Scotland: Gunn, Hickey, Porteous, Hanley, Tierney, Robertson, Armstrong, Jack, McGregor, McGinn, Adams.
Subs: Kelly, Clark, Patterson, McTominay, Dykes, Christie, Hyam, Gilmour, Cooper, Ferguson, Brown, McLean.
Cyprus: Dimitriou, Antoniou, Kousoulos, Gogic, Roberge, N Ioannou, Kyriakou, Laifis, Artymatas, Kastanos, Pittas.
Subs: Panayi, Spoljaric, Karo, Antoniades, Charalampous, Efrem, M Ioannou, Christofi, Kakoulli, Spoljaric, Loizou, Tzioni.
Referee: Duje Strukan (Croatia).
Scotland start their Euro 2024 qualification campaign against a team they only squeaked past in their last one. Kick off is at 2pm GMT. It's on!