Search continues for fan who racially vilified Western Bulldog star Jamarra Ugle-Hagan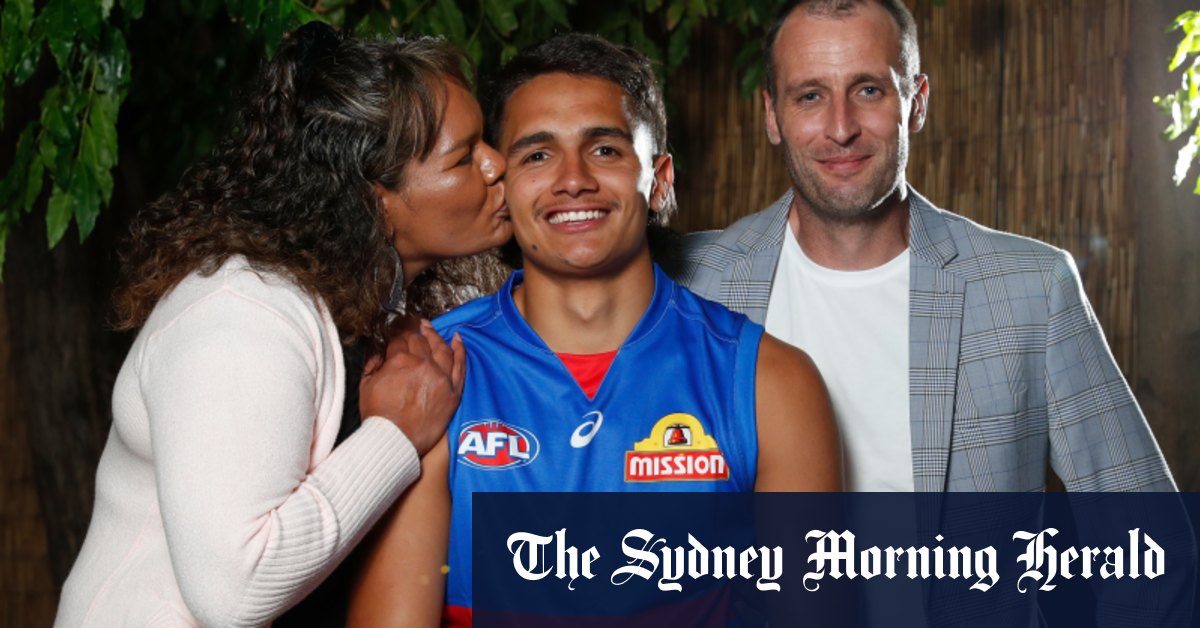 "For we know that love will always triumph over hate.
"To also receive a private message from a random 'Hang yourself you — rat'."
St Kilda chief executive Simon Lethlean says the club is still searching for the individual who racially vilified Ugle-Hagan.
The Saints and Bulldogs, as well as the AFL, condemned the latest fan-related racism, with triple premiership defender Chris Johnson – Ugle-Hagan's mentor – telling The Age there needed to be greater education around the hurt racist remarks cause.
Ugle-Hagan said he's beyond grateful for the overwhelming support he's since received.
"Appreciate everyone for reaching out and checking in," he posted on Instagram. "Keep educating those around you. No one should feel this way. Always was, always will be."
Ugle-Hagan did not initially tell anyone at the Bulldogs about the racial abuse directed at him, according to an industry source, but informed his mother, who posted about the incident on social media. The 21-year-old then confided in the club's Indigenous liaison officer, Lachie Edwards.
Ugle-Hagan was also targeted with racist comments online, something many of the AFL's Indigenous footballers have had to deal with.
Lethlean said St Kilda were doing everything to identify who racially taunted Ugle-Hagan, based on the location of the ground the Dogs star heard the remarks.
He could not guarantee a life ban would be handed out if the culprit was caught, but said they would not be welcome back to St Kilda matches.
"As far as we know it was a comment Jamarra heard which was totally inappropriate from, he thought, a St Kilda supporter area, so we're working to try and find out who that was," Lethlean said.
"I think we all despair if a player of any background can't feel safe in their workplace, and people in the crowd think it's OK to say those things with others around them.
"We encourage all fans to call out this behaviour to stop it, to teach your kids what is right, to educate them on how people feel and are made to feel. You certainly despair.
"I'm not sure what the ban will be, but they certainly won't be welcome at our games."
Johnson, who Ugle-Hagan lived with for periods of his teenage years before becoming the No.1 draft pick in 2020, said it was only a "small minority who were narrow-minded" but that it remained disappointing these incidents still occurred.
"How are they being educated that this is OK to talk about or say? That's always my first thing I go to. You're not born a racist," Johnson told The Age.
"The individuals saying these things, whether from afar or yelling it, or hiding behind a keyboard, haven't had any meaningful interactions with Aboriginal or Torres Strait Islander people.
"Our multicultural brothers and sisters are exposed to this as well. All we're trying to do [is our job], so why do we have to be abused for that? You can talk about their performances, but it's another thing to talk about people's race."
Johnson pointed out the hypocrisy of the alleged St Kilda fan shouting racial slurs at Ugle-Hagan, while Bradley Hill, Nasiah Wanganeen-Milera and Marcus Windhager played for the Saints in the same game – and ahead of the 30th anniversary of club legend Nicky Winmar's stance against racism.
"How are they being educated that this is OK to talk about or say? That's always my first thing I go to. You're not born a racist,"

Triple-premiership winning former Brisbane Lion and Jamarra Ugle-Hagan's mentor, Chris Johnson
"My philosophy around it is surely you should expose yourself to Aboriginal and Torres Strait Islander people, and find out why it is hurtful to say these things," he said.
"Why is it being brought into society? It's not us who brought it in – non-Indigenous people brought this language in. We don't give ourselves nicknames like this. What people need to do is educate themselves."
Lethlean agreed, saying racism had been an issue in football for too long.
"It's 30 years since Nicky Winmar made the statement he made," he said.
"To still be dealing with stuff like this now is completely inappropriate, so banning them is what you would do to preclude them from entering the games going forward. But education is critical to understand that sort of comment is inappropriate, [and] the effect it has on the people.
"They're entitled to have a safe workplace, our Indigenous players and our multicultural players, and if that isn't the case it's got to improve."
St Kilda defender Callum Wilkie, who will captain the Saints this week in Jack Steele's absence, said that behaviour should not be tolerated.
"Indigenous players have done so much for our game and so much for our football club," Wilkie said. "We've had so many greats throughout our history or who are with us now, and we feel for them when it happens. It's not good enough.
"We'll fully support our Indigenous [players], fully support Jamarra, and we hope it's not going to continue to happen. Inevitably, it probably will, but it's not good enough."
Melbourne star Christian Petracca echoed Wilkie's sentiments, saying the racial abuse directed towards Ugle-Hagan was "disgusting".
"I don't really get it, to be honest. It is just fundamentally so wrong," Petracca told KIIS FM.
"He is a 21-year-old kid. We are not just footballers; we are human beings. Indigenous players bring so much fun and enjoyment to the games. They put more bums on the seats than anyone else do. You go to games to watch Indigenous players – Eddie Betts, Kozzy Pickett, Jamarra, and these types of players. As a society, we take one step forward with this stuff, and we say we are getting better, [then] you see things like this, and it's another, four or five steps backwards. It really is so wrong."
Meanwhile, Lethlean said the AFL would investigate whether racist remarks on social media came from accounts owned by club members. He promised to ban any St Kilda member caught being racist.
"Obviously social media is hard to control," Lethlean said.
"People get a platform now to say what they want, which is unfortunate, especially for Jamarra's mother to receive that comment on her social pages.
"All we can do now is let the AFL integrity unit try and find the people involved. If they think they're welcome at our game, they're not. Social media is obviously a broader platform that we can't control, but if identifiable, we'll take the most action we can."
Keep up to date with the best AFL coverage in the country. Sign up for the Real Footy newsletter.