Supplier Plans To Lay Off Workers Amid The Big Three Strike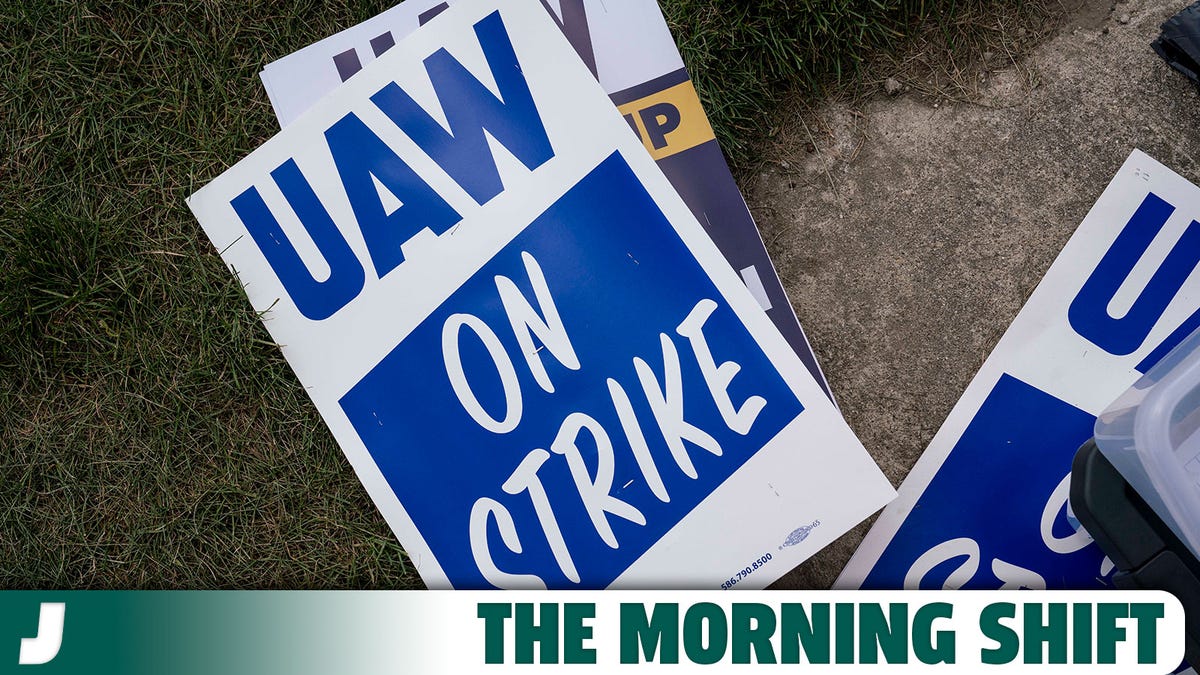 Good morning! It's Tuesday, September 19, 2023, and this is The Morning Shift, your daily roundup of the top automotive headlines from around the world, in one place. Here are the important stories you need to know.
Joe Pantoliano 'Accidentally' Learned How to Handle Hills With A Manual
1st Gear: The Layoffs Have Started
After the United Auto Workers union went on strike last week, America's auto industry has been on its head trying to deal with the fallout. Dealers have implemented measures to try and keep their lots full and suppliers are questioning when their work might next be needed. Now, one American parts supplier is warning that layoffs could be on the horizon if Ford, General Motors and Stellantis can't get their plants up and running again soon.
According to a report from Automotive News, a contract manufacturing supplier with two facilities in Michigan is preparing to lay off nearly 300 employees, which it says is due to the four days of strike action. Automotive News reports that CIE Newcor plans to lay off staff at its sites in Shiawassee and Lapeer counties. According to the site:
CIE Newcor, a subsidiary of Spain-based CIE Automotive, said it tentatively anticipates a one-month layoff starting Oct. 2, according to a WARN notice filed with the state Thursday, just hours ahead of the UAW calling a strike at a trio of auto plants.

The impacted jobs include mostly machine operators at four company plants: CIE Newcorp and Machine Tool and Gear Inc. Plant 1 in Corunna, as well as Machine Tool and Gear Inc. Plant 2 in Owosso. Each is about 90 miles Northwest of Detroit. Rochester Gear in Clifford, about 80 miles North of Detroit, is also impacted.
While the plant initially said employees would only be laid off for around a month, it warned that the move could become "indefinite" depending on how long the strike at America's big three goes on for. Rather worryingly for the affected workers at CIE Newcor, there is no union to represent them at the plant.
2nd Gear: Ford Has 24 Hours To Avert A Second Strike
And talking of strikes, while Ford struggles to draw industrial action in the U.S. to a close, it's facing further walkouts north of the border in Canada. The Blue Oval is caught up in talks with Canada's Unifor, and has just one final day to try and prevent a walkout.
According to the Detroit Free Press, talks between Ford and Unifor were extended by 24 hours, meaning that the two parties have until 11:59 p.m. Tuesday instead of the initial deadline which passed at midnight on Monday. The deadline came after "the union received a substantive offer" from Ford "minutes before the deadline." According to the Free Press:
Steven Majer, vice president of human resources for Ford Motor Co. of Canada, said in a statement Tuesday morning that the company had agreed to continue negotiations "to achieve a tentative agreement. We will continue to work collaboratively with Unifor to create a blueprint for the automotive industry that supports a vibrant and sustainable future in Canada."
If a deal cannot be reached between the two parties, Unifor warned of a "total strike" across the Canadian facilities where its employees work. This differs from the UAW's action in the U.S., where its walkouts have been centered around "targeted" facilities… for now.
3rd Gear: NHTSA Probes Ford Recall
Away from all the strike actions, there are a few other big stories from the automotive world. First is this probe that the National Highway Traffic Safety Administration has launched into a Ford recall that affected more than 1.2 million Focus models.
Ford initially recalled more than 1.2 million 2018 Ford Focus sedans five years ago after reports of power issues with the cars. Now, the NHTSA is conducting an investigation into the recall after it received almost 100 complaints that the issue was still present in cars that should previously have been fixed. As Automotive News reports:
NHTSA's Office of Defects Investigation said it received 98 consumer complaints alleging failure of the canister purge valve in 2012-18 Focus cars that were either previously recalled and fixed or were not recalled but experienced the same issue.

In October 2018, Ford recalled more than 1.2 million 2012-18 Focus vehicles with either 2.0-liter gasoline direct injection engines that were built prior to April 13, 2017, or with 2.0-liter gasoline turbocharged direct injection engines built prior to Feb. 2, 2018.
Despite the initial recall pledging to fix the issue, Ford did actually announce a second recall affecting 57,000 cars, which were included in the 2018 recall but "did not have the powertrain control module updated," the site reports.
Now, Ford says it is working closely with the agency to "support their investigation."
4th Gear: Volvo Will Kill Its Diesel Cars
As automakers around the world pivot to electric vehicles, we've seen a few brave models fall by the wayside and make space for newer, shinier, electricer cars that are set to clean up our streets. Now, it looks like another victim will soon fall during the pivot to electric cars: Volvo's diesel engines.
According to a new report from Reuters, Volvo has begun phasing out its diesel-powered models, with plans to cut production of them entirely in 2024. The news site reports:
Volvo Cars said on Tuesday that it will end production of any remaining diesel models by early 2024 as it heads towards becoming an all-electric carmaker.

"In a few months from now, the last diesel-powered Volvo car will have been built, making Volvo Cars one of the first legacy car makers to take this step," the Swedish company said in a statement.
In 2020, the Swedish company ended its production of diesel cars in America, and has since offered only gas-powered models, hybrids, and electric cars. However, in Europe, it kept a few diesel-powered models on its roster.
Still, while diesel models made up "a majority" of the cars it sold in Europe back in 2019, 2022 sales showed they accounted for just 8.9 percent of models sold across the bloc.
Neutral: Where's The Worst Airport?
People always moan about JFK Airport in New York and say it's an awful place, but on the whole most of my trips through have been fine. That changed yesterday when I was caught up in mammoth passport queues, delays for bags, and even a replacement bus service instead of the air train. It was horrible.
On The Radio: Daft Punk – Fragments of Time
Daft Punk – Fragments of Time (Official Audio) ft. Todd Edwards