Tesla shares fall 12% after Musk's Twitter deal; Moscow threatens to halt gas flows to Poland, Bulgaria – business live | Business
P&O Ferries has resumed cross-Channel sailings for the first time since it sacked almost 800 seafarers.
The vessel Spirit of Britain departed Dover for Calais shortly after 11pm on Tuesday carrying freight customers, while passenger services are expected to resume early next week.
Earlier in the day, another P&O Ferries ship, European Causeway, had been adrift five miles off the coast of Northern Ireland for two hours in the afternoon after it lost power.
The company was widely condemned after replacing 786 crew members with cheaper agency staff on 17 March.
Its chief executive, Peter Hebblethwaite, told a joint hearing of the Commons' business and transport committees later that month that P&O Ferries broke the law by not consulting with trade unions before implementing the decision. He has rejected calls to resign.
Euro falls to five-year low versus dollar
The Dax in Frankfurt, the CAC in Paris and the FTSE MiB exchange in Milan have also turned positive, reversing earlier falls. Wall Street futures are pointing to a 1% rebound in the main indices later today, after a 12% plunge in the Tesla share price dragged the Nasdaq down on Tuesday, with the tech-heavy index closing almost 4% lower.
However, the euro has fallen below $1.06 for the first time in five years, as investors sought out safe-haven investments like the dollar, amid rising concerns around Europe's energy safety, and the economic growth slowdown in Europe and China.
The euro slipped to $1.05890 after Russia's Gazprom threatened to cut gas supplies to Poland and Bulgaria, if the countries continue to refuse to pay for gas in roubles.
The single currency has lost more than 4% of its value so far in April, and is heading for its worst monthly loss in more than seven years.
The FTSE has just turned positive and is trading 0.35, or 22 points, higher at 7,408, led by mining and bank shares.
HSBC and Lloyds are among the main risers, up 2.7% and 2.6% respectively, despite Lloyds warning over the impact of the cost of living crisis on loan defaults. Nonetheless, it has posted decent results for the first quarter and beat analysts' forecasts.
Michael Hewson, chief market analyst at CMC Markets UK, said:
The performance of the Lloyds Bank share price since the pandemic first broke across the shores of the UK economy has been one of life's big mysteries, given it is still well below the levels seen pre-pandemic, and yet the bank continues to return numbers which are much improved on where they were pre-pandemic.

The last few days have seen the shares slip back again, over concerns about how banks will contend with a tougher economic outlook and customers getting into financial difficulties through higher prices.

Nonetheless today's Q1 update has seen a similarly resilient performance with statutory profit after tax coming in at £1.2bn, a modest fall from the same quarter last year, pushing the shares to a three-week high, but crucially they are struggling to overcome the 200-day moving average which has so far capped the rebound from the March lows. (The 200 day MA is a pricing indicator that is a key long term pricing benchmark, which can offer clues to the direction of the share price.)
On the markets, European shares are sliding in early trading.
The UK's FTSE 100 is down 32 points, or 0.4%, at 7,354, while Germany's Dax and France's CAC have both fallen nearly 0.7%, and Italy's FTSE MiB has slid 1.3%.
The pound has slipped 0.2% against the dollar to $1.2544, but is up against the euro at €1.1831.
Kellogg's launches legal action against UK over new junk food rules
Mark Sweney
Kellogg's, the owner of brands from Coco Pops to Special K, has launched legal action against the UK government over new junk food rules that will ban some cereals from being prominently displayed on supermarket shelves, reports my colleague Mark Sweney.
The cereal maker, whose portfolio also includes Cornflakes, Nutri-Grain and Crunchy Nut, is fighting the restrictions on promoting products high in fat, salt, sugar and salt (HFSS) that come into force from October as part of the government's plan to tackle childhood obesity.
The in-store promotion of junk food products will be limited, meaning they will not be allowed to be featured in high profile locations such as checkouts, store entrances, aisle ends and in prominent positions in supermarket apps and websites.
Kellogg's argues the rules fail to take into account the fact that 92% of people eat cereal with milk or yoghurt, which changes the nutritional profile of its products and means they would not be classified as junk food.
"We believe the formula being used by the government to measure the nutritional value of breakfast cereals is wrong and not implemented legally," said Chris Silcock, UK managing director at Kellogg's.
"It measures cereals dry when they are almost always eaten with milk. All of this matters because, unless you take account of the nutritional elements added when cereal is eaten with milk, the full nutritional value of the meal is not measured."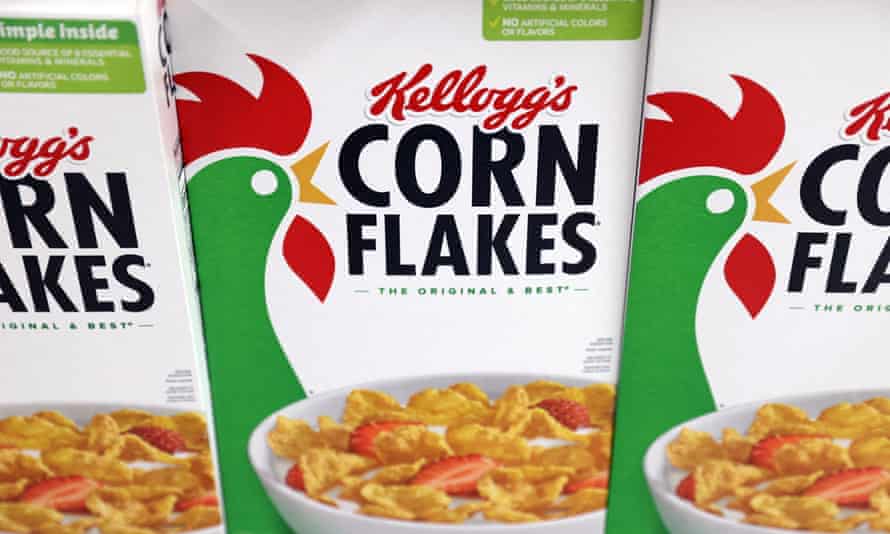 GSK, Britain's second-biggest drugmaker, has unveiled better-than-expected results for the first three months of the year, ahead of the planned July listing of its consumer healthcare division, which makes Sensodyne toothpaste and Panadol painkillers.
The spinout of the consumer venture it has with Pfizer, christened Haleon, has put the spotlight on GSK's future, with chief executive Emma Walmsley under pressure from the activist hedge fund investor Elliott Management to improve the company's performance, and shore up its drugs portfolio. This month, GSK clinched a $1.9bn deal to buy a cancer specialist, Sierra Oncology.
GSK has doggedly stuck to its plans for a spinoff of consumer health, and rejected three bids from consumer giant Unilever for the division in December, the last worth £50bn.
GSK's turnover rose 32% to £9.8bn between January and March, and profit before tax climbed 71% to £2.6bn.
Its Covid-19 treatment Xevudy, also known as sotrovimab, brought in revenues of £1.3bn in the first quarter, better than expected. The drug is made by by cloning an antibody that can stick to the spike protein of the virus and neutralise it – this stops it from getting into your lungs and causing an infection. However, the latest data shows it is does not work well against the Omicron variant, and Xevudy is no longer authorised to treat Covid-19 in any US region.
The company's other products also sold well, including its shingles vaccine Shingrix, whose sales had been hit during the pandemic when governments focused on the battle against Covid-19. Shingrix sales rose 32% to nearly £700m in the latest quarter.
Walmsley said:
We have delivered strong first quarter results in this landmark year for GSK, as we separate consumer healthcare and start a new period of sustained growth. Our results reflect further good momentum across specialty medicines and vaccines, including the return to strong sales growth for Shingrix and continuing pipeline progress.

We also continue to see very good momentum in consumer healthcare, demonstrating strong potential of this business ahead of its proposed demerger in July, to become Haleon.
Healthcare analyst Ellie Davenport at Informa Pharma Intelligence said:
GlaxoSmithKline (GSK) delivered strong first-quarter results (£9.8bn) ahead of what CEO Dame Emma Walmsley heralded as a transformational year for GSK, with focus remaining on July's spin-out of the consumer healthcare business, as 'New GSK' prepares to transition its portfolio towards high-margin speciality drugs and vaccines.
German consumer confidence hits record low
In Germany, consumer confidence has hit an all-time low, according to the latest GfK barometer, as people worried about rising energy and food bills, the war in Ukraine, and the overall economy.
The analytics firm's confidence index, based on a poll of 2,000 Germans, fell to -26.5 in May from -15.7 in April, and was far worse than expected.
Rolf Bürkl, GfK consumer expert, said:
The war in Ukraine and rates of high inflation have dealt a severe blow to consumer sentiment. This means that hopes of a recovery from the easing of pandemic-related restrictions have finally been dashed.
By comparison, UK consumer confidence plunged to -38 in April, the weakest since the 2008 financial crisis, GfK said last week.
Lloyds warns over cost of living crisis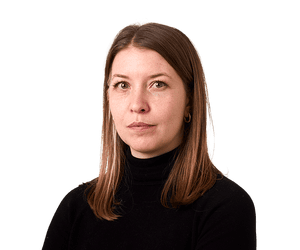 Kalyeena Makortoff
Lloyds Banking Group has raised concerns over the "uncertain" outlook for the UK economy amid soaring inflation, warning that the cost of living crisis could result in higher defaults on its loans, reports our banking correspondent Kalyeena Makortoff.
It came as the bank reported a 14% drop in first quarter pre-tax profit to £1.6bn from £1.9bn a year earlier, although that was better than the £1.4bn that analysts had expected.
The dip was the result of a £177m charge meant to protect the bank from potential defaults linked to the inflation squeezing UK household finances, which hit 7% last month and is making it harder for borrowers to keep up with payments.
It marks a reversal from 2021, when Lloyds released £360m of the cash originally put aside for defaults linked to the Covid crisis, thanks to government support programmes that made it less likely that customers would fall behind on their debts.
Lloyds, which is the country's largest mortgage lender and is considered a bellwether for the UK economy, said that while it did not have direct exposure to Russia, the war in Ukraine was impacting customers through higher energy and commodity prices, as well as supply chain disruption.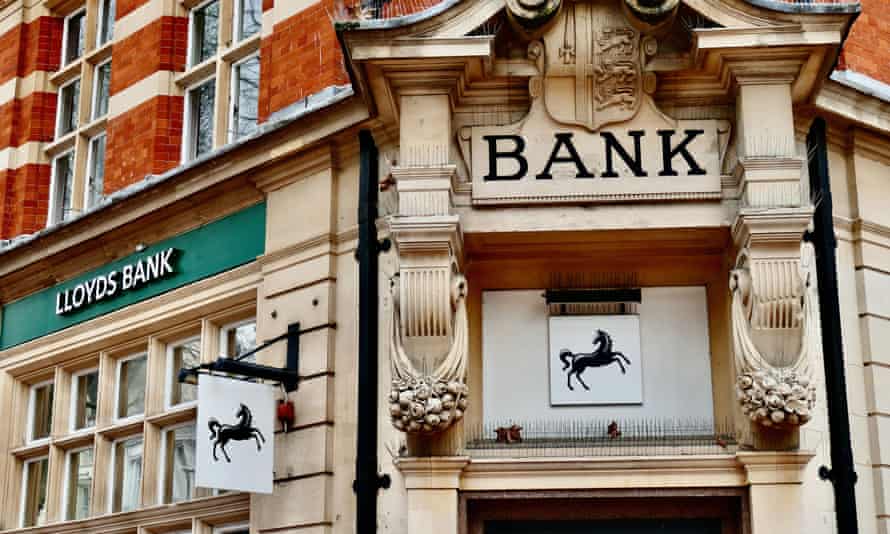 Senior market analyst at Oanda Jeffrey Halley said:
The Nasdaq led the equity market wipe-out overnight, with its near 4% retreat led by Tesla, which fell by 12.2%. You could look at it two ways.

Either Elon Musk sold his latest stock awards to generate the $21bn in cash for his part of the Twitter buyout, or the street is starting to wonder how he could possibly effectively run Tesla, Starlink, Space-X and Twitter simultaneously. I do as well.
Introduction: Tesla shares slide 12%; Moscow threatens to halt gas flows to Poland and Bulgaria
Good morning, and welcome to our rolling coverage of business, the world economy and the financial markets.
Tesla shares plunged 12.2% on Tuesday, wiping $126bn off the value of the electric carmaker, as investors worried that chief executive Elon Musk may have to sell shares to fund his $44bn buyout of Twitter. They are also concerned that he may become distracted from Tesla (and his other ventures) by the Twitter deal.
Tesla is not involved in the Twitter deal, but Musk has not disclosed where his $21bn contribution to the acquisition is coming from. The drop in the Tesla share price equated to a $21bn drop in the value of his Tesla stake.
Ed Moya, senior market analyst at Oanda, said:
If Tesla's share price continues to remain in freefall that will jeopardise his financing.
Growing fears over the world economy has triggered a slide in many Asian stock markets, as investors dumped riskier assets to buy the US dollar, government bonds and other safe-haven investments instead. The dollar index, measured against a basket of international currencies, rose 0.1% to 102.4, the highest since the Covid pandemic started in March 2020.
Russia briefly cut off gas flows to Poland on Tuesday, after the Polish government refused to pay in roubles.
Russia's Gazprombank is demanding to be paid in roubles for its gas, and has told Poland and Bulgaria that it will halt gas flows from today, in a major escalation of the row between Moscow and the west over its invasion of Ukraine.
Oil prices are climbing today, with Brent crude up 0.7% to $105.80 a barrel.
The MSCI world equity index fell 2%, while Japan's Nikkei and the Korean Kospi both lost about 1.2%. The Australian market slipped almost 0.9% after inflation hit a 20-year high, bringing interest rate rises closer.
This came after declines on Wall Street, where the Nasdaq fell nearly 4%, its biggest one-day drop since early February, led by Tesla; the S&P 500 lost 2.8% and the Dow Jones slide 2.4%. European indices are also set to open lower today.
The Agenda
7.45am BST: France consumer confidence for April
11am BST: CBI Retail sales survey for April
1.30pm BST: US trade for March
1.30pm BST: US Pending home sales for March
2.15pm BST: Treasury Committee questions Treasury and British Business Bank over Covid loan fraud
5pm BST: ECB president Christine Lagarde speech