The 10 best destinations to travel with your toddler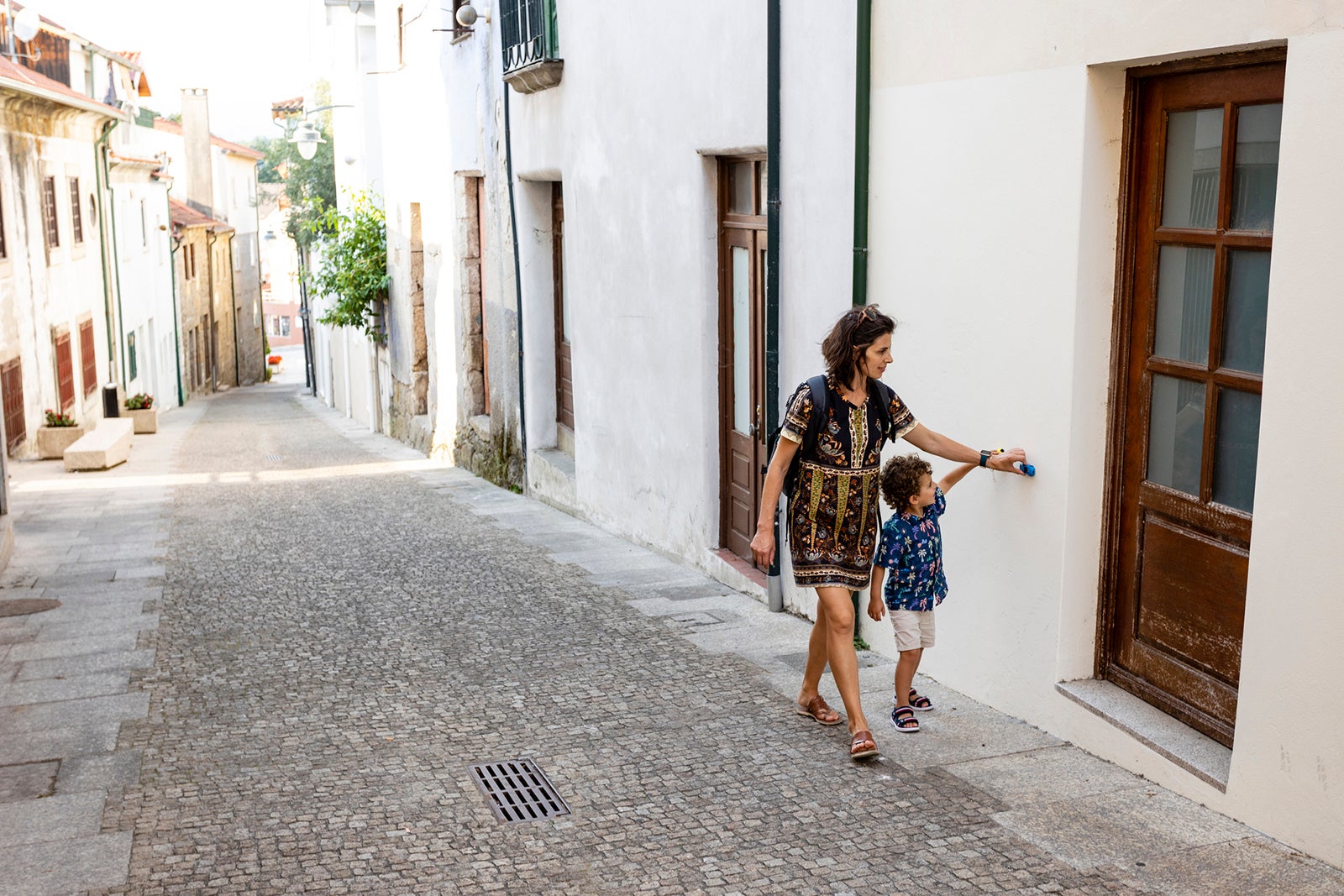 Traveling with a toddler is a very specific type of joy — and challenge. It's a period of extreme and amazing growth marked by the most wonderful curiosity and unbridled excitement, not to mention plenty of mood swings, frustrations and surprises that even the most tapped-in parent can't plan for.
As a very frequent traveler, I indoctrinated my toddler into the jet-set lifestyle in her infancy — at two-and-a-half, she's been to 15 countries on five continents and stayed at more than 100 hotels. I feel extremely fortunate to have a quite adaptable little companion on my hands (and occasionally still in my arms). But, of course, most kids don't grow up in this way, which means the disruption of getting on an airplane and checking into a resort, however dreamy, is not always the smoothest.
In our experience, however, some destinations and hotels, in particular, provide a softer landing pad than others. This may be thanks to an especially magical setting, lots of toddler-friendly activities close at hand, or a property that offers plenty of the amenities that traveling parents and their little ones need in order to be comfortable and feel at home.
Here is a top 10 list of the most phenomenal places, far and near, that speak beautifully to kiddos aged one to three and their parents.
Vietnam
Our daughter had just entered toddlerhood when we ventured to spend two weeks in Vietnam, where it felt as if she was a celebrity. Kids, especially little ones, seem to be universally adored across the country, whether we were in the city or at a remote beach resort. That fact alone made us feel at home, but add to it the numerous ways she was stimulated and surprised by the rich culture and cuisine of a quite foreign country, and you have a recipe for a trip bursting with fun and curiosities.
Ho Chi Minh City is the most bustling of Vietnam's metropolitan centers and isn't the first place I would visit with a new walker. However, Hanoi in the north, a lush French-inflected city, provides lots of exciting sights and wide sidewalks on which to stroll in the cooler mornings when the city wakes up and dances, exercises and socializes through its early hours. We all loved watching with fascination.
The busy food markets also kept all our attention. Perhaps surprisingly, Vietnam has quite a lot of beautiful beach areas as well as more expected historical and cultural landmarks. Everywhere we went, people wanted to hold our daughter or take photos with her — so prepare yourself for plenty of that. Fortunately, our toddler is usually amenable, and when she wasn't it was just fine, too.
Where to stay
In the city, the fantastically and dramatically designed small luxury hotel Capella Hanoi offered incredibly personalized hospitality — including lavishing lots of attention on our toddler — along with exceptional cuisine and a flawless location for taking exciting walks. Rates start from $420 per night.
Villas at Four Seasons Resort The Nam Hai, Hoi An, come with a private butler, and ours was beyond sweet with our daughter. He brought her pool toys and chilled fruit at random, pushed her around in the complimentary stroller when my husband and I wanted to ride the beach cruisers around the property, taught her Vietnamese words, and even introduced her to his young son via video call. Rates start from $670 per night.
Daily Newsletter
Rewarding reading in less than 5 minutes
Join over 700,000 readers for breaking news, in-depth guides and exclusive deals from TPG's experts
Related: A guide to family travel in Vietnam
Punta Mita, Mexico
Thanks to the seamless accessibility of Puerto Vallarta from so many U.S. cities, you only need a weekend to savor the paradise that is Punta Mita, a sprawling oceanfront resort on Mexico's Pacific Coast, just an hour's drive up the coast from the airport.
In the former fishing village, beaches are dreamy and made dreamier by full-service beach clubs and delicious restaurants, as well as waves to surf, sea turtles, and eye-popping sunsets of reds and purples that don't even seem real.
Active families can wander or bike along the tropical nature trails, tool around in golf carts or play a round of golf. It's a haven for families, especially with young children.
Where to stay
The Four Seasons Resort Punta Mita is where I first realized just how sweet it is to be a guest of Four Seasons with a little one in tow.
There was the crib complete with a stuffed animal and special amenities kit (including a teeny toothbrush), diapers just in case we forgot them, an adorably petite bathrobe, and alphabet sponges spelling my daughter's name.
When we hung out at the infinity family pool, which melds into the ocean beyond, an attendant so wisely — and kindly — offered to bring out and set up a Pack 'n Play to give us a break from the relentless watch of keeping an excited toddler out of a body of water. While it's not toddler appropriate, we were thrilled at the lazy river, where infinite pool floats provided a steady stream of entertainment and tiny sunbeds made for one of my favorite photo ops. Rates start from $960 per night.
Related: The 16 best Four Seasons in the world, according to travel experts who have stayed at them
Portugal
Over the past few years, people have begun discovering the approachable charms of Portugal. It's perhaps Europe's most accessible country and one of its most beautiful — if you've seen a photo of its aquamarine beaches you can understand why they took my breath away.
The Algarve is a region known for its spectacular sands and quaint little fishing towns. Meanwhile, even the capital of Lisbon has a special and laid-back energy that makes it widely appealing.
There's the National Tile Museum with interactive painting workshops for families, beautiful parks and gardens, and a fantastic Oceanarium. Parents traveling with a toddler can thrill them with a cruise down the Tagus River, which flows right through the colorful city, or take a ride on one of the emblematic vintage street cars that scale ancient, labyrinthine streets.
When tummies start rumbling, a fantastic destination is the Time Out Market, which has virtually every cuisine and dish for the pickiest eaters and is stocked with high chairs aplenty. Sintra, about a 45-minute train ride away from the capital, feels like a real-life Disneyland. Its vibrant, palatial homes, like the sunshine-yellow Pena National Palace, might spark some fun games of pretend.
Where to stay
There's perhaps no hotel brand in Europe more kid- and family-centric than Martinhal, which recently opened Martinhal Lisbon Oriente in the city, right by the Oceanario de Lisboa — featuring some 8,000 sea creatures — and the interactive Pavilion of Knowledge science museum with a technicolor play area.
The luxury accommodations are actually self-catered apartments with washers and dryers, smart Smeg appliances, a Family & Baby Concierge service, Raposinhos (Little Fox) kids club and child-care programming down to babies. Rates start from $230 per night.
Martinhal Sagres Beach Resort is set on its own beach in a protected national park at the southernmost tip of Portugal. This area is known for its fantastic surfing and is a particularly stunning place to relax and unwind after a day spent city sightseeing. The Creche child-care option is available to younger toddlers (up to 23 months), while the Raposinhos two- to three-year-old programming includes storytime, puppet shows, crafts, musical instruments and a dynamic outdoor playground. Rates start from $285 per night.
Related: 43 real-world family travel tips that actually work
Hawaii Island
A common misconception is that what people refer to as the Big Island is named as such because it's busy and full of tourists. However, this giant gem of a Hawaiian isle is actually one of the quietest and most sparsely populated, which makes navigating it in a Turo rental car — toddler in her car seat — an absolute breeze.
There are sweet towns from north to south, including Volcano Village just outside Hawaii Volcanoes National Park, where jaw-dropping black lava flows — among other amazing attractions — were, for us, Mother Nature's undulating playground.
The island has beaches of many colors, along with waterfalls, hikes, beautifully kept gardens and parks, farmers' markets, and many, many whales in the right season (we had great luck in February). The landscapes — and climates — vary wildly, which keeps it exciting and necessary to pack layers if you plan to road-trip around.
Related: The best ways to get to Hawaii using points and miles
Where to stay
Having visited Mauna Lani, Auberge Resorts Collection, when our daughter was an infant, and again after she became a toddler, I can say honestly that it exceeded expectations both times.
In its very design, the luxurious resort signals that it's for families first and foremost, with a generous oceanfront swimming pool and equally generous green lawn full of games and toys. Countless loungers and cabanas front the ocean — which is extremely swimmable — and the Kainalu Ocean Sports team is amenable to customizing outrigger canoe trips and the like for families with youngsters fascinated with "Moana" and "Finding Nemo."
Next time we return, I know our daughter will join the other kids running after the scantily clad "warrior" lighting the tiki torches after sounding the Pu conch shell each sunset. Rates start from $929 per night.
Related: Best hotels and resorts in Hawaii
Breckenridge, Colorado
A globally popular ski mountain doesn't necessarily sound like the most typical of toddler holiday destinations, but hear me out. I can personally attest that ages two and three are a fantastic time to start a kid on skis. For one, their lift tickets are free. Also, mountain towns offer plenty of other activities as well.
In Breckenridge last winter, our daughter had an absolute blast in her tiny boots, skis, helmet and mittens. She was an adorable puffy pink figure on the babiest of slopes where other small skiers were learning the ropes, too. We went DIY as she was not yet two, but official lessons start at age three, and there's lots of playtime — and breaks for warming sweet treats — baked in.
Besides roaming the always magically fairy-light-lit old mining town, another highlight was our magical flurry-studded ride in a bright red horse-drawn sleigh, complete with mugs of customizable hot cocoa around a fire. For our daughter, the experience was more exciting than every holiday rolled into one. Dogsledding is always an option, too.
Where to stay
Right off Main Street, the ski-in/ski-out boutique hotel Gravity Haus Breckenridge, an effortless walk to the base of Peak 9, even fully geared up and accompanying a toddler, is our favorite place to settle in each night. The Cabin Juice menu is toddler-friendly, and there are multiple hot tub "onsen" in which to soak, as well as a Super Trampoline that takes bouncing to the next level for guaranteed belly-shaking laughs. Rates start from $200 per night.
Related: The best ski resorts in the US for your next trip to the slopes
Costa Rica
Safe, English-speaking and beachy with excellent connectivity to much of the U.S., Costa Rica is a fabulous place for an active young family to get away without going too far — or crossing many toddler-disorienting time zones.
The friendly waves and beaches that line the Central American country's coasts are one thing, but the wildlife is another incredible element that toddlers — and us big kids — can connect with. The interior of Costa Rica is bursting with beauty in the form of volcanoes, waterfalls, the rainforest, hot springs, spider monkeys and a cloud forest alight with butterflies.
Related: The best times to visit Costa Rica
With many national parks — protected areas actually make up one-quarter of all land — as well as cute beach towns galore, it's a place rife with adventure for even the smallest explorers to get into.
Where to stay
The location of Botánika Osa Peninsula, Curio Collection by Hilton, epitomizes what Costa Rica is all about. Expect days filled with sloth and toucan sightings, gentle hikes through the biodiverse rainforest, fishing, a science center and night hiking. With accommodations and facilities perfect for multiple generations, another perk is that kids under 12 eat for free. Rates start from $129 per night or 48,000 Hilton Honors points per night.
Little ones under five years old eat all their crowd-pleasing meals free at Four Seasons Resort Costa Rica at Peninsula Papagayo, an eco-minded resort where time spent outside in nature — such as bird-watching or snorkeling — is prized. They offer complimentary kayaks, stand-up paddleboards and e-bikes, and for the littlest travelers, a fun shallow pool and jungle gym. In Four Seasons style, necessities like baby monitors, strollers and swim diapers are provided on a complimentary basis. Rates start from $1,245 per night.
Related: Best all-inclusive resorts in Costa Rica for beach visits or hiking trips
Singapore
Verdant, tree-lined Singapore is an absolute treat to experience with a toddler from the moment you land at Singapore Changi Airport (SIN) and come across a ubiquitous complimentary stroller for pushing your tired little one around.
Hotels overwhelmingly cater beautifully to their youngest guests, and the sights around town are absolutely impressive, especially Gardens by the Bay, where we could have easily spent multiple days exploring the humongous tree sculptures, botanical installations and very simple things like curbs to jump along.
Our daughter was mesmerized by the 72-foot-high treetop experience of the OCBC Skyway aerial walkway. Though technically urban, Singapore doesn't feel it, and also it boasts a bonafide beach destination in adjacent Sentosa Island for a two-in-one kind of vibe.
Where to stay
Our daughter has never been gifted as many treats, toys and activities as at Shangri-La Singapore, an oasis with 15 acres of flower-filled gardens just minutes away from the high-end shopping and dining street Orchard Road.
The doorman wearing an iconic fancy Tibetan warrior hat was the first thing to enthrall her, especially since she was immediately gifted a miniature cardboard version to wear proudly. And the harpist playing "Little Mermaid" tunes during the Valley Wing's incredible complimentary happy hour (think half a dozen cheeses, free-flowing Champagne and ever-changing hors d'oeuvres) didn't hurt, either.
The hotel's pool is epically large, but it has its very own water park, too, not to mention a massive 20,000-square-foot interactive indoor and outdoor play space called Buds (parents must accompany their toddlers) with a ball pit, dedicated toddler zone, baking room and stage plus piano where my daughter performed a brilliantly off-key rendition of the ABCs. Even my imagination ran wild in the space. The hotel's Tower Wing also has themed family suites and a family pantry. Rates from $236 per night.
Orlando, Florida
This destination is probably news to nobody. Orlando is an obvious entry thanks to Walt Disney World Resort, specifically The Magic Kingdom theme park, where few rides and attractions have a height limit, and most are calm enough for the smallest visitors to enjoy.
The notoriously family-friendly Florida hot spot is also home to Downtown Disney, where shopping and dining are super conducive to toddlers, and the Orlando Science Center, which is surprisingly thrilling for toddlers.
Thirty minutes south of the city is Legoland. Though its rides are more geared toward older kids, if your child is anything like mine, discovering a good playground is like gold, and Legoland has several next-level play structures, not to mention an interactive aquarium and water park (where kids under three are required to wear a swim diaper). Another super thrilling destination near there is Peppa Pig Theme Park. There's a nature trail and tricycle trail, greenhouse and cinema, sand play zone and treehouse, plus several rides for all ages and sizes.
Where to stay
For the easiest transit and best experience, stay somewhere on the park grounds like the dependably fantastic family-oriented 26-acre retreat Four Seasons Resort Orlando at Walt Disney World Resort. Lest you think it's all about the kids in Orlando, there's a world-class spa and Michelin-starred steakhouse with nightly fireworks vistas. Rates start from $1,495 per night.
Related: The best Disney World hotels for your 2023 stay
Newport Beach, California
What toddler doesn't love some fun in the sun? That's really what Southern California is all about, in particular this tony haven in Orange County where the beaches — especially Little Corona del Mar Beach with its tide pools — tend to be postcard-worthy.
It's where your favorite generation-defining TV series, "The O.C.," took place, not that your toddlers care about that. But it means Newport Beach is a nostalgic place for parents and a fresh, exciting one for little ones who are at a perfect age to spend an afternoon at the circa 1936 Balboa Fun Zone amusement park after taking the Balboa Island Ferry and, maybe, a chilled-out Duffy boat ride. There are parks, playgrounds and green spaces aplenty, plus the sublimely long stretch of sand at Crystal Cove State Park, where you'll find opportunities for recreation of many styles along with all the inspiration necessary to build an epic sandcastle.
Where to stay
New this summer, VEA Newport Beach, a Marriott Resort & Spa, is well located a short walk from Fashion Island and is oriented around its stunning Pacific views. The coastal-cool bolthole has three F&B outlets, a happening pool scene, an extensive spa and frequent live music. Rates start from $400 per night or 50,000 Marriott Bonvoy points.
Related: The best Marriott hotels in the world
If you're happy in Newport Beach but also wish Italy was on the itinerary, book a room at the five-star The Resort at Pelican Hill, where the heated circular, mosaic-clad pool is ginormous and surrounded by so-called Coliseum cabanas, and every morning there's an hour of Morning Splash for kids to play on inflatables. For toddler guests, bungalows or villas come with what they call "imagination amenities," which are themed around superheroes, mermaids and bubbly bath fun. Rates start from $895 per night.
Fiji
Sometimes, for parents of toddlers, the appeal of a place is simply about the availability of quality child care, and Fiji has that in spades. Here you'll encounter Mary Poppins-level nannies and babysitters who are preternaturally amazing with babies, toddlers and kids.
Fijians have a natural warmth to their demeanor that felt to me as wonderful as an actual hug. But that's not the only thing going for this South Pacific archipelago, where almost everyone speaks English, and the coral reefs are still vividly flourishing. Its islands are home to surreal sandy beaches where the diagonal palms made me want to turn into Mowgli and climb upside down, and the crystalline water tends to be calm enough for the littlest swimmers. There are farms and lush hikes and waterfalls to splash in, plus much more, depending on the island and resort you choose.
Where to stay
At the Little Islanders Club at private VOMO Island, children three years old and up can spend quite literally all day — it's open from 9 a.m. to 9 p.m.— taking Fijian culture classes, nature walks, listening to storytelling sessions, playing at the beachfront and doing arts and crafts alongside experienced caregivers.
The Kids Village even has its very own chef cooking up certified healthful meals with sustainable produce from the resort's garden. Toddlers under three can experience the Kids Village with either a parent, guardian or Baby Butler, who can be booked a la carte or as part of an all-inclusive package that includes four hours of minding service daily. Rates from $1,020 per night.
Related: 5 Fiji resorts for families where the kids clubs — and even private nannies — are included
In the Great Astrolabe Reef, Kokomo Private Island Fiji has exceptional snorkeling right off its white sand beaches and world-class diving beyond, but for small adventurers, it's also incredibly appealing, thanks in part to the sweet, interactive staff.
For kids up to age three, you will enjoy the complimentary services of nannies, who happily adapt to home schedules for sleep times and anything else needed to ensure toddlers are just as blissed-out as their parents. They can also take them to the Kids Club, where fish feeding, local crafts, treasure hunts, cooking classes and more occur regularly for those four and up. Rates start from $2,200 per night.
Related reading: