The 2023 Mercedes-AMG SL43 Is An Overpriced SLK-Class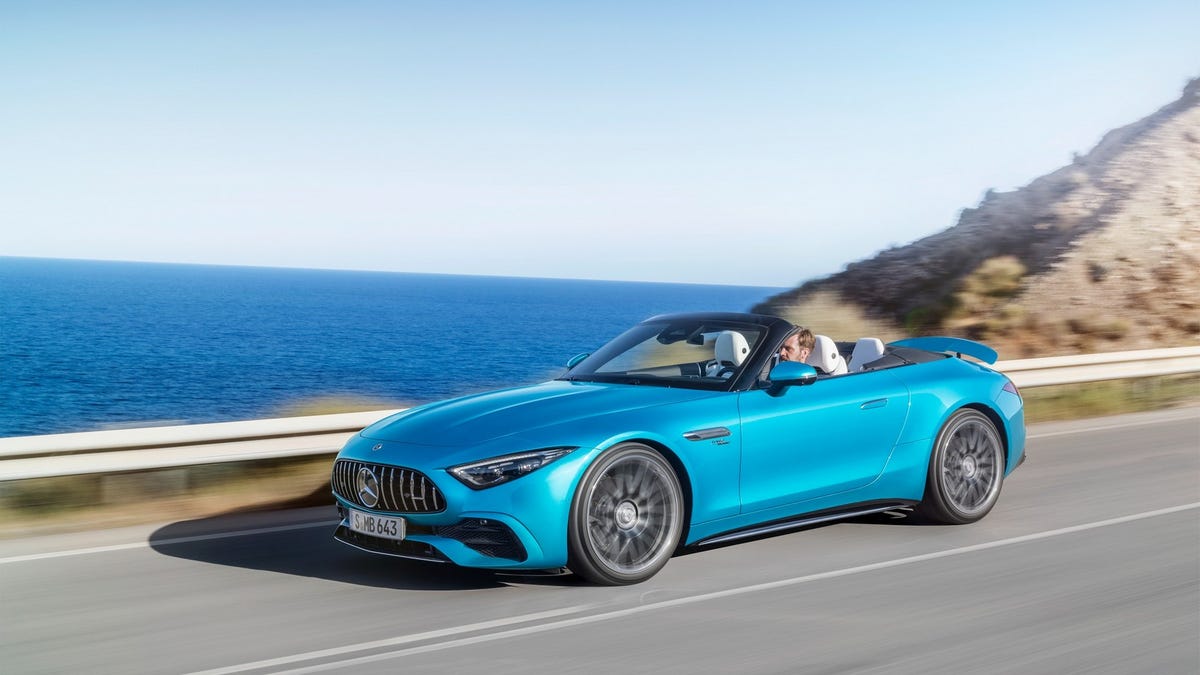 For decades, the Mercedes-Benz SL class has represented the very best of what the world's oldest car brand could do. It was meant to be peak style, peak luxury and, in some cases, peak performance. Whether it was the famed 300SL Gullwing, the 230SL Pagoda or even the R129 SL600, you knew the person driving it had money as well as style. Then 2011 hit, and the streak was broken. Fortunes were reversed again when Mercedes launched the 2022 SL but with the debut of the 2023 Mercedes-AMG SL43, are things once again heading in the wrong direction?
2024 Nissan Z NISMO | Jalopnik Reviews
I don't think I'm uncharitable when I call the R231 SL-Class the low point for that storied badge. It felt like an afterthought, and I don't recall anyone being particularly sad when Mercedes killed off the AMG versions in 2018 and the whole platform in 2020. When Mercedes announced it was bringing the SL back in 2022, a lot was riding on it, but luckily, the R232 SL was amazing.
The SL63 AMG is incredible, and the slightly less powerful but still V8-powered SL55 makes sense for the brand. Now that Mercedes-AMG has debuted the SL43 and I've driven it, like Glenn Danzig before me, I've got something to say.
So, first, the elephant in the room. The SL43 is powered by Mercedes-AMG's M139 2.0-liter turbocharged four-cylinder engine which produces 375 horsepower and 354 pound-feet of torque (way less than the 416 hp it makes in the forthcoming GLC43, FWIW). It's a mild hybrid too, with Mercedes F1-derived electric turbocharging and smoother stop-start thanks to the 48-volt electrical system. The engine is exclusively paired with Mercedes' nine-speed MCT Speedshift automatic gearbox and rear-wheel drive.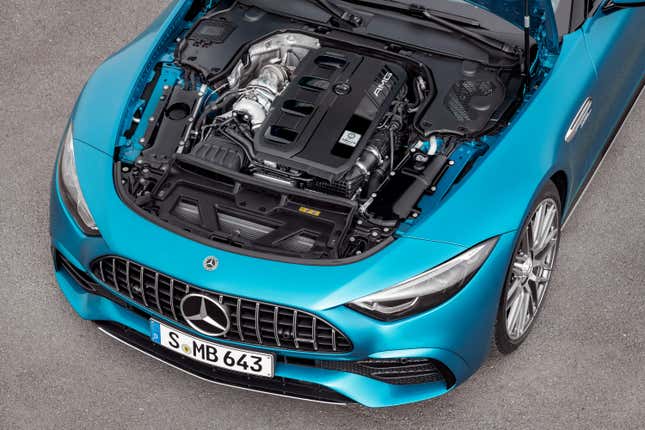 Don't get me wrong; my beef with the SL43 doesn't stem from that 375 hp number. That's totally adequate and the SL43 doesn't feel slow. The real problems are slightly more complex than that. First, this little engine is vibey — as in it creates a lot of vibrations that are felt in the car's cabin. If this was a rowdy little sports car like a Honda S2000, I'd be fine with that. This is a $110,000 luxury convertible, and that's not ok.
Next, the engine makes many noises, as performance engines are wont to do, but none here are especially nice. This is obviously exacerbated by having the roof down, which you will do at some point. It's not that four-cylinder engines can't sound good; there are plenty that sound awesome. This one just doesn't. It's coarse and raspy under acceleration and gives econo-car vibes when at idle. Again, it's not really fitting for such an expensive flagship roadster.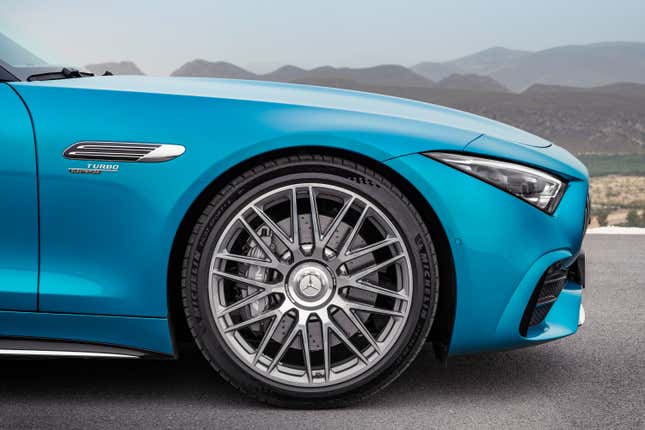 The engine gripes would be bad enough, but the real turd in Mercedes' SL punchbowl is the nine-speed auto. I don't know if it's because my test vehicle is pre-production, but I found it nearly impossible to leave from a stop smoothly and low-speed throttle changes were always herky-jerky. This persisted in manual mode and in all drive modes. It just makes for a bad experience; I'd not recommend this car on this alone. Hell, if a car that sells for half as much did this, I'd still not give it a pass.
Other than the drivetrain, the SL43 is fine. The R232-generation SL has fundamentally good bones, which means that even in this entry-level spec, the car rides beautifully, steers accurately, brakes smoothly and handles admirably despite having what I expect is a reasonably meaty curb weight (Mercedes hasn't published this number at the time of writing.) It's not a sports car, but that's OK.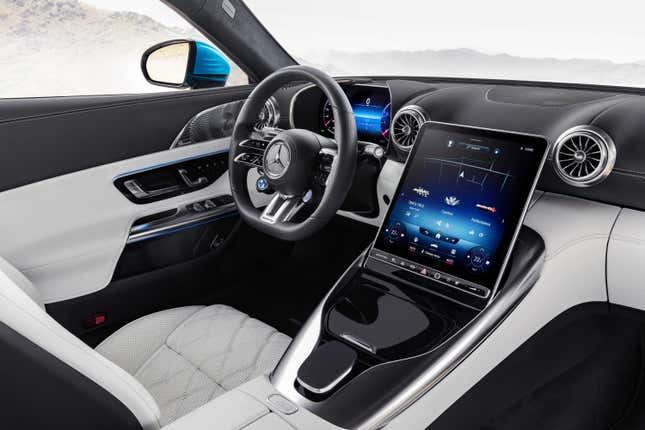 The SL43 is being launched exclusively in "Touring" trim, which is really well-equipped for the price. You get niceties like a Burmester surround stereo system, which rules, as well as multi-contour heated and cooled seats with massage and configurable LED accent lighting. What you don't get as standard are things like a heads-up display and active driver assistance features like adaptive cruise, lane change assist, etc. This isn't surprising since they're still options on the near-$200k SL63, but it's still annoying that safety features are optional in 2023.
My test vehicle, which was more or less fully optioned, came with an asking price of $119,785, including Mercedes' $1,085 destination charge. That's a whole lot less than the base price of, say, the SL55, which starts at $142,385, but that car makes sense as a smooth and powerful luxury convertible, while the SL43 feels like a half-assed and overpriced replacement for the defunct SLK-Class.
The punchline to this joke is that while the SL43 is ultimately not a great car, it still looks an awful lot like its much more expensive and special siblings, so the profoundly image-conscious buyers who'd probably be shopping for an SL in the first place will likely flock to the model, but you, Jalopnik reader, shouldn't bother.