The Jalopnik First Ride Review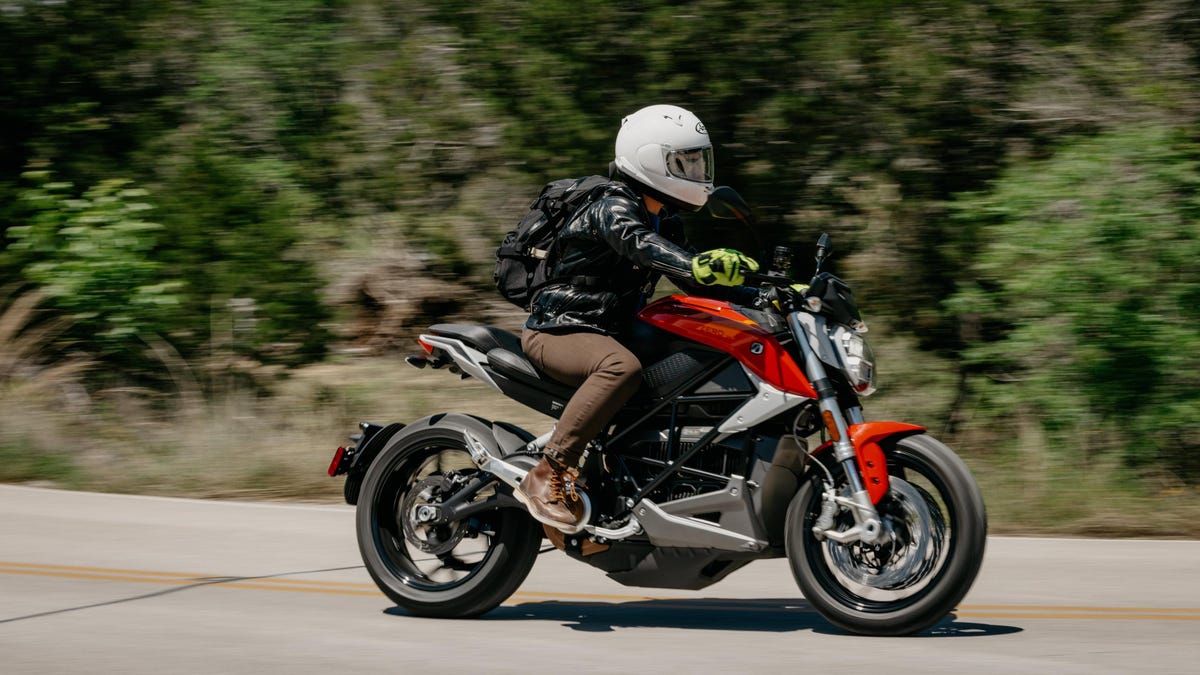 The same weekend that the Motorcycles — with uppercase "M," per Plato's idealism — took over Austin, I finally went on my maiden voyage aboard an EV. I should say astride rather than aboard, as it just so happens that when MotoGP and the Handbuilt Show converged on the Texas capital, I went for a long ride on a 2023 Zero SR/F, making it the first EV I've operated on public roads.
The Hummer H2 Is a Nightmare Vehicle
Full Disclosure: Zero invited me for a test ride out to the Texas Hill Country. The EV company paid for my hotel and a hearty breakfast the next morning. When both this rider and the EV motorcycle Zero lent me were fully charged, my riding partner and I took off to enjoy some of the twisties outside of Austin.
For reference, I'm coming from a stalwart ICE background. I split the role of a daily between my 1997 BMW 318ti and 1986 Yamaha SRX600. There's a naturally aspirated inline-four in the BMW and an air cooled single-cylinder in the Yamaha. I'm not categorically opposed to EVs, but I'm holding on to my gas-burning vehicles because I'd rather extend their service life and free up the resources needed to produce whatever new EV might replace them.
I believe that being environmentally responsible is not just about emissions; it's also about making do with what we have on hand and creating less waste. If I can keep my vehicles out of a junkyard by using their efficient engines for my driving needs, then I'm doing something a bit more environmentally conscious than buying a new EV. At the very least, it's better than getting on some lease cycle where I go through EVs until I find the model I'm willing to keep for good.
When the time finally comes for me to transition to EVs, I'm convinced I will do so on a motorcycle, which is why I get excited when I see what's ahead for fully-electric bikes — whether that's in the future of design, or the future of the American motorcycle market, which has more EVs now than ever before.
Zero is no startup in this space; the company has been around since the mid-aughts. In fact, Zero's first models predate some of my favorite early EV bikes, such as the Brammo Enertia and Empulse, both of which looked more like motorcycles than EVs. I can't say the same thing about Zero's early efforts, such as the Zero S, which always struck me as an EV first and motorcycle second.
Perhaps more than cars, motorcycles connect with owners on a sensory level. That begins with the way a bike looks, sounds and, of course, the way it handles. Modern EV bikes, from Zero or otherwise, are now closer to the platonic ideal of a motorcycle, but it took a while to get there.
Harley-Davidson's LiveWire brand has brought some personality with EVs that look like flat trackers, and Zero Motorcycles is hot on the heels of streetfighters from the likes of Ducati and BMW. If you squint hard enough, the bright red Zero SR/F looks a bit like a naked Ducati. Indeed, if its trellis frame was red, the resemblance to the 'Duc would be even greater. But does it ride like one?
2023 Zero SR/F: EV Performance and Range
The short answer is no. The Zero SR/F does not ride like a Ducati, but it's closer than I'd have thought — minus the quirks of operating a less complex machine that lacks a manual transmission, which took some getting used to on my part.
The 2023 Zero SR/F is powered by a Z-Force 75-10 motor that makes 110 hp and 140 lb-ft of torque. The SR/F has a top speed of 124 miles per hour and will sprint from 0 to 60 mph in just under four seconds. The SR/F's 0-60 time is absurdly low on a dyno (under two seconds), but real world metrics put it below four. That's still plenty fast, but the bike's speed is not as scary as it sounds.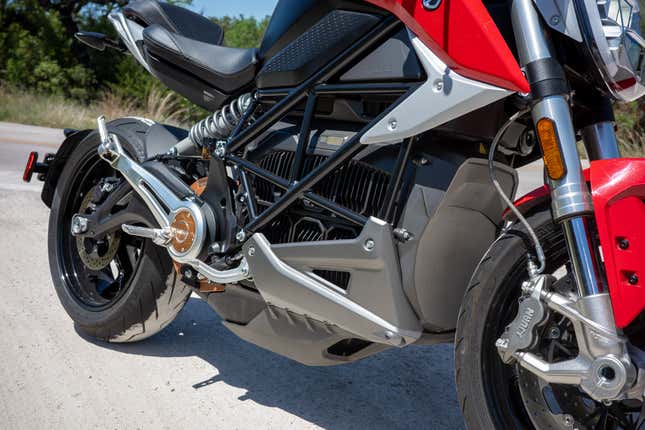 The electric motor draws energy from a 17.3 kWh lithium-ion battery, which is good for an estimated range of up to 187 miles in the city. The range drops down to 93 miles at highway speeds of 70 mph. A mix of fast highway riding and puttering around the city yields a range of 124 miles per charge. That's not too shabby considering some ICE-equipped motorcycles can only go about 150 miles per full tank. Then again, filling up a combustion bike is quick and easy, whereas with a Zero EV it's not.
2023 Zero SR/F: City Riding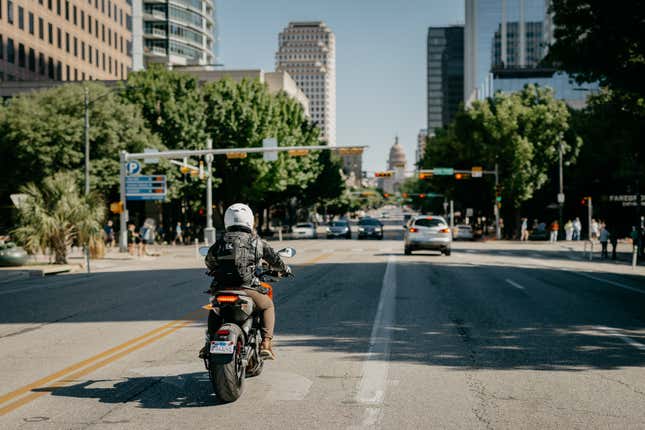 I would come to find out all about the pitfalls of EVs with my riding partner, who was riding a Zero FXE. That model has a shorter range of up to 100 miles in the city, or 57 miles combined. In order to go from South Congress Avenue to the twisties at Lime Creek Road, we'd be riding along a mix of surface roads and highways. Our test ride started out near downtown Austin.
Both the Zero FXE and Zero SR/F feel right at home in the city. Fully-electric vehicles are basically made for urban environments: they're docile and dead still at stoplights. There's no vibration, no heat, no sound, just a quietly patient bike awaiting input. It feels uncanny to sit at a light and be perfectly still on a machine that's capable of blasting off the line like a rocket ship on mute.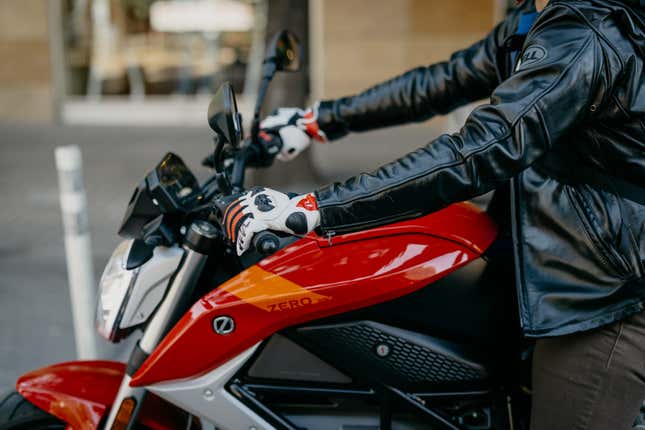 And, yet, there was no learning curve as far as acceleration and deceleration, even without relying on mild riding modes. The Zero SR/F has five different modes: Rain, Eco, Standard, Sport and Canyon. I thought I would need Rain or Eco to rein in the performance, but I worried that the aggressive regenerative braking would trip me up, so I opted to leave the SR/F in standard mode.
We geared up, saddled up and I rolled on the throttle shakily. See, there's no feedback from an EV motorcycle other than a bit of sound and, of course, the feeling of being propelled ahead magically. It's unnerving at first. My brain struggled to understand the fact that I was falling forward that fast, that easy.
I knew I was moving but all the sensory information that I rely on to confirm my propulsion on a bike had been stripped away. I had to keep reminding myself that my forward motion was, indeed, real. It didn't help that the Zero carries its weight differently than combustion-powered bikes.
In a word, the drivetrain of the Zero SR/F feels hollow. The weight of the motor and battery pack sit near the rider's center of gravity, but there are fewer moving parts, so you're not fighting the motion of the engine. The power goes directly from the electric motor through the bike's carbon belt drive and to the beefy rear wheel.
It feels like the Zero is too easy to ride at first, and that's compounded by the lack of a manual transmission. I can't tell you how many times I found myself reaching for a clutch lever that wasn't there, or kicking at nothing but air as I clumsily tried to shift gears. As a side note, the lack of vibration meant I didn't have to swap out my mechanical watch for quartz, which I always do lest the vibration of my bike damage the watch's automatic mechanism.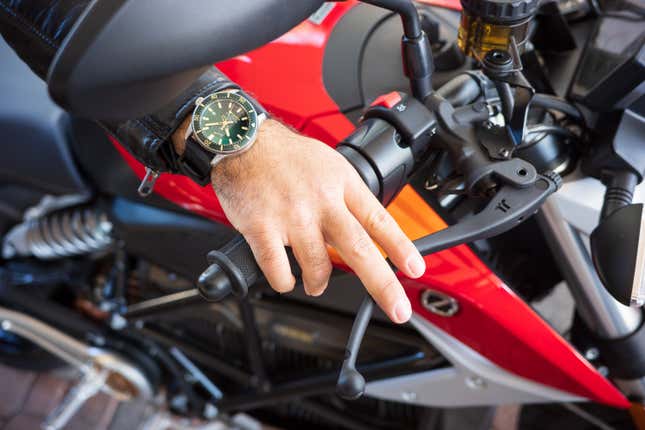 But more than allow me to look good, once I had become used to how effortless the Zero SR/F feels in the city, I was shocked by how good the ride was. Waiting at a stoplight on the Zero felt like taking a breather, rather than feeling like I'm strapped to a jackhammer. Rather than the nervous back and forth oscillation of my Yamaha thumper, the Zero was motionless but ready to roll at any moment.
2023 Zero SR/F: Highway Riding And Hitting The Twisties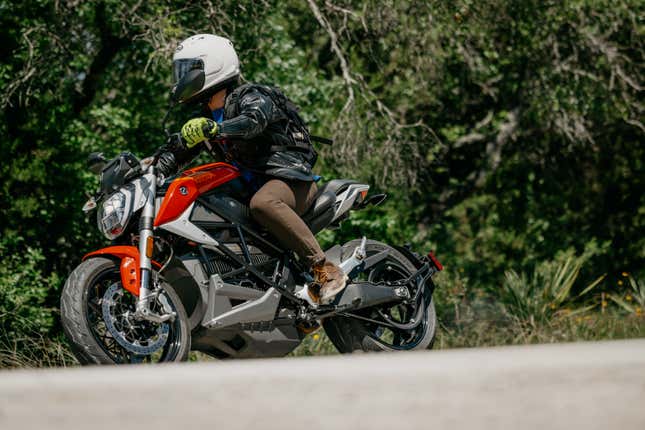 I could have probably guessed that the Zero would knock it out of the park as a city bike, but the real test would come from its handling on the highway and in the twisties, where the Zero would have to prove it rides like a "real" motorcycle. It passed the test with flying colors — shades of bright red, black and a dash of orange.
The Zero SR/F weighs 500 pounds thanks to that big battery pack and electric motor. The saddle is 31 inches, but a low seat knocks it down to 30.3 inches, and there's an option for a saddle that's 31.9 inches tall. I was grateful for the low seat given how heavy the bike is, but once you're on the highway, the SR/F feels like a lightcycle from Tron. The bike's 57.1-inch wheelbase makes its path feel precise, and the instant torque plants the damn thing on the straights.
The bike is unflappable on the highway, even in Texas where drivers blow past anything moving at posted speed limits. I worried that the 60-mile or so round trip to Lime Creek Road would drain the range of the SR/F once we were on the highway but the range was more than enough. Range anxiety be damned.
Once we got to the twisties outside of Austin, I scrubbed most of my speed and was skittish about leaning at first. I was unfamiliar with the route and was also riding a brand-new EV motorcycle. But the further along we got through the twisties, the more comfortable I became, and my riding partner had to whoa up at some point and turn us back. I'd have kept going until the battery ran dry, I was having so much fun.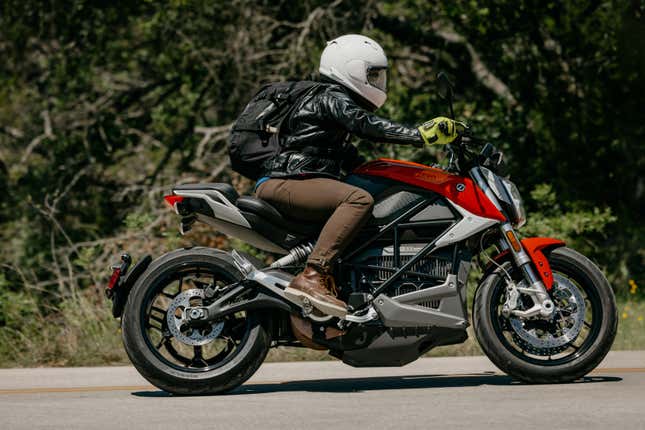 All my complaints about the Zero in the city dissipated. Rather than feel less engaged, I was fully focused on my line and lean angle. I was still respectful of the road and the fact that this wasn't my bike, but I loosened up and forgot all about the missing clutch and lack of feedback. The feedback was the ride itself! This was nothing short of riding at its purist, strangely enough.
I was ready to gush, but the reality of EVs was just around the bend. My riding buddy, who was on the smaller Zero FXE, was running on the electric equivalent of fumes. My obliviousness had dragged us out further than expected, and we had to cut our ride short. We ended up riding two-up back to South Congress, where Zero would fetch a van to pick up the dead EV. Two-up riding, by the way, does not faze the SR/F in the slightest.
We were cooking! You don't know what an EV bike can do until you hang on for dear life as a skilled rider blasts along the highway, on right and left sweepers and fast straights. All I could do was tighten my core and try to be a helpful pillion, leaning right and left and making sure our helmets didn't bump into each other. We made it back to Austin just fine.
I would have preferred our ride to conclude with each of us on our own EVs, but the Zero FXE has much shorter range than the SR/F. Of course, if we'd been riding gasoline-burning bikes, the solution would've been to stop at a gas station and fill up in minutes. That's not yet possible with EV bikes: the Zero SR/F will recharge to 95 percent in one hour using a rapid charger, while the Zero FXE will do it in 1.3 hours.
2023 Zero SR/F: Conclusion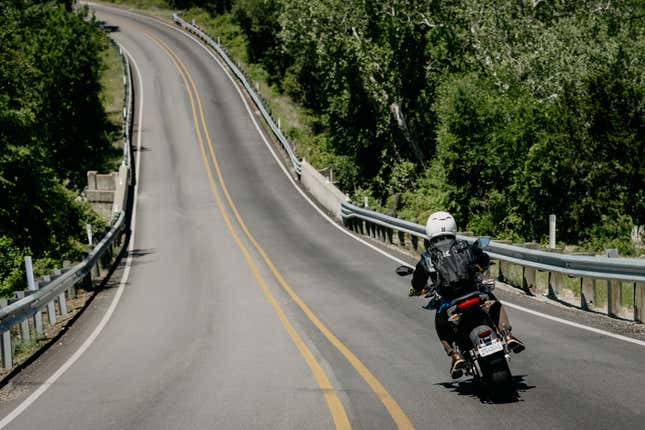 If it weren't for that dead battery, our ride would have been damn near perfect. And the drained battery in question didn't belong to my SR/F, so I won't fault it for the detour. Still, the dead Zero FXE was a stark reminder of the realities of EV ownership, even in Austin. If it's any consolation, the Zero FXE has lower range than the SR/F but it also costs less: the 2023 SR/F starts at $19,795 after incentives, while the FXE starts at $11,995.
Outside of the EV range issues, the SR/F showed me how far EV bikes have come — from design to performance. The bike requires a small adjustment for riders like me, who've spent their lives around ICE-equipped vehicles, but the SR/F will be just as adept in the city as on the highway and along backroads.
It's only fitting that the SR/F introduced me to EVs because bikes are without a doubt my vehicles of choice. Now that I've ridden an EV bike in one of the best cities for motorcyclists in America, I can say Zero EVs are fun, practical vehicles, delivering nearly all of the thrills of their combustion-powered cousins. That is, as long as you don't run out of charge in the middle of your ride.