'The Longest Yard' 4K Ultra HD movie review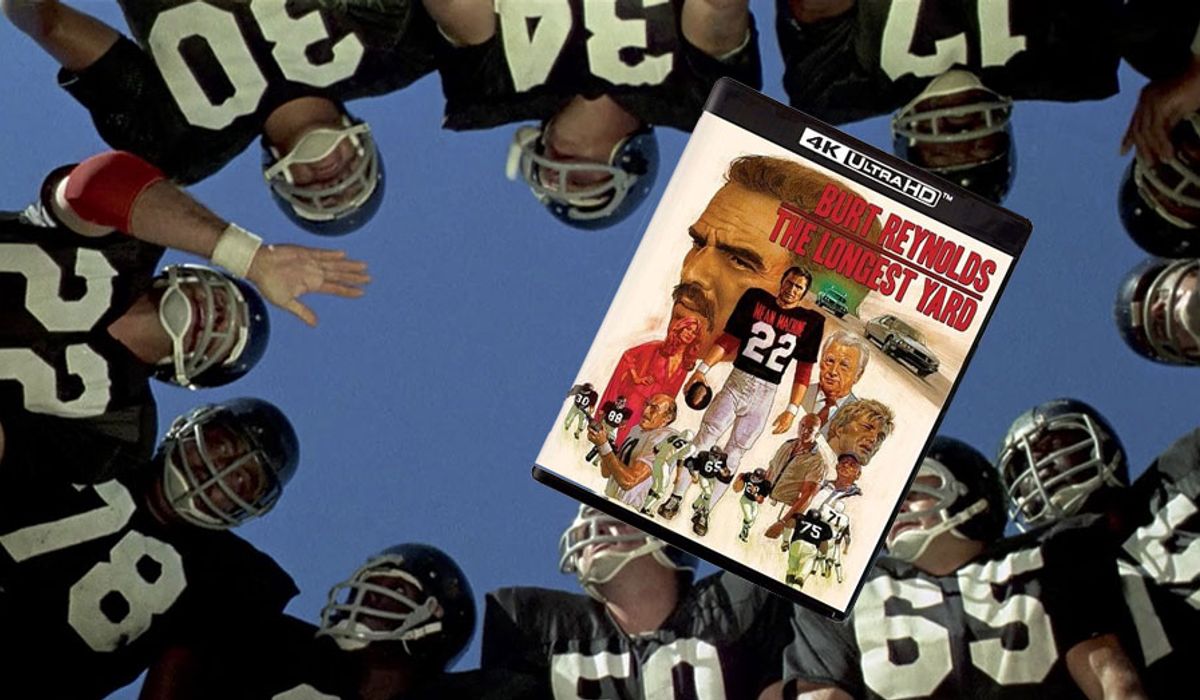 Arguably the best sports dramedy ever brought to the screen finally debuts in the 4K format to showcase director Robert Aldrich's 1974, testosterone-packed classic The Longest Yard (Kino Lorber, rated PG-13, 2.39:1 aspect ratio, 116 minutes, $39.98).
Starring Burt Reynolds as disgraced former pro football quarterback Paul Crewe, the story focused on the arrogant athlete breaking up with his sugar mama, going on an alcohol-fueled police chase, beating up cops and getting sentenced to hard time in a Southern Florida prison.
However, the warden Rudolph Hazen (an onery Eddie Albert) has plans for Crewe, asking him to coach his semi-professional team of guards. Crewe turns the tyrant down, but after he strikes a guard, Warden Hazen comes up with a new plan.
---
---
He now wants Crewe to put together and lead a team of prisoners to play the guards, or he'll end up spending much more time behind bars.
Crewe assembles a team of misfits and eventually turns them into a mean machine to give the warden more than he bargained for.
Watching the collection of quirky anti-heroes and villains packed into an irresistible underdog film with some surprising moral undertones never gets old.
Crewe's process of getting that team together and then subsequent practices and violently playing that final game will thrill any football fan in the family.
Amply supporting Reynolds' often hilarious performance is a pop culture-tinged cast that included Michael Conrad ("Hill Street Blues") as Crewe's appointed coach and fellow inmate Nate Scarboro; James Hampton ("F-Troop") as his equipment manager caretaker Farrell; Richard Kiel (famed Bond villain) as his middle linebacker Samson; and Broadway star Bernadette Peters as Hazen's secretary Miss Toot.
They even got one of the fiercest players in the history of the NFL, Green Bay Packers middle linebacker Ray Nitschke, to come aboard and play one of the guards.
4K in action: Kino Lorber delivers a reference quality ultra-high definition restoration created from a 4K scan of the original 35mm camera negative that mainly offers a very crisp and colorful, screen-filling experience devoid of film grain.
Moments to define the film includes a rich collection of textures in the famed swamp scene including the shades of mud seen on the prisoners' very white uniforms; the varieties of perspiration on faces, brows, hands and appendages; and the blood stains and the hard-hitting action on the field complete with a modicum of spitting blood.
Worthy of repeat viewings is the final play of the game revealed in slow motion that looks as great as any current high definition television broadcast.
Best extras: Kino Lorber pays homage to the movie starting with a pair of optional commentary tracks found on both the 4K and Blu-ray discs.
The first track, and new to audiences, offers film critics Alain Silver and James Ursini (authors of " What Ever Happened to Robert Aldrich?: His Life and His Films") delivering a very dry and nonstop but information-packed analysis that breaks down a film that, arguably, made Reynolds a superstar.
They touch on parallels of "The Longest Yard" to "The Dirty Dozen"; the movie's themes; casting; and plenty of background and trivia tied to Mr. Aldrich and his career.
Next, and previously released in a special 2005 DVD "lockdown" edition, an infinitely entertaining commentary with Reynolds and writer/producer Albert S. Ruddy. The pair really have a good time discussing a movie that Mr. Ruddy wrote and said was never meant to be a comedy.
The stream of memories, nostalgia and laughs flow throughout such as Reynolds loved driving that Mazda Citroen in a car chase (he loved it so much that he eventually bought one to give to his girlfriend at the time, Dinah Shore); Nitschke balanced a glass on his wide head when he first shook hands with Mr. Ruddy; and Reynolds threw a football from a distance through the hole of a tire in his first take.
They also used real prisoners as extras, it's Mike Ditka's favorite movie, and viewers learn Kiel was an insurance salesman before acting.
The extras are rounded out with two 11-minute vintage featurettes from 2005 covering the production and promoting Adam Sandler's remake with comments from Hampton, Reynolds, USA Today and ESPN columnists and NFL players (including Doug Flutie).