Thrill alert: Norwegian Cruise Line's next new ship to have an epic 'hybrid roller coaster'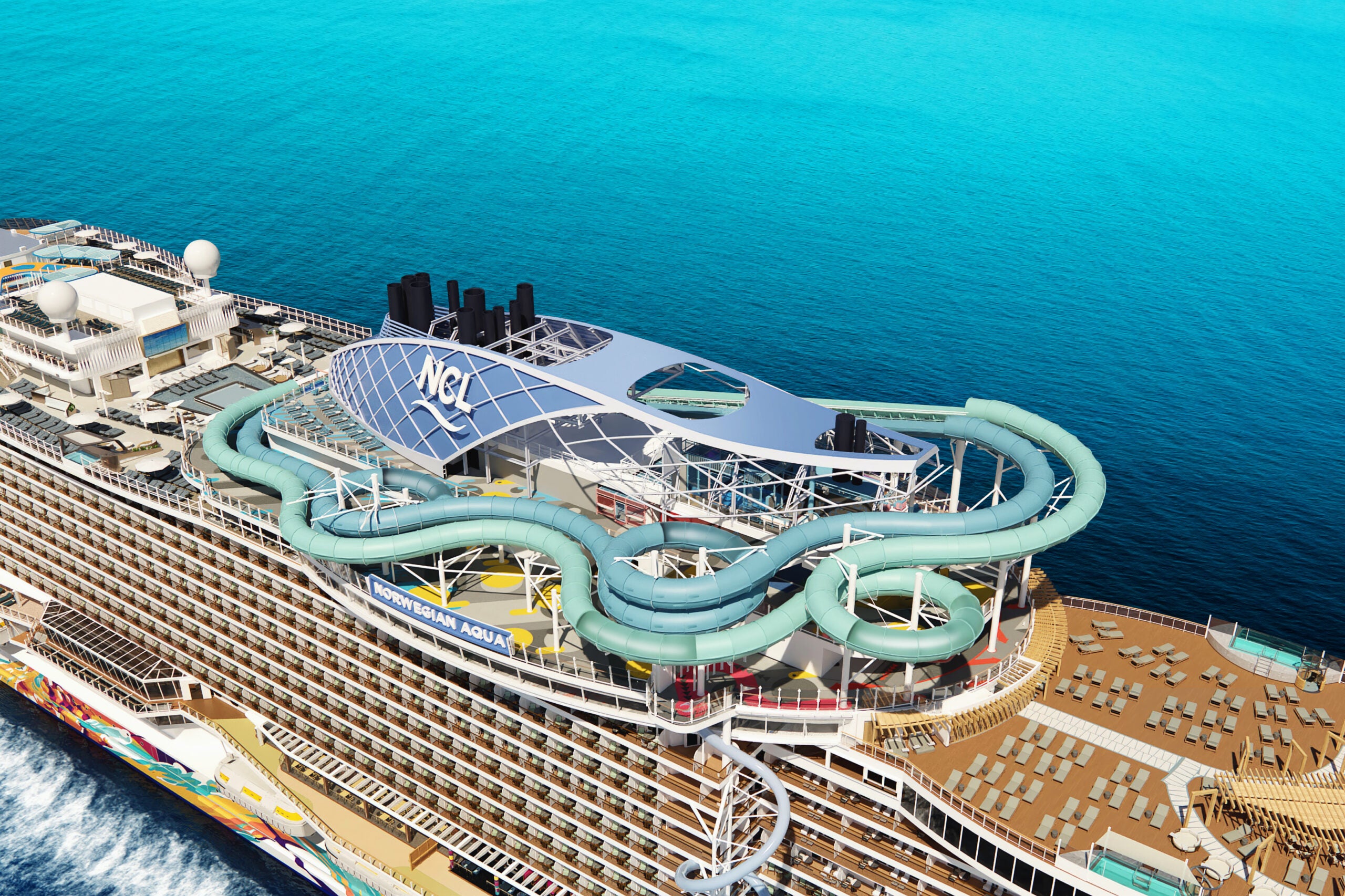 Get ready for watery thrills on Norwegian Cruise Line's next new ship.
The Miami-based cruise brand on Thursday said its next vessel to debut — Norwegian Aqua — will have an epic, first-of-its-kind "hybrid roller coaster and waterslide" ride swirling around its top deck.
To be called the Aqua Slidecoaster, the three-story-high attraction will incorporate dual slides and a magnetic lift that propels riders through two different courses. The line says the ride will twist around the ship's funnel as riders careen across the top deck of the ship high above the sea.
For more cruise news, guides and tips, sign up for TPG's cruise newsletter.
In addition to the watery coaster experience, Norwegian Aqua will have a new-for-the-line digital sports complex called Glow Court that boasts an interactive LED floor. It'll be home to a variety of interactive guest activities by day and then transform into a nightclub in the evening.
Designed to carry 3,571 passengers at double occupancy (when sailing with two passengers per cabin), Norwegian Aqua will be a bigger version of the two Prima Class vessels that the line has rolled out over the past 14 months, giving it room for new and expanded attractions.
Related: Why I loved the new Norwegian Prima — and you will, too
Each of the earlier Prima Class vessels carried 3,099 passengers at double occupancy.
At 156,300 gross tons, Norwegian Aqua will be about 10% bigger than the first two Prima Class ships (Norwegian Prima and Norwegian Viva). The line is calling it a Prima Plus Class vessel to differentiate it from the earlier ships.
Daily Newsletter
Reward your inbox with the TPG Daily newsletter
Join over 700,000 readers for breaking news, in-depth guides and exclusive deals from TPG's experts
Norwegian currently has 19 ships in its fleet and, assuming it doesn't retire any of its older vessels in the next two years, will have 20 ships with the arrival of Norwegian Aqua.
Norwegian on Thursday said Norwegian Aqua's first sailing will take place in April 2025. It'll initially be based in Port Canaveral, Florida, for seven-night sailings to the Caribbean.
Port calls on the ship's initial itineraries will include Puerto Plata, Dominican Republic; Tortola, British Virgin Islands; St. Thomas, U.S. Virgin Islands; and Great Stirrup Cay, Norwegian's private island in the Bahamas.
The ship is currently under construction at a Fincantieri shipyard in Italy.
"Norwegian Aqua is a true testament of fusing together what represents the future of our brand as the first ship in the Prima Plus Class, and our commitment to pushing the boundaries in guest-first experiences that will make new waves at sea," Norwegian Cruise Line president David J. Herrera said in a statement accompanying the announcement.
Related: The 9 types of Norwegian Cruise Line ships, explained
Herrera added that the ship will feature "new, elevated and exhilarating offerings that once again showcase NCL as the innovator in the industry and as a key contributor to a new era of cruising."
Attractions old and new
In addition to the new water coaster and digital sports complex, which haven't appeared on Norwegian Cruise Line ships before, Norwegian Aqua will have several of the classic attractions already found on the first new Prima Class ships. These include The Drop, a 10-story free-fall slide, and the Stadium, a game space area that will be expanded on Norwegian Aqua.
Norwegian on Thursday also revealed that Norwegian Aqua will have the largest Haven complex of any of its ships and the most spacious accommodations the line has ever offered.
The Haven is a luxury suite complex on many Norwegian ships that offers an elevated suite experience with private dining and private lounge and deck areas.
The Haven complex on Norwegian Aqua will include 123 suites that feature the line's first-ever three-bedroom duplex Haven suites. There will be four total — all two stories high with separate living and dining areas; three bathrooms; a sprawling balcony; and three bedrooms. Two of the bedrooms will have a king-size bed, with the primary bedroom offering floor-to-ceiling windows for stunning ocean views.
Other features of The Haven complex on Norwegian Aqua will include an expansive, dedicated sundeck; an infinity pool overlooking the ship's stern; an outdoor spa complete with a glass-walled sauna and cold room; two hot tubs; a private lounge; an exclusive bar pouring rare spirits and vintages.
As is the norm for The Haven complexes on Norwegian ships, the keycard accessed complex will come with 24-hour butler service and a dedicated concierge team.
Among other features planned for Norwegian Aqua, as announced on Thursday:
A dedicated teen club space called Entourage for passengers ages 13 to 17
An infinity edge pool with expanded seating and — for the first time on a Norwegian ship — day beds on the main pool deck
An expanded, extra-charge Vibe Beach Club on the ship's top deck with more lounge seating
More outdoor spaces in general across the open decks of the ship, including an expanded Ocean Boulevard wrapping around the vessel
A glass bridge on each side of the ship that will offer a chance for photos of the sea
La Terrazza, an open-air lounge with sweeping sea views
In addition, Norwegian said Norwegian Aqua will showcase a colorful hull art design by street artist Allison Hueman.
After an initial series of sailings to the Caribbean out of Port Canaveral, Norwegian Aqua will move to New York in August 2025 for a series of five- and seven-day voyages to Bermuda through October 2025.
Norwegian Aqua will then sail five and seven-day Eastern Caribbean itineraries out of Miami from October 2025 through April 2026.
All of the newly announced sailings opened for bookings on Thursday.
Planning a cruise? Start with these stories: