Ukraine finally gets its tanks but the delay exposed divisions within a weary West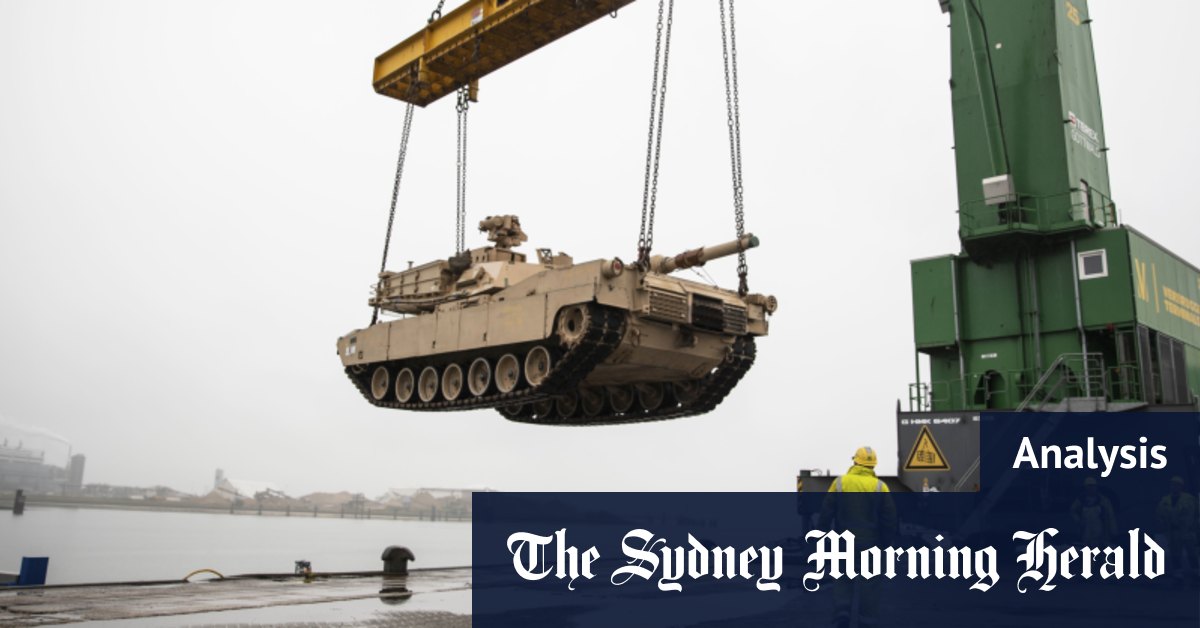 Many in Berlin had feared that sending tanks would increase the risk of direct military confrontation between Russia and the transatlantic alliance, and Moscow had warned that supplying Kyiv with offensive weaponry would escalate the conflict.
On Sunday, a Putin ally said it would lead to a "global catastrophe" by weakening arguments against using nuclear weapons.
But Russia is no longer in a position to be making threats nor is the West seemingly prepared to cower to them any longer.
Both the Abrams and the Leopards are among the best-rated modern battle tanks in the world and Kyiv has argued it needs them to break through a front line that has barely budged in recent weeks.
Until recently the US had also dragged its feet on sending Abrams, and France's Emmanuel Macron had said only that he was "considering" sending Leclercs, after refusing them for many months.
Loading
Britain stepped up a couple of weeks ago but it could spare only about 12 Challengers, and they will likely be of limited use because of a poor supply chain of parts and ammunition in Europe.
Poland, which has berated Germany loudly over its dithering, did not get around to formally asking for re-export permission until this week. Berlin now plans to team up with other European countries to create two tank battalions, which equates to about 90 Leopards.
There are at least 2000 Leopard 2 tanks in various locations in Europe so it is now possible that Ukraine will eventually receive the 300 or so it says it needs to make a significant difference.
But the delay was why former British prime minister Boris Johnson – perhaps Zelensky's closest friend in the West – visited the towns of Borodyanka and Bucha at the weekend to view the aftermath of atrocities committed by Russian troops.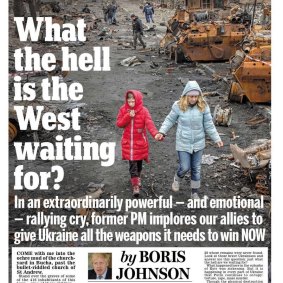 Writing in the Britain's Daily Mail on Tuesday, Johnson used his significant profile to warn that Putin was preparing to deploy hundreds of thousands of conscripts in a "counter punch" offensive in spring, and called on the US and Germany to agree to deliver the tanks.
"Where does the Western world need to station those tanks at the moment? Guarding North Rhine-Westphalia? Protecting Tennessee? Prowling the villages of Wiltshire?
"So let me pose the question again: what conceivable grounds can there be for delay? Why are we not giving the Ukrainians all the help that they need, now, when they need it?"
Ahead of his announcement in Washington on Thursday morning (AEDT), Biden spoke with Scholz, Macron, Italian Prime Minister Giorgia Meloni and British Prime Minister Rishi Sunak to further co-ordinate support.
He said the 31 Abrams tanks, which officials are warning would take months rather than weeks to reach the battlefield, were needed to help Ukrainians "improve their ability to manoeuvre in open terrain".
He thanked Germany for its decision, saying it had "really stepped up".
"The expectation on the part of Russia is we're going to break up," Biden said. "But we are fully, totally and thoroughly united."
The intensifying public squabbling over whether to send the tanks had exposed divisions in the West – not to mention pressure the European citizen protests calling for the supply. Just a few days ago the US was arguing that their tanks were a bad idea because Ukraine couldn't keep up the maintenance.
"Ukraine clearly believed that the tactical advantages the tanks will provide on the battlefield were worth the risk of public infighting among Ukraine's supporters," says Chris Skaluba, the director of the Transatlantic Security Initiative and former principal director for European and NATO policy at the US Defence Department.
Loading
"It looks like that bet has paid out."
Get a note directly from our foreign correspondents on what's making headlines around the world. Sign up for the weekly What in the World newsletter here.