VinFast's Market Cap Is Better Than GM, Mercedes-Benz, Ford and Rivian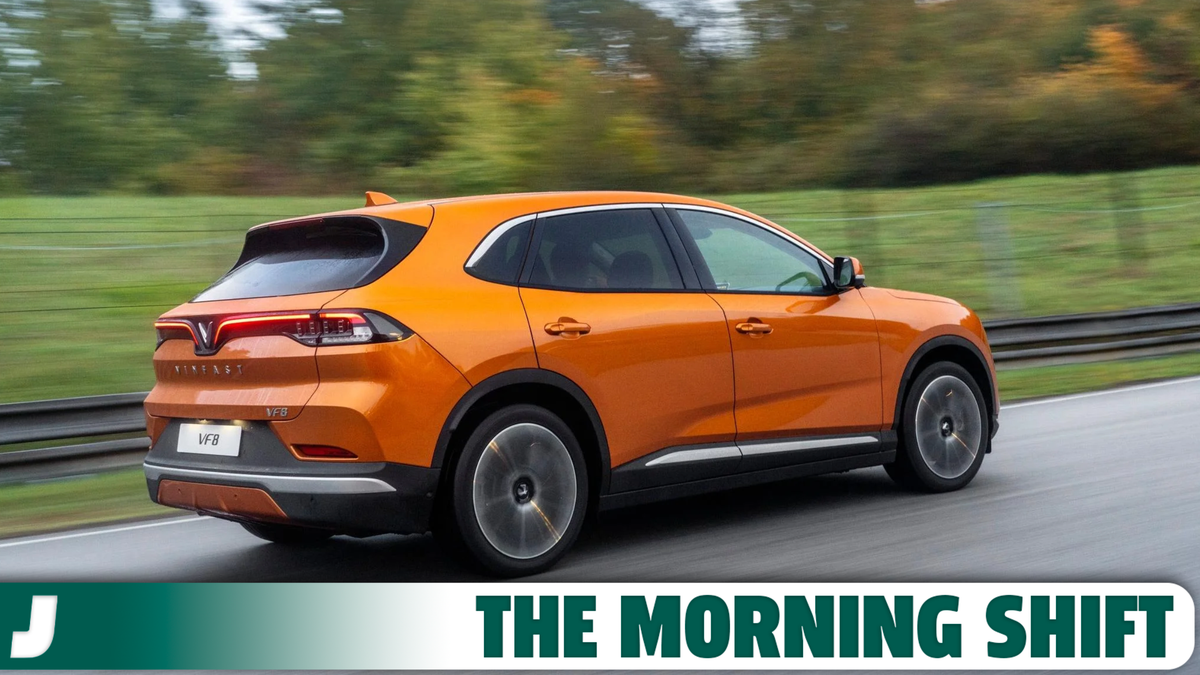 Good morning! It's Wednesday, August 23, 2023, and this is The Morning Shift, your daily roundup of the top automotive headlines from around the world, in one place. Here are the important stories you need to know.
Rivian Recalls Nearly Every Car It Has Built
1st Gear: VinFast Shares Are On A Big Upswing
By the closing bell on Tuesday, VinFast's stock price had nearly doubled to its highest point since the Vietnamese electric vehicle maker went public.
At close, the share price was at $36.72. That's a nearly 109 percent increase on the day. That's enough to give the company a market cap of about $85.3 billion. Even though it has sold only a few hundred cars in the U.S., that market cap is higher than Ford, Mercedes-Benz, General Motors, and Rivian, just to name a few.
At its highest trading point in the session, the stock hit $46.98. All of this comes after the stock took a pretty nasty tumble just a few days into trading last week. From Reuters:
Last Tuesday, the cash-burning company soared as it started trading on the U.S. stock market with an opening price of $22 following its tie-up with SPAC partner Black Spade Acquisition.

With 99% of the EV firm controlled by founder Pham Nhat Vuong, the tiny amount of publicly available shares has made the stock prone to volatility. It has jumped or slumped 14% or more every day over the past six sessions.

The stock was the second highest on trading website Stocktwits "Trending" list on Tuesday, suggesting it has attracted the interest of individual investors.

About $428 million worth of VinFast's shares had been traded as of mid-day, compared to Tesla's turnover of over $17 billion.
Earlier in the week, Reuters reported that South Korea's Star Group Industrial, which is a supplier for both VinFast and Kia/Hyundai, is investing $80 million in a new factory in Vietnam.
2nd Gear: Supply Woes Hit GM Truck Plant
Production of trucks at General Motor's Fort Wayne Assembly plant is being paused next week because of an unspecified supply shortage. The automaker released this statement to The Detroit News:
"Fort Wayne Assembly production is canceled for the week of Aug. 28 due to a temporary part shortage," GM spokesperson Kevin Kelly said in a statement. "We anticipate resuming production beginning Tuesday, September 5, following the Labor Day holiday."
The Fort Wayne, Indiana, plant is one of three facilities that builds light-duty Chevy Silverado and GMC Sierra pickups. They are also made at GM's Oshawa Assembly plant in Ontario and GM's Silao plant in Mexico. According to the outlet, no other production facility is being impacted by the issue at Fort Wayne.
3rd Gear: Tesla's German Plant Aimed Too High
Tesla has reportedly lowered the production target of its German plant to 4,350 vehicles per week in July and August, and it plans to reduce it even further. This change is happening after the plant hit 5,000 vehicles per week in March.
The Austin, Texas-based automaker reportedly posted on X that it hit 5,000 cars per week at its Gruenheide plant, but workers at the plant told Business Insider that it was just a one-off. They also said average output has actually been much lower. From Reuters:
Tesla said in June it was hiring fewer temporary workers than it did in the beginning because they were no longer needed but that its production targets were on track.

Business Insider said pictures showing Tesla's internal workflow software indicated that the U.S. EV maker had lowered its target for July and August to 870 cars per day.

Even this goal was not always reached, with just 692 cars produced on July 25 and 806 on July 28, according to the pictures of the software published in the report.

The internal target had since been adjusted further down to 750 cars per day, amounting to less than 4,000 a week, the article said, citing unnamed workers at the plant.

[…]

The carmaker has slashed prices several times in the United States, China and other markets since late last year, and increased discounts and other incentives to reduce inventory, as it tries to shield against competition and economic uncertainty.
Back in July, Tesla reportedly announced plans to expand the German factory's capacity to hit 1 million vehicles per year. However, it didn't provide any sort of timeline and has apparently declined to comment on when it would actually hit 6,000 vehicles per week at the plant.
4th Gear: Next-Gen Nissan Kicks Production Delayed By Supplier Theft
It's just about the strangest reason I've ever seen a new model delayed, but tooling has reportedly been stolen from a supplier in Mexico for the next-generation Nissan Kicks. Now, the new model is being delayed.
Production of the little crossover is now slated to start next June at Nissan's Aguascalientes, Mexico facility. Deliveries are expected to start soon after that. This is now the second delay of the redesigned Kicks. It was initially supposed to start production in December of this year, but failure to pass crash safety tests put a snag in that. From Automotive News:
The latest delay — which tacks on about five additional months — is related to tooling that was stolen from a supplier factory in Mexico, the sources said. They did not reveal the supplier's identity or say which Kicks part is affected.

Nissan confirmed the launch delay this week but did not say why.

"The arrival of the next-generation Kicks is delayed slightly due to an unexpected factor outside the company's control," spokesperson Brian Brockman said. "Until then, we expect to have strong availability of the current model, which continues to be one of the most popular vehicles in its segment."

[…]

Supplier consultant Laurie Harbour said the theft of tooling and other manufacturing equipment is rare but not unheard of.

"I've had some clients who have had their tools stolen off of trucks and trains," said Harbour, CEO of Harbour Results, which tracks activity trends among tool-and-die and other small to midsize manufacturers in North America.

Equipment theft — even one involving a small vehicle part — can hold up production. "It only takes one part to not be able to build the car," Harbour said.
She went on to say that if the Nissan supplier cannot recover the tooling, it's going to have to be rebuilt. That can apparently take three to six months, depending on the parts and the tool shop's available production capacity.
Reverse: I've Never Seen This Show
Neutral: You Know The Drill
It Is Wednesday My Dudes Vine
On The Radio: Charli XCX – "Speed Drive"
Charli XCX – Speed Drive (From Barbie The Album) [Official Audio]