When a level crossing removal project becomes art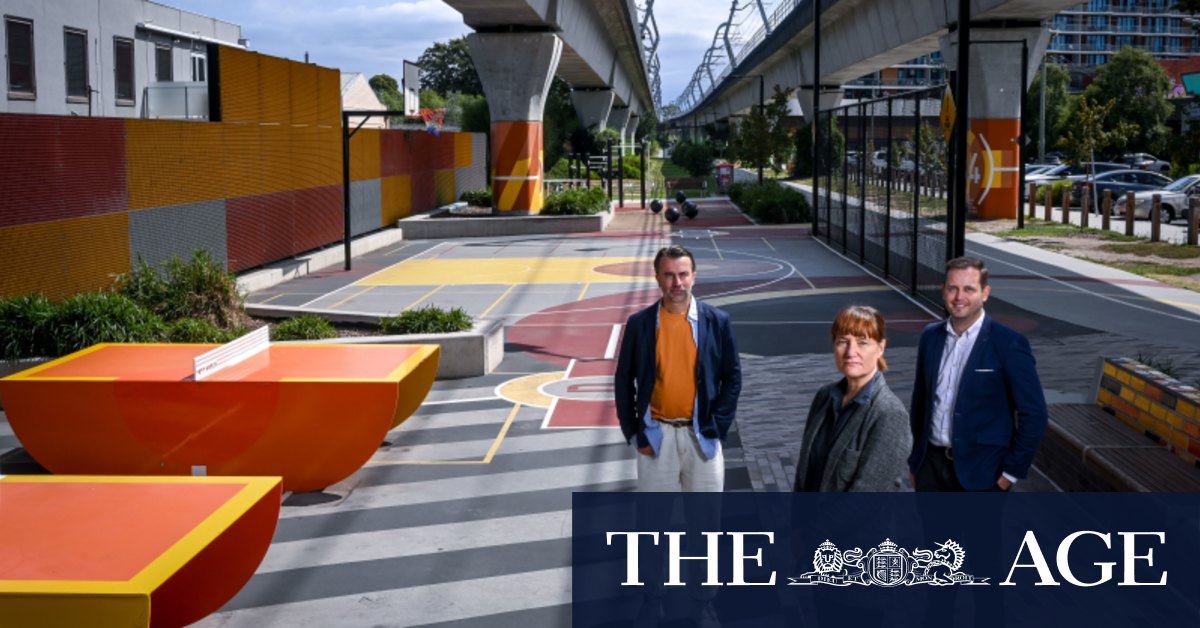 "It's not just happening in the city, it's actually happening in Dandenong, Broadmeadows and Geelong. So the projects are geographically spread across the city, and really looking at how buildings are becoming symbols for a new identity for Melbourne."
Moore said he tried to capture not just the projects' physical infrastructure, but those who were at the sites.
"There are photos of people playing basketball," he said. "There are health workers just passing through the square. There is a citizenship ceremony in Broadmeadows, so of course everyone wanted their photo taken at that."
Landscape architect Kirsten Bauer from Aspect Studios, who led the Dandenong train line redesign project alongside Cox Architecture, was "super excited, but I think more honoured" their work was included in the Melbourne Now exhibition.
"As you can see from the other projects, many of them are more traditional architecture-built form," she said. "This project is not a traditional well understood architectural typology."
Bauer said it was exciting to see public realm design sit alongside architecture and art, especially when the level crossing removal project was met with so much initial opposition.
When the plans were first revealed, residents protested against the "sky rail" and Bauer said the experience was "pretty volatile" as a landscape architect.
"It was the first of its kind," she said. "So we would design it and talk to community and council and other stakeholders, but you couldn't point to another one and say, 'It's like that one'."
Bauer said it was difficult for people to understand what was being proposed at the time, and she had "great empathy and compassion" for residents who had opposed the project but were now largely supportive.
Basketball areas, ping pong tables and outdoor lounges were parts of the level crossing removal project residents had particularly embraced, she said.
"[Inclusion in Melbourne Now] shows the community that design is broad," she said.
"It's showing the community that city infrastructure is also about how can we turn these big infrastructure projects into local assets for the community?"
Melbourne Now is showing at the National Gallery of Victoria in Melbourne until August 20 and entry is free. Visit ngv.vic.gov.au.
The Morning Edition newsletter is our guide to the day's most important and interesting stories, analysis and insights. Sign up here.