Why WhatsApp and other instant messaging apps should bring this Skype feature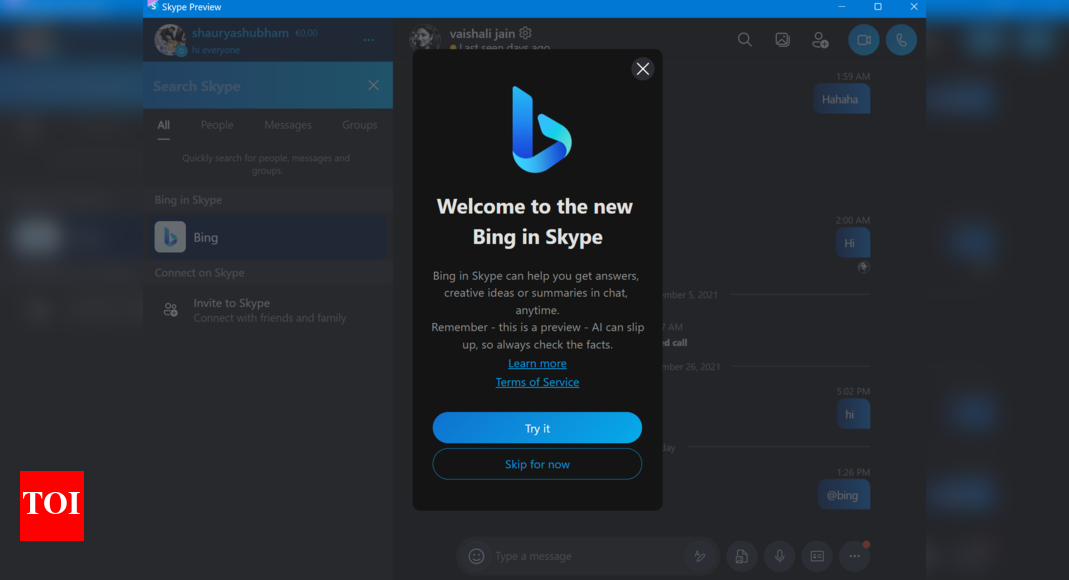 Skype is one of the oldest platforms to offer instant messaging, voice and video calling features. Over time, the significance of the platform went down due to other players entering the space and also offering better features, security and more. However, it appears that Microsoft is ready to take the fight again by adding new features and making some changes to the platform like new Bing's AI chatbot.
The integration allows users to access Bing's chat feature right into Skype and have a conversation with it. Or ask queries. In fact, users can also plan a dinner party, weekend trips and more using the Bing integration.
Read on to know what exactly Bing integration brings to Skype, things you can do using Bing on Skype and why other instant messaging platforms should also consider bringing such integration to their platforms.
New Bing comes to Skype: What does this mean
Bing integration in Skype is simply a contact in your account. Users can simply open Bing's chat window and start having conversations with it. Now, things aren't going as well as Microsoft projected with the entire new Bing. And, Microsoft had to put a restriction on Bing's AI capabilities to prevent it from going rogue. Similarly, when you first click on Bing open from the chat list, a popup appears mentioning all that can be done using Bing in Skype. Along with that, it also has a "Remember" text that basically reminds users to go easy on Bing and clearly mentions that this is a preview and AI can slip and users should always check for the facts.
But, before digging deeper into the capabilities. It is important to understand the level of integration Bing has in Skype. From the forefront, it only looks like Microsoft has just added Bing as a contact which behaves like a chatbot. But, it is actually pretty smart considering you can create a group with Bing and other friends in it and Bing can be accessed just by typing @Bing in the chat box, similar to how you'd mention a friend in a group chat.
That's a really handy feature when it comes to interacting with your friends, planning something or simply churning out some additional information when on call or while group texting.
Bing on Skype: What all it can do
We've already explained a couple of use case scenarios of Bing on Skype. However, there are a couple of more things that you can do apart from looking for some weekend trip places, searching for something and more. The core new Bing chat feature is still present. What we mean is that Bing can help you plan a complete trip including Flight details, and hotel information and even get recommendations for places to visit. Similarly, it can also be used to plan a dinner party, decide the menu, check recipes, ingredients and more.
But, things do not end here. You can even upload a photo and ask it to provide a nice caption for the image.
Why other platforms should consider integrating AI-capabilities to their platforms
With the new Bing integration Skype has become a little more than other apps functionality-wise. It takes its capabilities beyond just a platform that helps users connect with others, make calls, share multimedia and more. Other platforms can also take advantage of this by adding AI-powered chatbots into their platform for added benefits to users.